Integration of Aviation AWOS with RWIS History
---
WTI partnered with the California Department of Transportation (Caltrans) and the Mineta Transportation Institute at San Jose State University to develop an easy-to-use web-based tool for California's airports and heliports, particularly those used for EMS, which provides them with localized and timely weather condition and forecast information.
The project team has developed and launched a website http://aviation.weathershare.org/ with a prototype system that displays aviation weather conditions and forecasts for the entire state. In a single location, this tool currently integrates a range of data from numerous sources and displays it on state maps. Users can view current or forecast conditions across a region, or zoom in on a specific location. From there, users can select the specific data they need, such as wind speeds aloft or on the ground, satellite photos, pilot reports, or National Weather Service alerts.
The following screenshot shows a Caltrans CCTV image in aviation.weathershare.org. The camera image is beneficial to both surface and air transportation, showing the road and sky: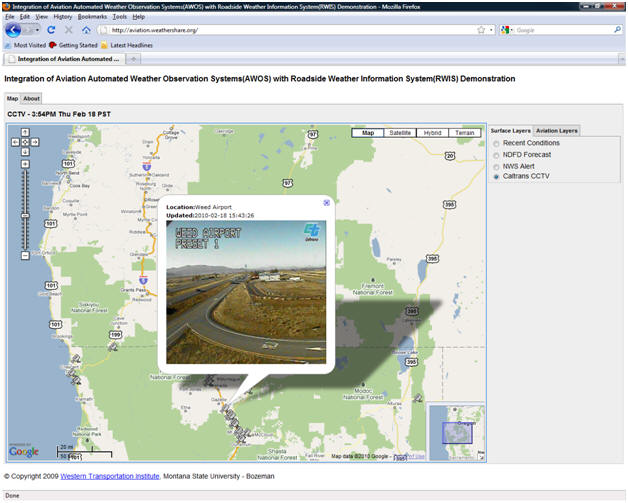 The AWOS integration project is modeled after Caltrans' successful WeatherShare system. WeatherShare also integrates weather and forecast data from multiple sources into a single, easy-to-use, map-based computer application. WTI researchers from the Systems group initially created WeatherShare for transportation agencies and emergency responders in rural regions of California, and then worked with Caltrans to deploy it statewide.
The AWOS/RWIS web-based tool builds on the technology platform that WTI created for WeatherShare. Researchers also reteamed with many of the same Caltrans agency staff who had championed the WeatherShare project. "We are excited that we can use WeatherShare as a platform for new applications, and in uses outside of traditional highway programs, such as aviation," said Mandy Chu, Caltrans Project Manager. "With this tool, we will be able to provide a higher level of service to small and rural airports and to enhance the safety and efficiency of our transportation systems across multiple modes without investing in a major expansion of weather station infrastructure. To us, that clearly demonstrates the value of a long-term commitment to research and innovation."
---