Integration of Aviation AWOS with RWIS Update - September 1, 2011
---
UPDATE: Thursday, September 1, 2011
The 2011 National Rural ITS Conference (NRITS) was held in Coeur d'Alene, Idaho, August 28th-31st. Titled Adventures in ITS, this year's conference was hosted by the ITS Rocky Mountain Chapter. Over 230 participants from around the United States and North America attended technical sessions complemented by tours, full and half-day trainings, networking functions and a vendor exhibition, all focused on Rural ITS.
The technical sessions were diverse ranging from 511, RWIS, incident management, and commercial vehicle operations to next generation 911, connected vehicles, research and innovation, and financing ITS projects.
Session B2 was focused on the integration of RWIS devices and data for innovative ITS applications. Doug Galarus presented Integration of Aviation Weather Information Systems with Roadside Weather Information Systems for Rural Air Fields and Heliports. The project is a research and development study of the proof-of-concept system for integrating aviation weather information systems with Roadside Weather Information Systems (RWIS). The study targeted small, underserved rural airfields and heliports with the goal of providing airport managers,air traffic controllers, pilots, and related operators of air ambulance services with more comprehensive and accurate meteorological data by integrating currently used weather systems with systems used by related agencies. Improved safety and increased efficiency are the expected results of implementing integrated systems similar to the prototype developed in this project.
The project team developed a website that integrates weather information from multiple sources including Caltrans and the National Weather Service, to present rural aviation users with an easy to use and useful mechanism for investigating current and forecast weather conditions. The presentation gave an overview of the project and showed a number of screenshots from the prototype website.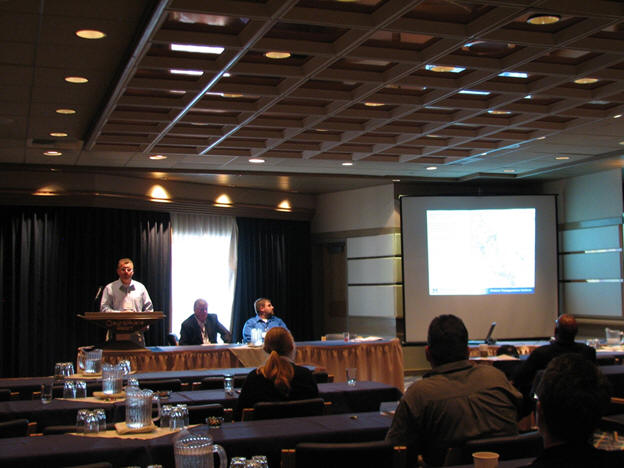 Photo by Leann Koon
Several questions were put to the panel creating useful dialogue between the presenters and the audience.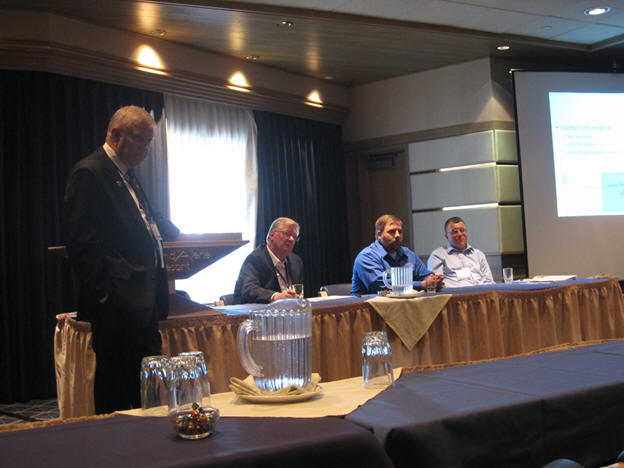 Photo by Leann Koon
To review the complete presentation click here, or go to the project's Documents page.
---