One Stop Shop (OSS) Update - March 3rd, 2010
---
UPDATE: Wednesday, March 3rd, 2010
Today has been a good day to use the One-Stop-Shop. The weather in Northern California and Southern Oregon is interesting, to say the least. Spring is on the way, but Winter isn't over yet. Take a look at the following screenshots:
Here's the OSS home page. The DOT Field Elements are shown by default. These include cameras, signs, weather stations, incidents, chain requirements and construction. You'll always see a lot of elements on these pages because Caltrans and ODOT have deployed a signficant number of intelligent transportation systems to help travelers to travel safely: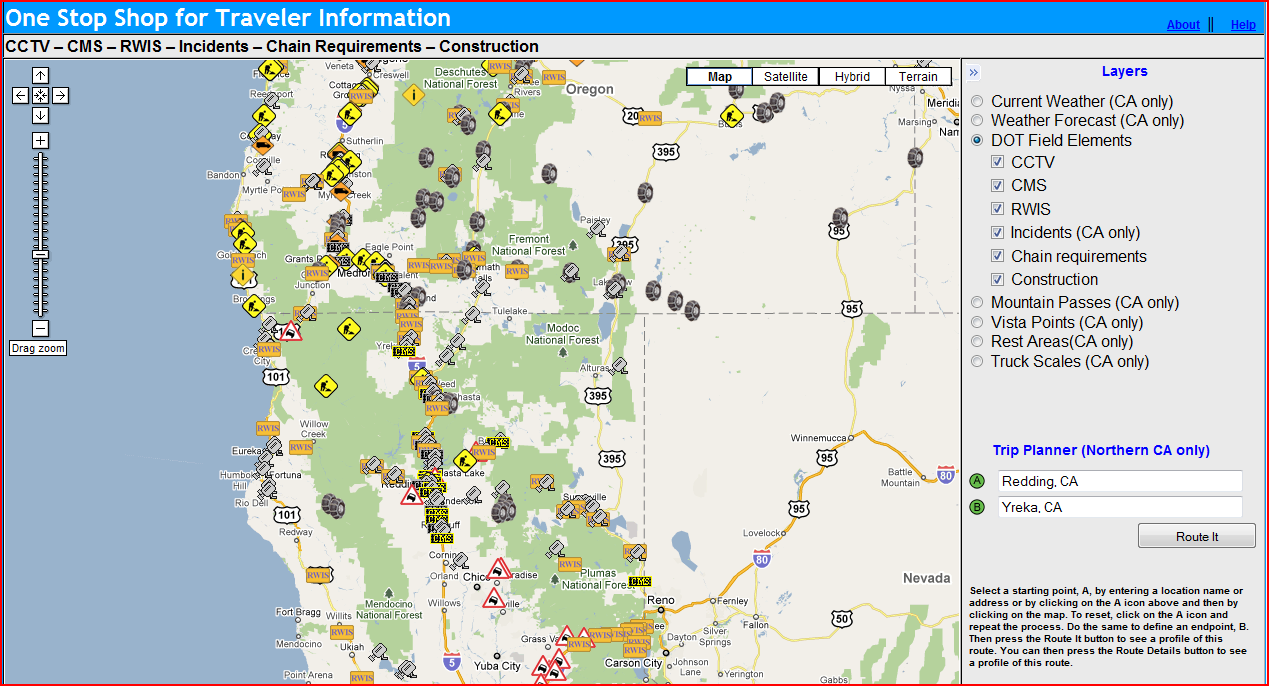 I zoomed in on an active message in the next screenshot. You'll see the message, "Chains Required 25 Miles Ahead" displayed as you would see it when driving by the real sign on north-bound Interstate 5 at Yreka: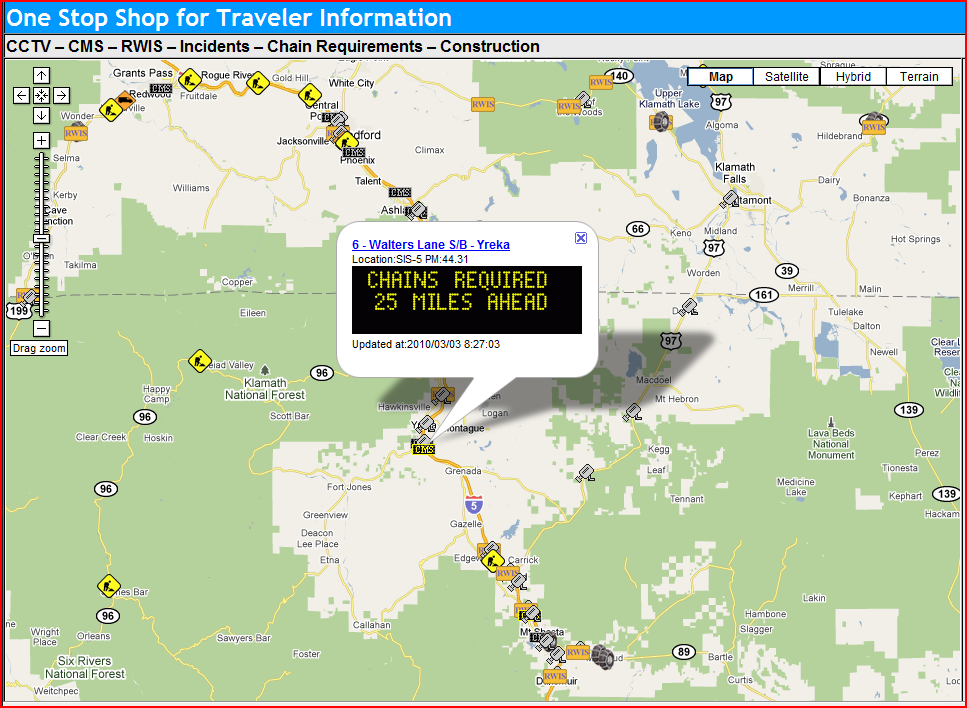 Clicking on the chain control icon at the border gives further information: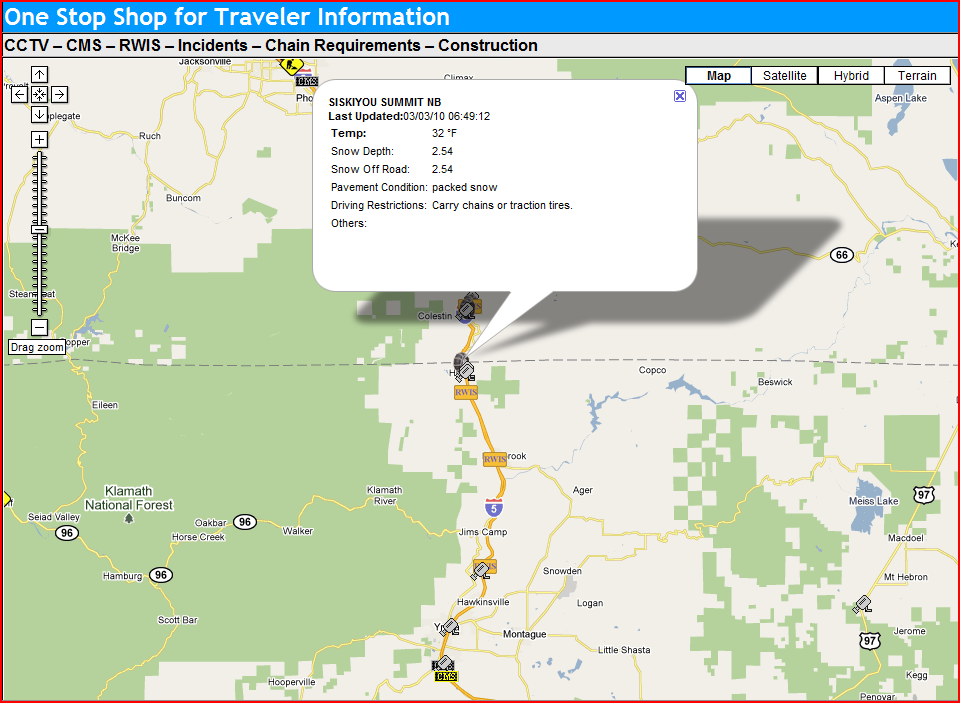 Cameras are probably the most popular type of field element. This image from Hilt Sandhouse on the California side of Siskiyou Pass shows that winter had a grip on the area today: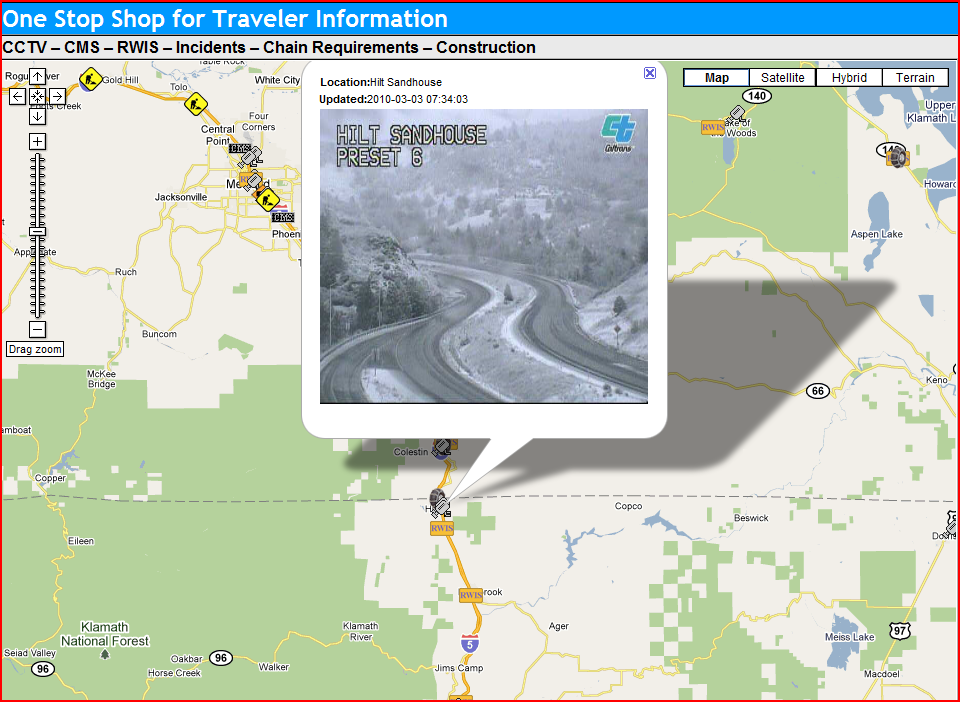 Here's one from the Oregon side. If you have ever driven over the Pass on days like today, you'll recognize the conditions. And, you'll recognize how quickly conditions can change: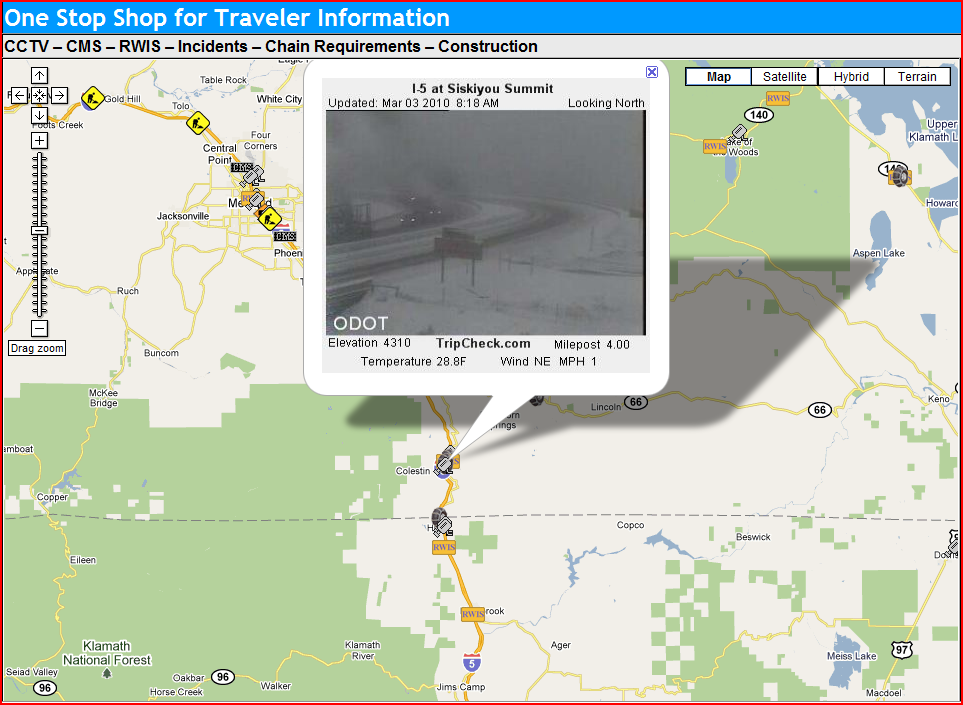 The camera at North Hilt shows more of the same:
OSS includes a feature called the "Trip Planner". We use Google Maps routing to generate a route and then display weather forecast data along the route and along an elevation profile of the route. This morning, conditions were forecast to change from rain to snow between Redding and the Pass.
You can toggle between forecast layers and view the details on both the map and the elevation profile. Here, forecast snow amount (inches) is displayed:
Precipitation can be shown in the same way. This forecast covers six hours, so the forecast precipitation could be heavy along the route over this period: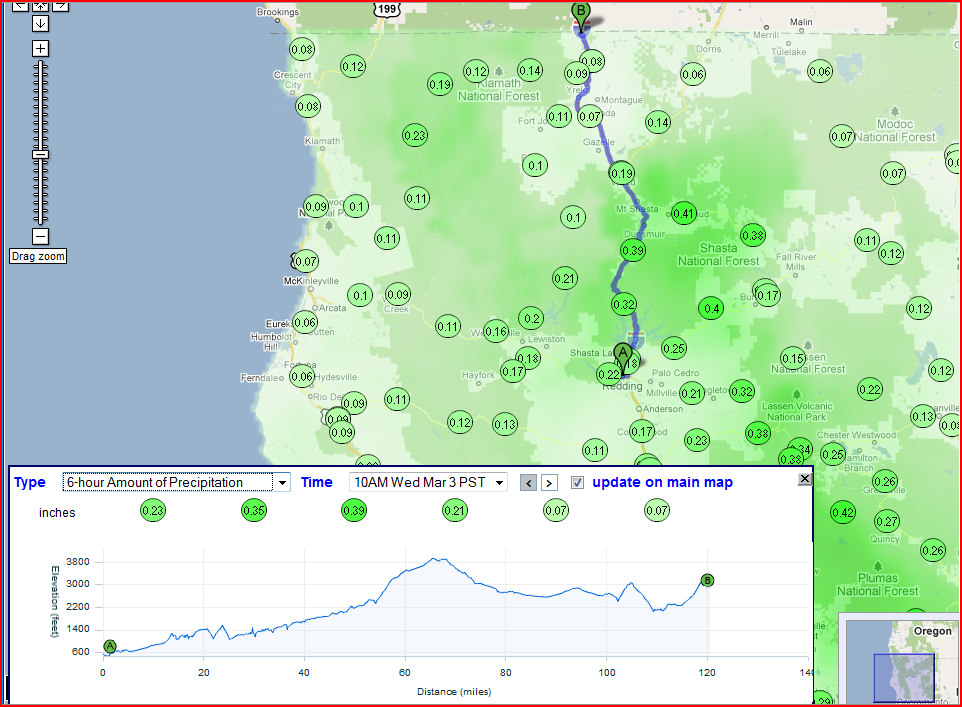 One of our favorite displays is wind. The forecast wind patterns in the mountains can be quite interesting. Fortunately for travelers today, winds are forecast to be low: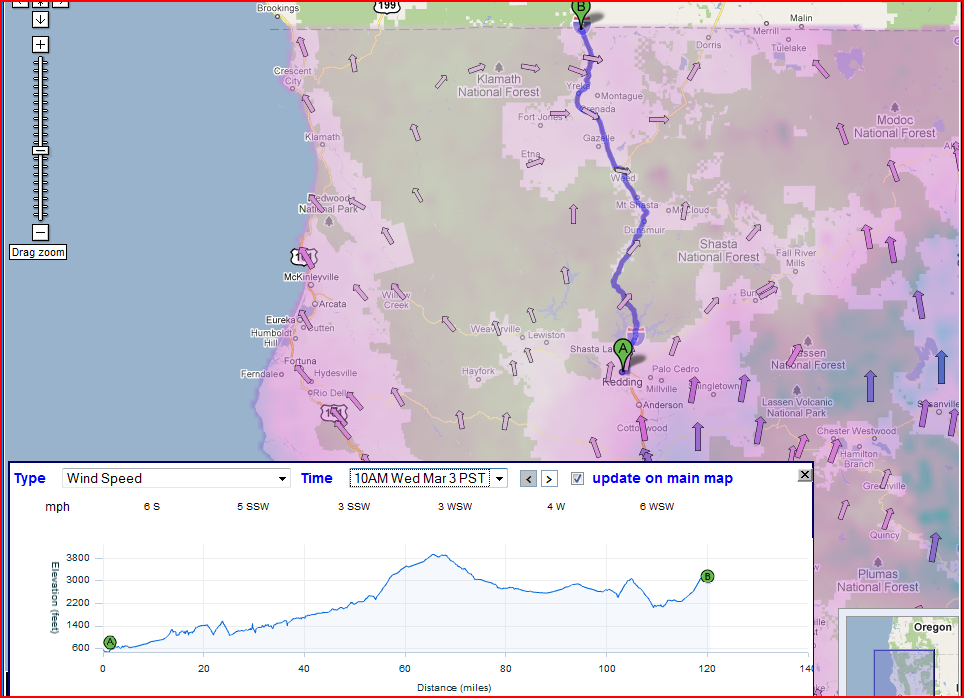 It might be a bit hard to see on this image, but you can track your route by moving the cursor along the elevation profile in OSS. Here, we found a spot where the forecast changes from rain to snow. It corresponds to a location that when traveling north, leads you up to a summit near Mt. Shasta. Since this is a forecast, and forecasts aren't always perfect, we advise travelers to use good judgment when planning a trip and especially when on a trip: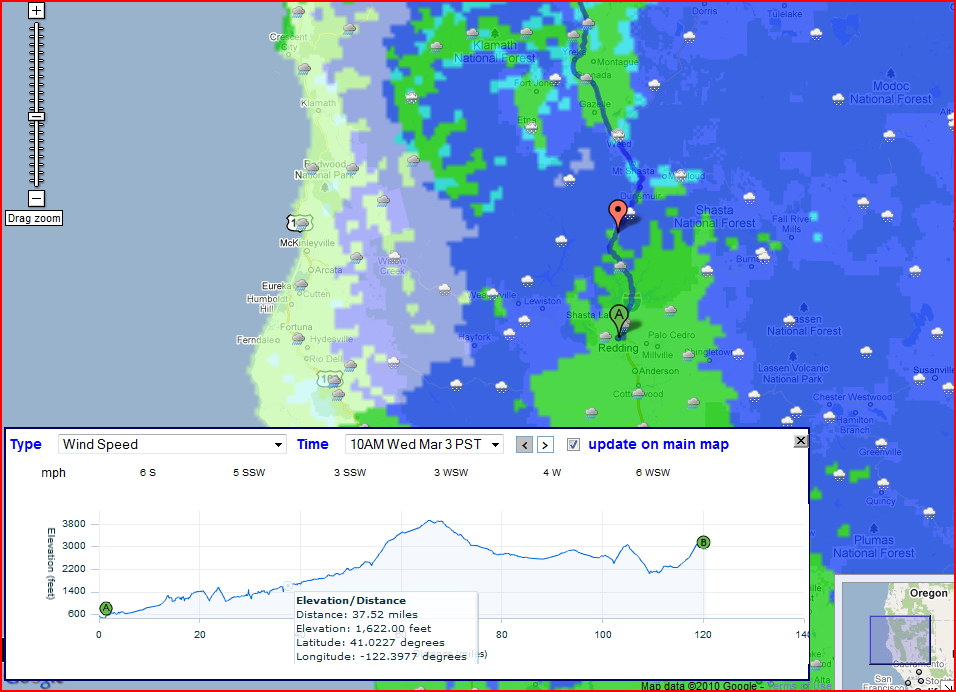 ---