One Stop Shop (OSS) Update - August 9th, 2013
---
UPDATE: Friday, August 9th, 2013
Greater Western States Coverage - Nevada Data Layers Added
As of this morning, several new data layers were added to OSS, helping us to provide even better coverage of the Western States region. As you'll see below, we've added CCTV cameras, changeable (dynamic) message signs and rest areas for Nevada. We have also added RWIS (road weather information systems) back into OSS after an absence of approximately 1.5 months due the Clarus System going offline. We're now pulling RWIS data directly from each state, so the data should be more timely than before.
Since we haven't done an OSS update in a while, we're also going to use this update as an opportunity to remind folks how OSS works.
When you launch oss.weathershare.org in your browser, you'll see the map-based OSS interface. If your browser does not recognize your location, you'll see the overview screen show below:
OSS Map Overview – links are provided for quick access to Southern California, Northern California, Nevada, Oregon or Washington Road/Travel conditions.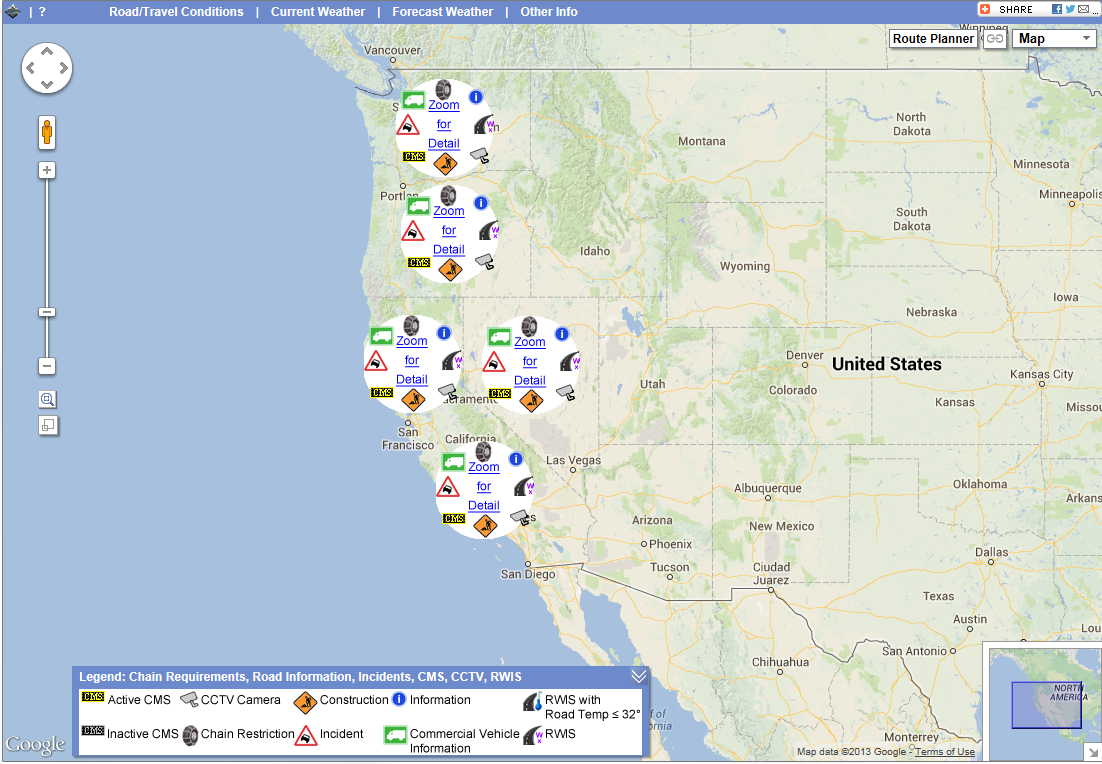 If your browser does recognize your location, you will automatically be shown a zoomed-in view of that location. For instance, the following screen shows Northern California. By default, you are shown "Road/Travel Conditions", represented by markers on the map. The legend at the bottom of the screen will help you identify the different marker types. For instance, an active changeable message sign, a sign with a message on it, is shown by way of a CMS marker with yellow letters. As you'll see below, there are a lot of active CMS message in California.
OSS – Zoomed to Road/Travel Conditions in Northern California.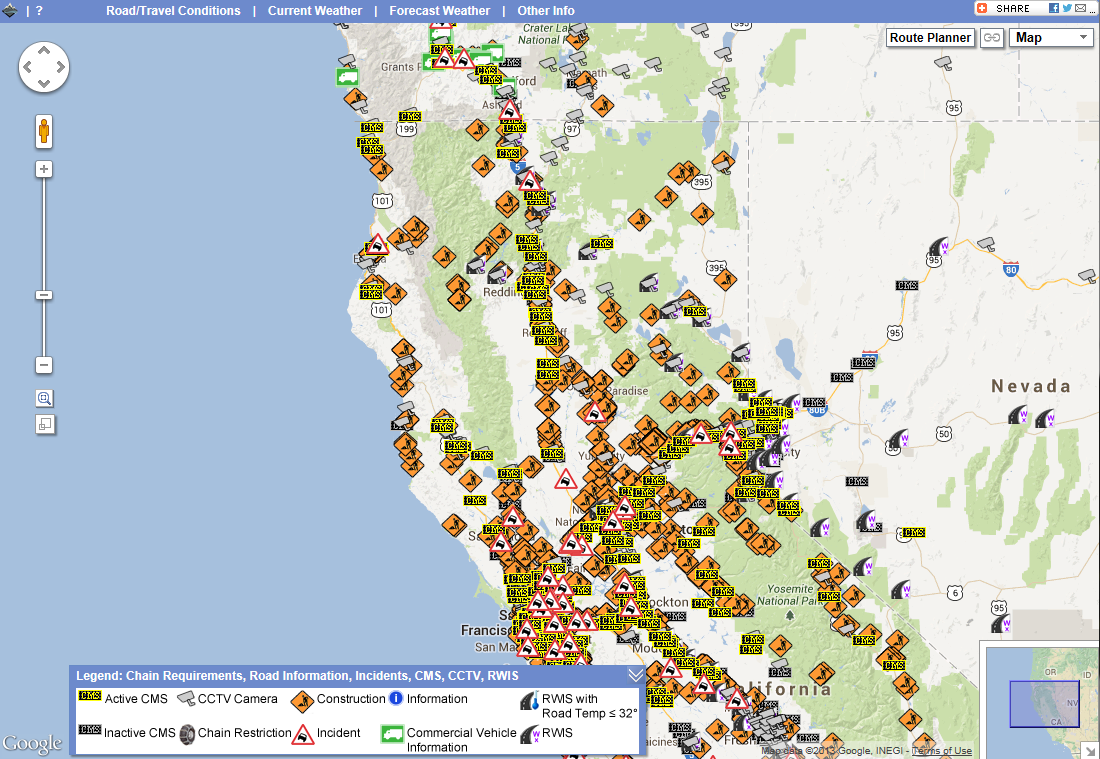 To view individual sign messages, you can click on the associated marker. Below we see an Amber alert on a sign near Sacramento.
CMS Message near Sacramento showing an Amber alert.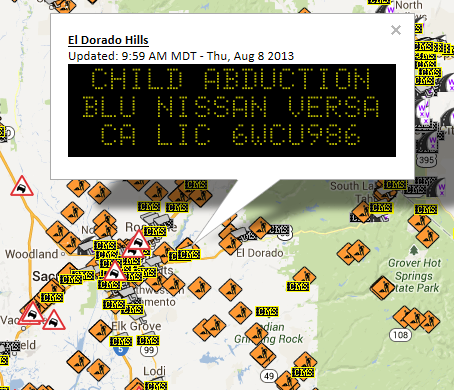 In fact, this Amber alert appears to be active across the entire Western States region.
Here's the Amber Alert message on a sign near Reno, Nevada: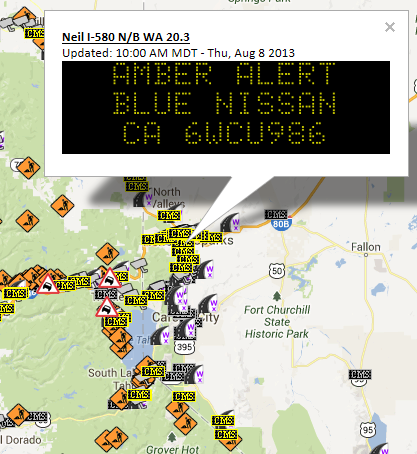 Here's the Amber Alert message on a sign near Portland, Oregon: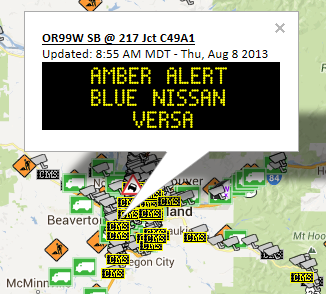 And here's the Amber Alert on a sign near Seattle: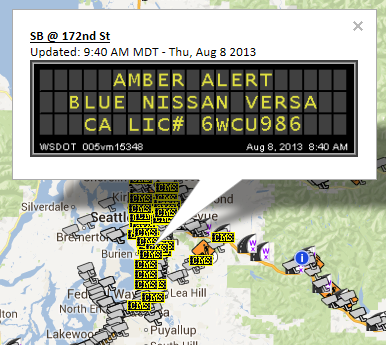 Other information in OSS can be accessed in a similar manner. By clicking on the markers you can see corresponding detail from weather stations, cameras, etc.
Following is data from a weather station near Winnemucca. This area has experienced bad dust storms this summer, so checking the wind speed at this site may be prudent if you are planning on traveling through.
Weather Data from the Rose Creek Station near Winnemucca, Nevada.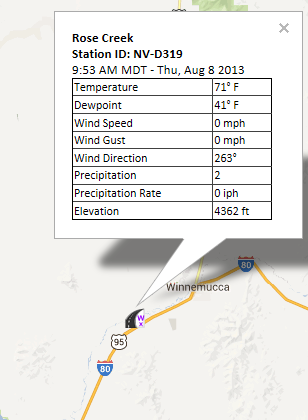 Cameras images are arguably the most popular and useful information shown in OSS. The addition of CCTV images from Nevada greatly expands the visual coverage provided by OSS. The following CCTV images shows construction near the Carlin Tunnel:
CCTV Camera Image Showing Construction near the Carlin Tunnel in Nevada.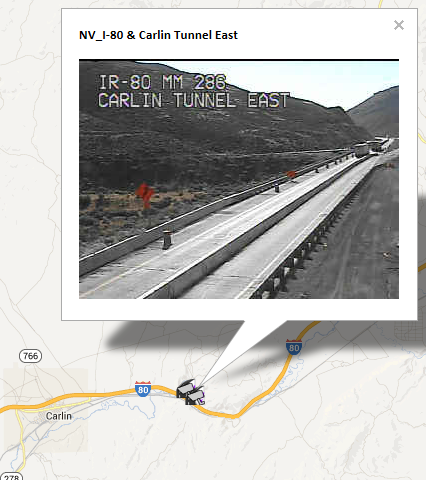 Rest area information has been added to OSS for Nevada as well. Considering the distance between towns and services in rural areas such as I-80 through Nevada, it is good to know where the rest areas are:
Rest Areas in Nevada.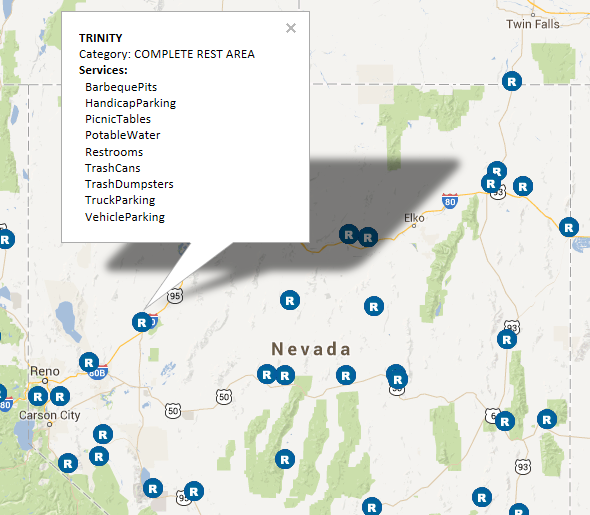 And, Nevada data isn't just from the Northern part of the state – there are camera images and sign messages in proximity to Las Vegas. In fact, if you want to take a look at traffic on the Las Vegas strip, you can do that now in OSS.
CCTV Camera Image from Las Vegas.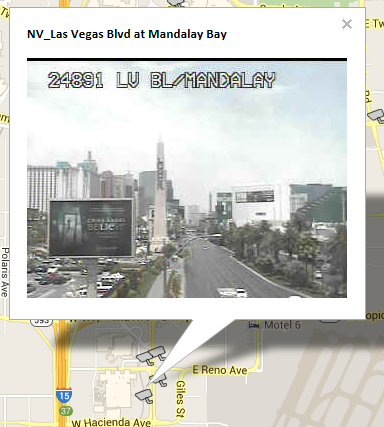 It's important not to forget that OSS is meant especially to help travelers in rural areas. And even during the summer time, unexpected conditions can arise when traveling in rural areas. The following sign message and camera images show the effect of fires on travel in Northern California and Southern Oregon:
One of several CMS messages alerting drivers to reduced visibility due to wildfires: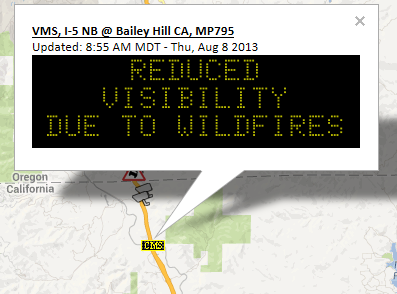 Caltrans CCTV Image showing smoke on I-5 near the Oregon border.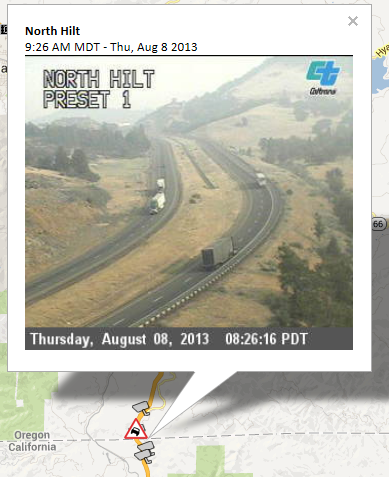 ODOT CCTV Image showing smoke on I-5 near Siskiyou Pass.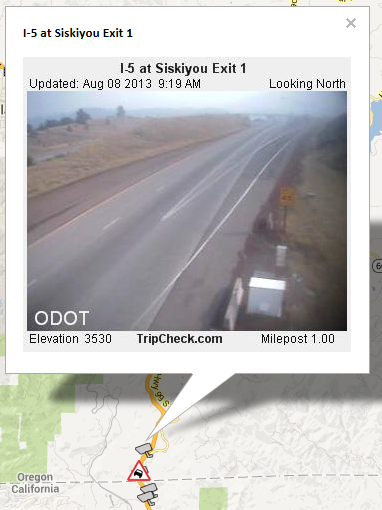 Be sure to gather as much information as possible from OSS (http://oss.weathershare.org) and all available sources both before and while traveling to help plan for safe trips.
---