One Stop Shop (OSS) Update - April 15th, 2016
---
UPDATE: Friday, April 15th, 2016
The Kick-Off Meeting for Phase 3 of the One-Stop-Shop project (OSS Phase 3) was held on April 5th, 2016. Project team members agreed to hold a teleconference in lieu of an in person meeting.
The participants in the meeting were:
Sean Campbell, Caltrans Division of Research, Innovation and System Information (Project Manager)
Ian Turnbull, Caltrans District 2 (Project Champion)
Doug Galarus, Western Transportation Institute (Principal Investigator)
Daniell Richter, Western Transportation Institute (Lead Developer)
During the Kick-Off Meeting, the team discussed the project's major tasks and brainstormed on expansion of the One-Stop-Shop as well as the prospect of developing a mobile version. The major tasks for OSS Phase 3 are:
Project Management
Expansion (Data Sources and Coverage)
Mobile Application Development
On-Going System Development
System Testing and Evaluation
The project team will proceed with an investigation of what other states and entities are doing in terms of mobile and desktop traveler information delivery as well as documenting the various data sets that are available and the distribution mechanisms that are used.
OSS usage increased yet again over the 2015-2016 winter season. Usage peaked on Christmas Eve 2015 with 6190 user sessions. At one point we observed 146 simultaneous users on the site. At approximately the same time 1429 events were being generated per minute. An event corresponds to a user action on the website such as viewing a camera image.
On December 18th, 2015, a closure on Snoqualmie Pass on Interstate 90 in Washington State caused a huge backup on both sides of the pass. The closure and backup was apparent in OSS via camera images and CMS messages like the following:
| | |
| --- | --- |
| WSDOT CCTV Image as Shown in OSS | WSDOT CCTV Image as Shown in OSS |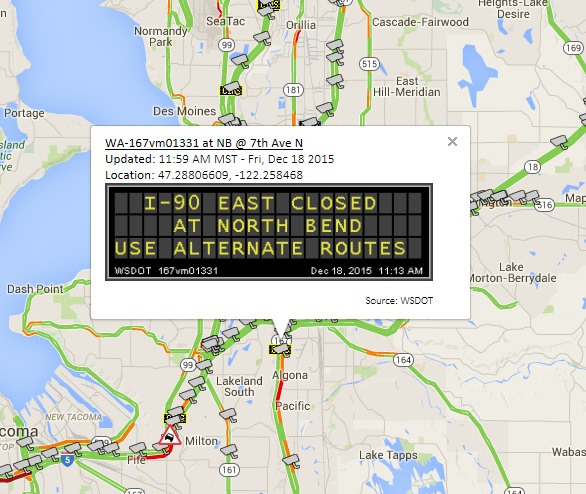 WSDOT CMS Message as Shown in OSS
Click here to visit the One-Stop-Shop.
Check back soon for more updates on the One-Stop-Shop.
---