One Stop Shop (OSS) Update - June 4th, 2020
---
UPDATE: Thursday, June 4th, 2020
We are excited to announce the release of our new interface for the One-Stop-Shop (OSS). Check it out at https://oss.weathershare.org/.
OSS is now mobile-friendly while presenting all the data and capability of the original One-Stop-Shop. Even though we have had a mobile version for several years now, it was not widely advertised and only included a subset of the original layers. The new version will work well on any device: desktop computer, tablet or phone.
New and enhanced features include:
unified interface,
mobile and desktop friendly menu,
secure https access,
zoom to my location capability,
more social network sharing options,
display of multiple camera views per site where available,
enlarged view of camera images
The current phase of the One-Stop-Shop was funded by Caltrans and the Western States Rural Transportation Consortium (WSRTC), and the work was done by students at Utah State University (USU), building on prior work done at Montana State University (MSU). The following USU students worked on OSS at USU: Tanner Kvarfordt, Brock Francom, Sahiti Katragadda, Ben Taylor, Brianna King and Jordan Knudsen. Their help on the project was greatly appreciated.
We hope you find the new One-Stop-Shop interface useful. Be sure to gather as much information as possible from OSS (https://oss.weathershare.org/) and all available sources before and during trips to plan for safe travel.
Following are some screenshots from the new interface:
The new OSS interface, shown on a typical mobile display. Note the layer menu button in the upper left corner. The share and zoom to current location buttons are shown in the lower right corner above the zoom controls.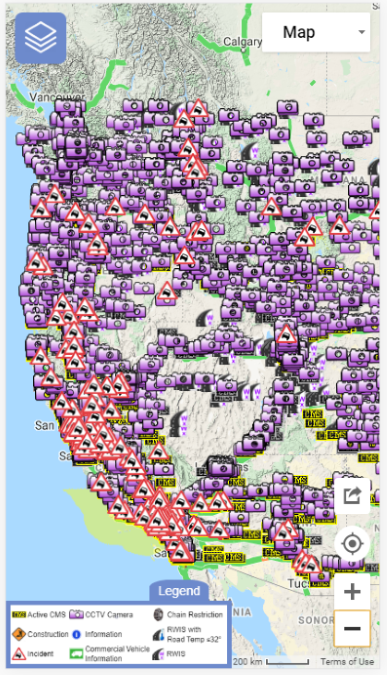 The new OSS menu expands when selected and contracts to maximize the view of the map and data.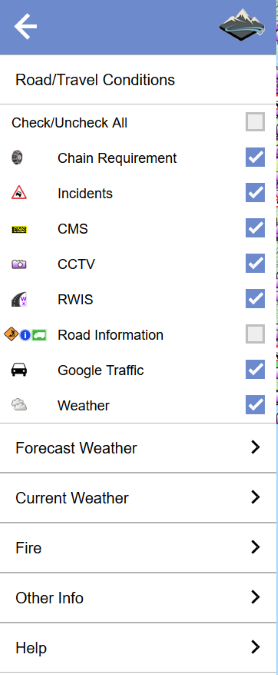 The weather is great while we are writing this update. This CCTV image, from the Montana Department of Transportation (MDT), shows Highway 1 with Georgetown Lake in the background.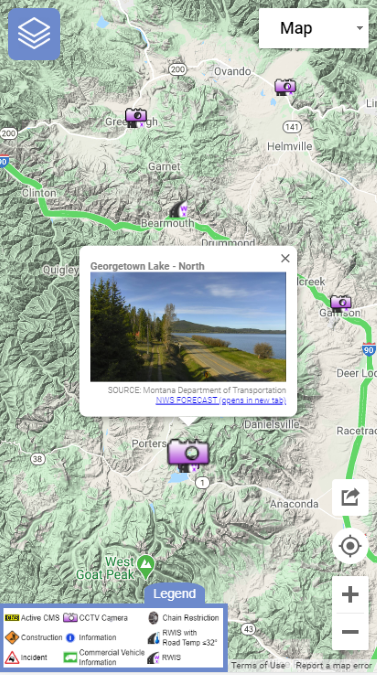 Now users can enlarge CCTV images. The MDT Georgetown Lake image shows just how beautiful the day is. It looks like a good day to go fishing!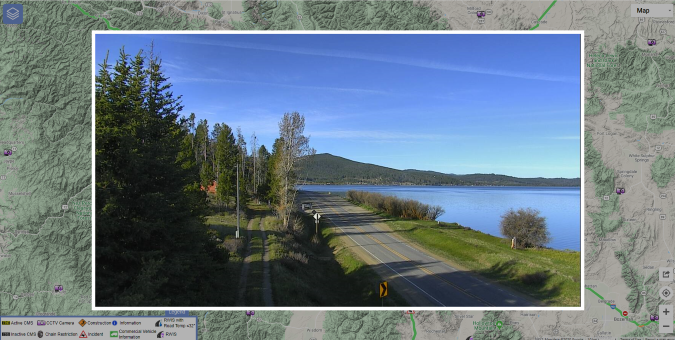 The MDT Georgetown Lake site has multiple views which can now be seen in OSS. Here are two more views from that site: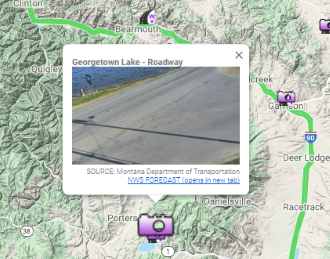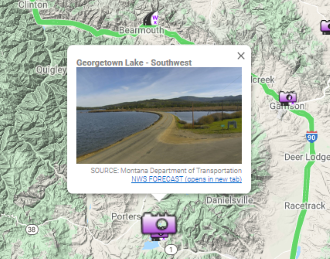 There are many ways to share links to the One-Stop-Shop. The share button makes sharing easy. Please share OSS with others.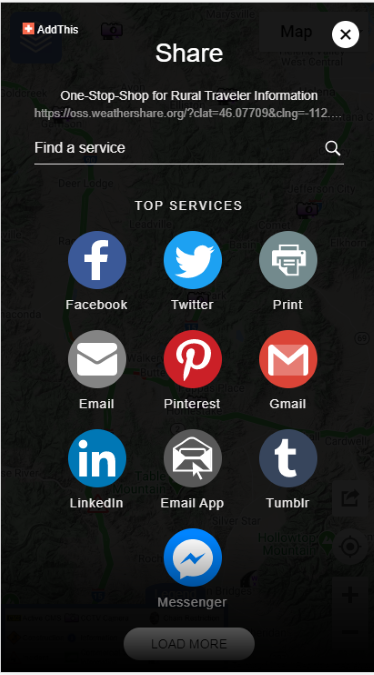 ---