Western States Rural Transportation Technology Implementers Forum (WSRTTIF)
OVERVIEW | HISTORY | CONTACTS | UPDATE | ARCHIVED UPDATES | LINK | FACT SHEET | IMPLEMENTATION | IMPACT
What does it take to make Rural ITS work? It takes technical excellence across a variety of skill areas. It takes creativity. It also helps to learn from the experiences of others. The challenges in making Rural ITS work are significant. Therefore, it's important for ITS technology practitioners to be able to meet in order to share what they've learned and help advance the state-of-the-practice.

Starting in 2006, the Western States Rural Transportation Technology Implementers Forum has provided ITS implementers and engineers from the western states region with valuable opportunities for detailed dialogue about some innovative engineering and communications projects designed to support the rural transportation system. The Forum is valuable, not only for the detailed and knowledgeable presentations and demonstrations, but also for the times outside of sessions where participants can network with their peers from other districts and states.

The Western States Forum is unique. Speakers are given an extended amount of time to really delve into the nuts and bolts of how a project works, whether it relates to equations, source code, component-level discussion, or lessons learned. Questions and discussion are encouraged throughout and not just at the end of a presentation or demonstration. High quality technical content, discussion, transparency and trust are the main goals of the Forum.
---
2019 Forum – Register Now!
April 2nd, 2019
It's Time to Submit an Abstract for the Next Western States Forum!
January 18th, 2019
Another Successful Forum in 2018!
January 15th, 2019
Registration Opens for the 2018 Forum
March 27th, 2018
Submit an Abstract for the 2018 Western States Forum
December 19th, 2017
2017 Forum Continues Tradition of Detailed Discussion on Rural ITS Projects
October 13th, 2017
Check back soon for more Western States Forum updates.
---
UPDATE: Tuesday, April 2nd, 2019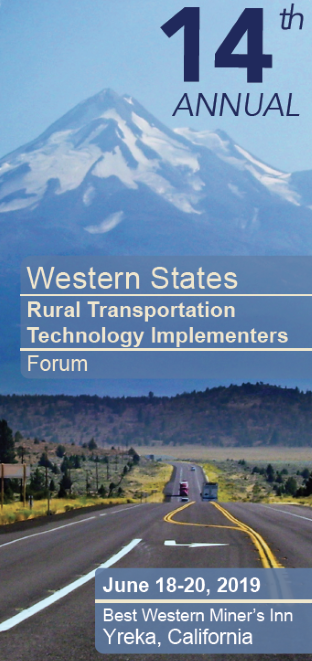 The 14th annual Western States Forum is June 18 -20, 2019, and registration is now open!
We invite you to Yreka, California, this summer for two days of technical, 'nuts and bolts' discussions about rural ITS projects. Eight one to two hour presentations/demonstrations are on the agenda with extended breaks in between. The longer presentations allow speakers to really get into the details of a project and discuss what worked and what didn't work. Participants are encouraged to ask questions during a presentation, not just at the end, which further spurs practical discussion. The longer breaks between presentations coupled with the networking sessions provide ample opportunities for exchanging ideas and experiences with peers in an informal atmosphere.
Here's what is on the technical agenda for the 2019 Forum:
Connected Vehicle Pilot Project on Mission Street in Salem, OR


Julie Kentosh, P.E., PTOE, Doug Spencer, P.E. Oregon Department of Transportation

Design, Development, and Field-Testing of the Caltrans Responder System


Stephen Donecker, Melissa Clark AHMCT UC Davis; Caltrans Division of Research, Innovation, and System Information

Fiber Optic Systems in Rural Areas: Building and Leveraging Fiber Systems


Lynne G. Yocom Utah Department of Transportation

Foresight is 2020: NDOT Building an ITS Network for the Next Decade and Beyond


Jim Whalen, Gary Molnar Nevada Department of Transportation

Miovision Equipment for SPAT Challenge – Intended and Actual Outcomes


Ken Burt Washington State Department of Transportation

Organic vs. Purchased Data for Travel Time Prediction


Andres Chavez Caltrans District 3

The Maintenance Decision Support System (MDSS)


Michael J. Adams Wisconsin Department of Transportation

UDOT's Region Four Rural Intersection Conflict Warning Systems (RICWS) Design and Implementation


Troy C. Torgersen, P.E., Robert Dowell, P.E., Tyler Turner, P.E. Utah Department of Transportation, Civil Science
This is an event you won't want to miss! It offers:
Networking opportunities
In-depth and relevant technical program
Excellent location
Low cost
Quality facilities
With the support of the Western States Rural Transportation Consortium (WSRTC), the event is affordable. There is no registration fee, all meals are covered, and lodging is available at the state government rate.
Sign up now! Click here to register or follow the link in the brochure.
Please register by May 17th. Note that attendance is limited, and registration will close when the maximum number is reached or on May 17th, whichever comes first.
Check out the Forum website for lodging information, maps and directions, things to do around Yreka, and technical content from previous Forums.
We look forward to seeing you in Yreka in June!
---
Steering Committee Member

Leann A.F. Koon
Research Associate
Western Transportation Institute
Montana State University - Bozeman
PO Box 174250
Bozeman, MT 59717-4250
(406) 994-7643
(406) 994-1697 (fax)
leann.koon "at" montana.edu
www.westerntransportationinstitute.org

Steering Committee Member

Jeremiah Pearce, P.E.
Chief, Office of ITS Engineering and Support
Caltrans District 2
1657 Riverside Drive, MS-14
Redding, CA 96001
(530) 225-3320
(530) 225-3255 (fax)
jeremiah.pearce "at" dot.ca.gov
www.dot.ca.gov/dist2/

Steering Committee Member

Douglas Galarus
Program Manager
Systems Engineering, Development & Integration
Western Transportation Institute (WTI)
Montana State University - Bozeman
PO Box 174250
Bozeman, MT 59717-4250
(406) 994-5268
(406) 994-1697 (fax)
dgalarus "at" montana.edu
www.westerntransportationinstitute.org

Steering Committee Member

Sean Campbell, P.E.
Chief, ITS Special Projects Branch
Caltrans, Division of Research, Innovation,
and System Information
PO Box 942873
Sacramento, CA 94273-0001
(916) 227-6259
(916) 657-4580 (fax)
sean.campbell "at" dot.ca.gov
www.dot.ca.gov/newtech/
---