Western States Rural Transportation Technology Implementers Forum (WSRTTIF)
OVERVIEW | HISTORY | CONTACTS | UPDATE | ARCHIVED UPDATES | LINK | FACT SHEET | IMPLEMENTATION | IMPACT
What does it take to make Rural ITS work? It takes technical excellence across a variety of skill areas. It takes creativity. It also helps to learn from the experiences of others. The challenges in making Rural ITS work are significant. Therefore, it's important for ITS technology practitioners to be able to meet in order to share what they've learned and help advance the state-of-the-practice.

Starting in 2006, the Western States Rural Transportation Technology Implementers Forum has provided ITS implementers and engineers from the western states region with valuable opportunities for detailed dialogue about some innovative engineering and communications projects designed to support the rural transportation system. The Forum is valuable, not only for the detailed and knowledgeable presentations and demonstrations, but also for the times outside of sessions where participants can network with their peers from other districts and states.

The Western States Forum is unique. Speakers are given an extended amount of time to really delve into the nuts and bolts of how a project works, whether it relates to equations, source code, component-level discussion, or lessons learned. Questions and discussion are encouraged throughout and not just at the end of a presentation or demonstration. High quality technical content, discussion, transparency and trust are the main goals of the Forum.
---
Register for the 2017 Forum!
May 2nd, 2017
Submit an Abstract for the 2017 Western States Forum
December 16th, 2016
11th Annual Western States Forum Another Success
July 14th, 2016
2016 Forum Registration Opens
March 24th, 2016
Call for Abstracts – 2016 Western States Forum
December 9th, 2015
10th Annual Western States Forum a success!
August 24th, 2015
Check back soon for more Western States Forum updates.
---
UPDATE: Tuesday, May 2nd, 2017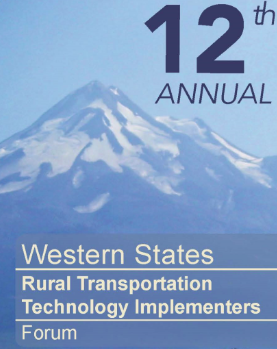 Registration is open for the 2017 Western States Forum!
The 12th annual Forum will be held June 20 – 22 in Yreka, California. The event offers an unparalleled opportunity to network with other professionals involved with rural transportation technologies, and exchange in-depth, technical information on how various ITS technologies are engineered and implemented in rural areas. The Forum encourages learning and discussion about the benefits of ITS technologies as well as the successes and problems of different rural ITS solutions.
The following technical presentations and demonstrations are currently on the 2017 Forum agenda:
Applying Asset Management to Intelligent Traffic and Public Safety Radio Systems

Jim WhalenNevada Department of Transportation
Automated Traffic Signal Performance Measures

Jamie MackeyUtah Department of Transportation
Installing DSRC Systems for Vehicle to Infrastructure Applications

Blaine LeonardUtah Department of Transportation
ITS Firmware for the Advanced Transportation Controller

Doug SpencerOregon Department of Transportation
Mobile Devices as Remote Data Collectors - Realities of Real-World Use Cases Including Distracted Driving Detection

Dr. Anurag Pande, Stephen LakowskeCal Poly, San Luis Obispo
PPPoE Security on Networks Utilizing Ethernet Interfaces

Lonnie Hobbs, Jeremiah PearceCaltrans District 2
Radar Technology for Distinguishing Between Bicycles and Cars

Martha Styler, John SlonakerCaltrans Headquarters, Traffic Operations
WeatherShare Phase 4

Doug Galarus, Daniell RichterWTI
With the networking opportunities, in-depth and relveant technical prgram, excellent location, low cost, and quality facilities, this will be an event you won't want to miss!
The Forum is only a few months away and attendance is limited. Please register by May 19th! Visit www.westernstatesforum.org or download a brochure for more information and detailed registration instructions.
---