California Oregon Advanced Transportation Systems (COATS) Update - May 13th, 2016
---
UPDATE: Friday, May 13th, 2016
COATS Phase 6 is facilitating ongoing technology transfer through the Western States Forum and continued demonstration and evaluation of ITS technologies through several incubator projects. The first quarter of 2016 saw continued development on these projects, as detailed below.
The 11th annual Western States Forum will be held June 21st – 23rd, 2016, in Yreka California. This quarter saw further preparation for the upcoming Forum, including the selection of abstracts and the review of first drafts.
Forum presentations delve into the nuts and bolts of how Rural ITS projects work, or don't work, and include technical details related to individual components, equations, source code, or lessons learned. Live demonstrations are included during presentations or during networking sessions. For example, last year Mark Kelly from the Wyoming DOT demonstrated their tablet reporting app for use by maintenance personnel (i.e., snow plows, foreman trucks).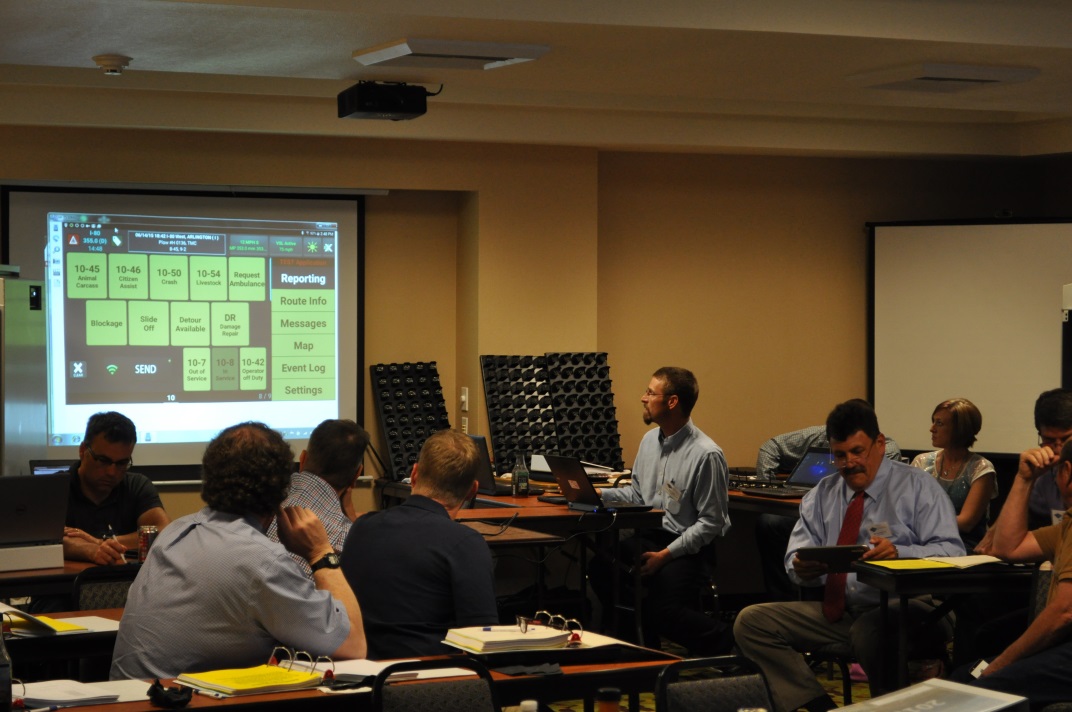 Photo by Leann Koon
This year, all four of the Consortium member states, as well as Idaho, will be represented on the technical agenda. The following presentations are scheduled for this year's Forum:
RWIS Deployment Update for Campbell-Datalogger-Based-RPU (Caltrans District 2)
Comparison of In-Pavement Versus Non-Invasive Pavement Sensor Technologies (Caltrans District 2)
Joint Base Lewis-McChord (JBLM) Bluetooth Traveler Information and Integration (Washington State DOT)
Local Adaptive Signal Timing on US101 Hwy in Lincoln City, Oregon (Oregon DOT)
Field Data Collection Using the iPad – WSDOT Maintenance Division (Washington State DOT)
Portable Work Zone Data Collection (Oregon DOT)
Caltrans' Standard Controller Cabinets (Model 33xL and 34xXL): Present and Future (Caltrans Headquarters)
Dedicated Short Range Communications (DSRC) for Rural ITS (Nevada DOT)
Connected Vehicle CRADA Project (Idaho Transportation Department)
Registration for the 2016 Western States Forum opened mid-March, the preparations for which were completed during this quarter. A registration brochure was developed and distributed via mail and electronically, and planning for meals and networking activities continued. For more information on the 2016 Western States Forum, please visit http://www.westernstatesforum.org/CurrentForum/.
During the second quarter of 2016, planning will continue and culminate with the Forum at the end of the quarter. The final versions of presentations will be due at the end of May. Meals, networking activities, lodging, and other event logistics will be planned and coordinated. Expect more updates both here and on the Forum project pages as the Forum approaches.
Year 1 Incubator Projects
The first quarter of 2016 saw continued work on the Data Quality incubator project. With a focus on the transportation field, the project team continued a literature search for the best practices regarding quality control of traveler information data, and data in other similar domains, such as weather data. The survey of DOT practitioners was also completed this quarter by the Alaska Department of Transportation and Public Facilities.
The final report for the Fredonyer incubator project was completed in the first quarter of 2016. The goal of the project was to evaluate the effectiveness of an automated road condition warning system notifying motorists of icy road conditions through changeable message signs. The study found that the Icy Curve Warning System decreased average motorist speeds, resulting in a 15% reduction in annual crash rates. More information can be found in the COATS update from February 24th, 2016.
Make sure to check back next quarter for updates on the progress and status of the COATS projects.
---