California Oregon Advanced Transportation Systems (COATS) Update - January 29th, 2021
---
UPDATE: Friday, January 29th, 2021

COATS Phase 8 is building on the success of earlier COATS phases with a focus on technology transfer. Tasks to be completed include two Western States Forums, Project Technical Advisory Panel (PTAP) meetings, website development and maintenance, and the Forum Handbook. Here is a short summary of work completed during the October through December 2020 quarter.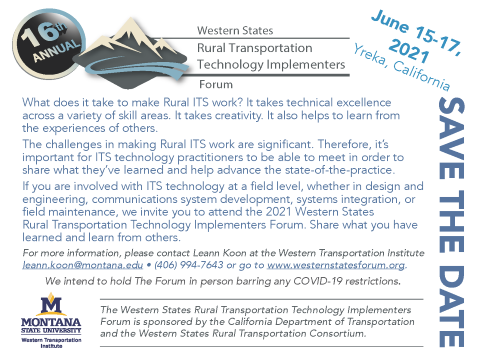 Save the Date! (pdf) The 2021 Western States Rural Transportation Technology Implementers Forum is scheduled for June 15-17, in Yreka, California, at the Best Western Miner's Inn. Speakers have been confirmed and we are looking forward to an outstanding technical agenda. Check back soon for a list of presentation and demonstration titles. Registration for The Forum will open in March so watch your mailbox and your inbox for the details!
Meetings
The project team continues to monitor the COVID-19 / coronavirus pandemic, and its impacts on travel and group gatherings, scheduled meetings, etc. After discussion, it was decided to schedule a steering committee teleconference meeting in late February or early March of 2021.
ITS World Congress 2020 was scheduled for October in Los Angeles, California. The in-person event was canceled but ITS has offered some on-line programming (ITS World Congress ALL-ACCESS) through the original conference dates in early October. An All-Access pass was free for public agency employees and those in academia allowing some participation from WSRTC members. Sessions were archived for access on-demand.
Check back next quarter for an update on the progress of the COATS tasks.
---