California Oregon Advanced Transportation Systems (COATS) Update - February 25, 2022
---
UPDATE: Friday, February 25, 2022

COATS Phase 8 is building on the success of earlier COATS phases with a focus on technology transfer. Tasks to be completed include two Western States Forums, Project Technical Advisory Panel (PTAP) meetings, website development and maintenance, and the Forum Handbook. Here's a brief summary of work completed during the last half of 2021.
The Western States Forum has been the focus of activities for the last several months. The 16th annual event was held October 5 – 7, 2021, in Yreka, California. Even thought it was a different time of year, it was the same high quality technical program and excellent networking opportunities that participants have come to expect from the Forum. There were seven different technical presentations from 12 speakers. You can review the presentations on the Forum website's 2021 Forum page. More pictures will be coming soon, but here is a view during Jeremiah Pearce's lead off presentation:

Photo by Doug Galarus
After a successful Forum in October, the project team immediately began planning for the 2022 event. Save the Date (pdf)! June 14 – 16 in Yreka, California, for the 17th Annual Western States Forum! Here's what's planned for the technical program:
Commodity Traffic Cameras as Cost-Effective Alternative to Traditional Sensing Hardware Dan Rossiter Southwest Research Institute
Evaluation of Road Weather Messages on DMS using Roadside Pavement Sensors Skylar Knickerbocker Iowa State University
The Nevada TSMO Program – A Modern Approach to Solving Old Problems LaShonn Ford Nevada Department of Transportation
Next Generation Work Zone Data Integration and Dissemination – Work Zone Data Exchange (WZDx) Development from Planning to Operations Justin Belk, Joshua Hudson Washington State Department of Transportation
OptaSense – A New Way to Make it Count Eric MacGill Nevada Department of Transportation
Organizing Chaos: A Tale of Chain Controls and Traffic Queuing Keith Koeppen Caltrans District 2
UDOT's Region Four Intersection Conflict Warning System Phase 2 Troy Torgersen, Graig Ogden Utah Department of Transportation
UDOT's Region Four Variable Speed Limit (VSL) I-15 Corridor in Rural Utah Troy Torgersen, Graig Ogden, Cody Opperman Utah Department of Transportation
Registration for the Forum will open in early March so keep an eye on your inbox and your mailbox. Event details will also be posted on the Forum website.
Meetings
On October 5th, the Western States Rural Transportation Consortium held their annual meeting in conjunction with the Western States Forum. The group discussed the status of the WSRTC Pooled Fund and its two active task orders - WSRTC Meeting Coordination, Western States Forum Travel Support and Website Maintenance (WTI Task Order 14), and ASWSC / OSS / WeatherShare Maintenance (Montana Tech Task Order 1). This pooled fund will be ending with the conclusion of these two task orders. To continue the good work of the WSRTC partnership, a new Pooled Fund for Phase 2 of the Consortium has just been opened (TPF-5(494)). Here is the annual meeting agenda (10/05/2021) and you can check back for a more detailed report from the annual meeting.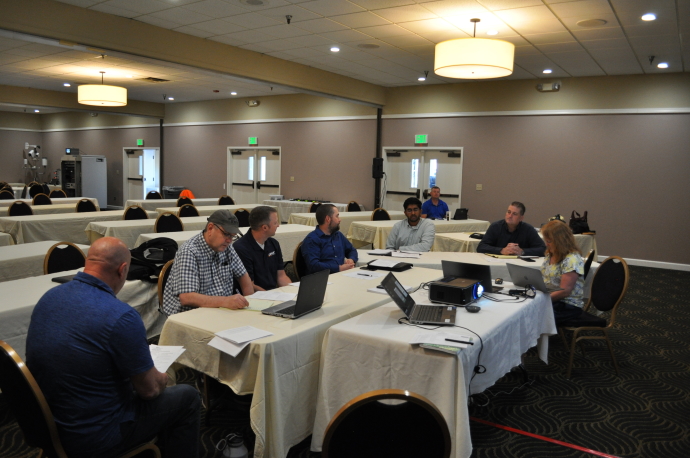 Photo by Doug Galarus
The ITE Annual Meeting and Exhibition along with the National Rural ITS Conference were a joint virtual event again this past year. The WSRTC provided support for 98 participants from the WSRTC member states and research institutions. With support from the WSRTC, one participant also attended the ITS America meeting in Charlotte, North Carolina.
Check back here for more updates on the COATS project.
---