One Stop Shop (OSS) Update - January 18th, 2012 - Part 1
---
UPDATE: Wednesday, January 18th, 2012 - Part 1
Today is one of those days when a single update isn't enough. Winter has been slow in arriving, but it came in full force today across the four-state, Western States region. There is snow throughout the region and plenty of incidents to go with it. Be sure to take a look at multiple OSS updates from today.
Earlier today there was an accident involving a big rig and a tour bus north of Redding. I-5 was shut down awaiting clearance of the incident. This was apparent in OSS via the Road / Travel Conditions, Incidents layer. Here's a portion of the CHP report from the incident: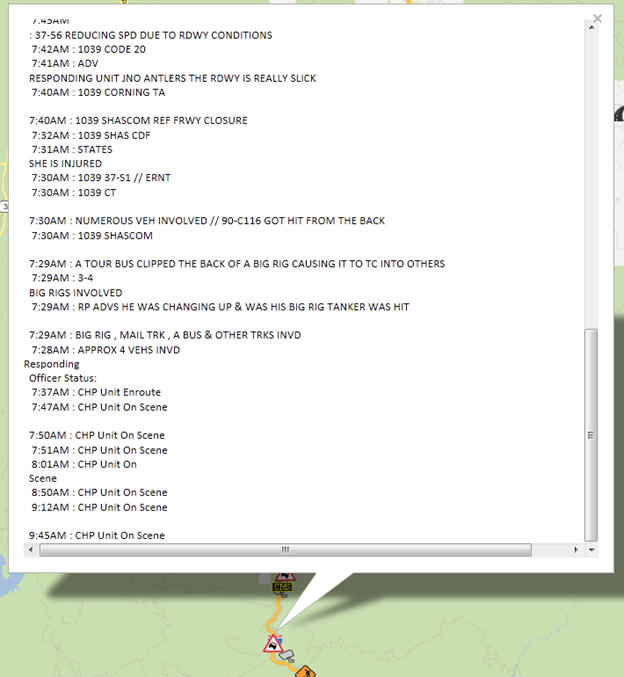 OSS also showed the CMS message indicating the closure, which was also indicated through a chain control message:
Here's another CMS message indicating that the closure starts at Fawndale: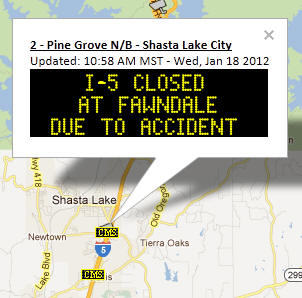 And, here's a CCTV image at Fawndale. Look close and you can see vehicles waiting for the closure to end: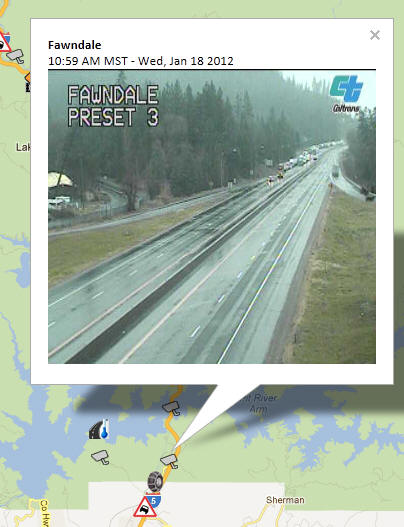 While it was raining at Fawndale, conditions were worse to the north, in proximity to the incident. Here's the camera at Vollmers showing alot of snow: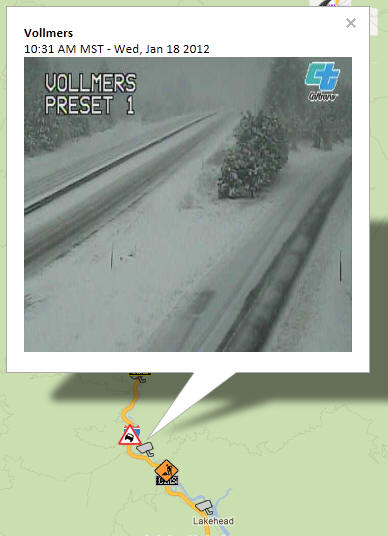 It is very easy to use OSS to walk along a route or through a region to get a quick glimpse at conditions. Here are camera images along I-5 from Shasta Lake to Ashland, Oregon. It's easy to see that travel would have been difficult at this time:
Pit River Bridge, Approaching Shasta Lake: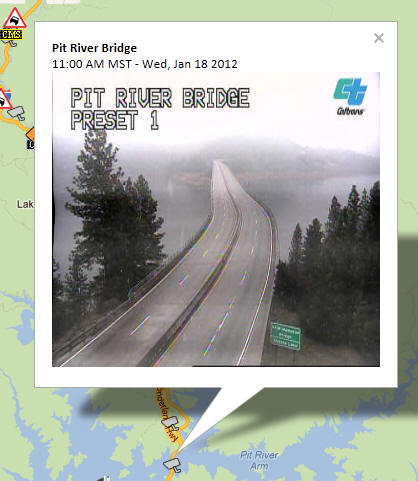 Sidehill Viaduct: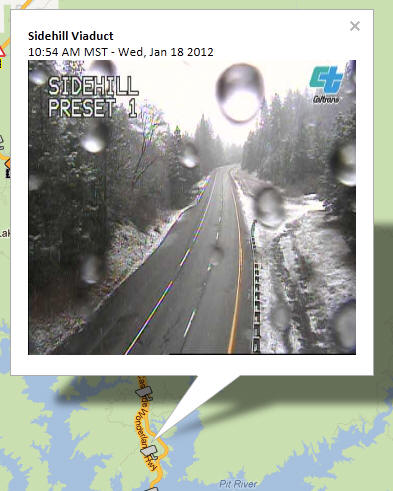 Obrien: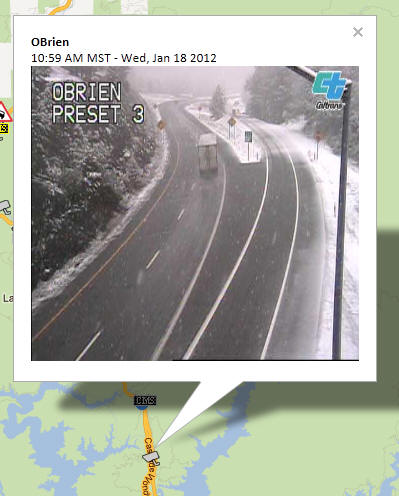 Salt Creek: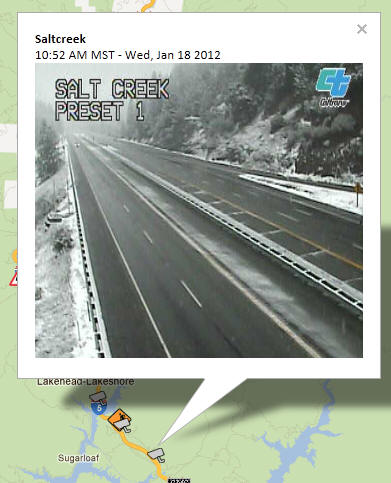 Sacramento Hill:
Antler's Bridge: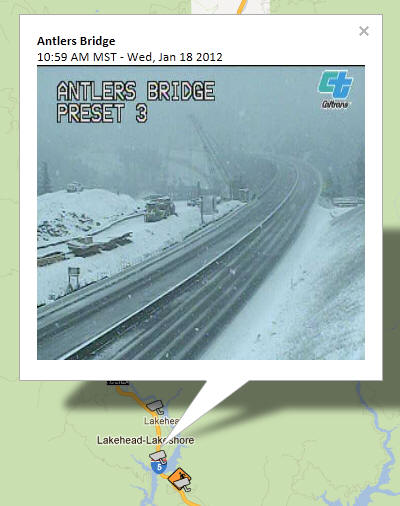 Lakehead: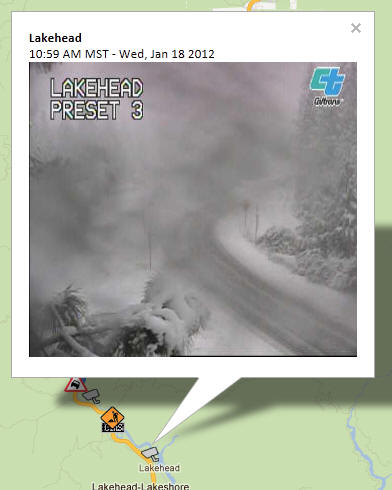 La Moine: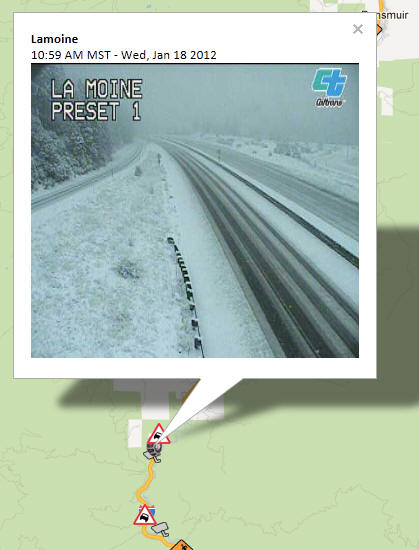 Sims Rd: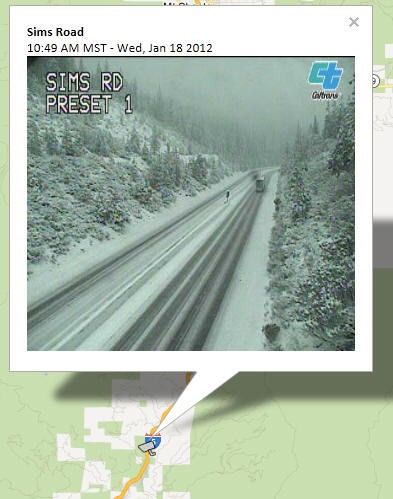 Dunsmuir: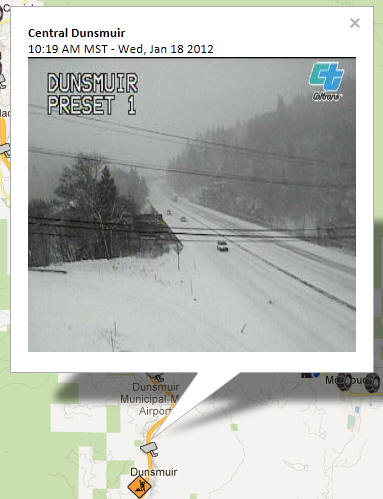 Mott Road: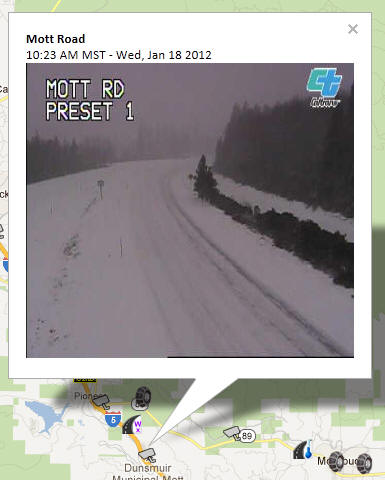 I-5 at SR-89: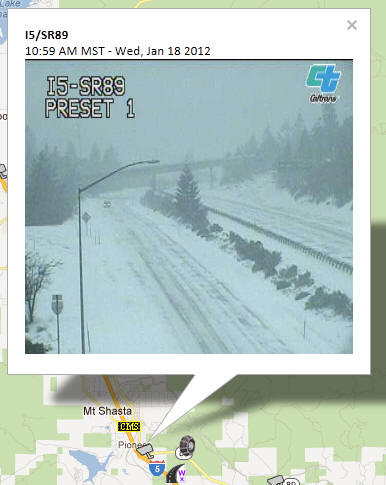 Abrams Lake: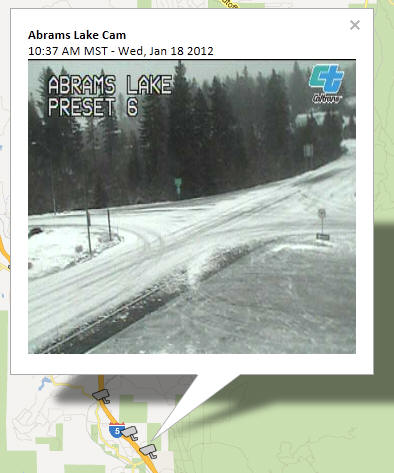 Black Butte Summit: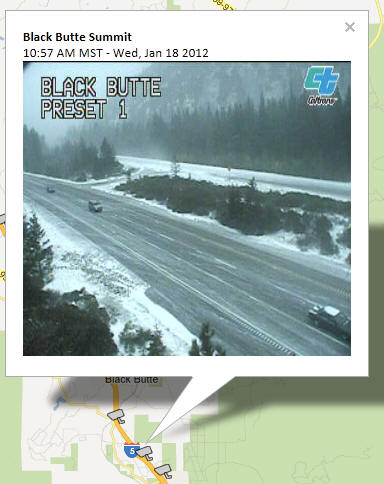 Summit Drive: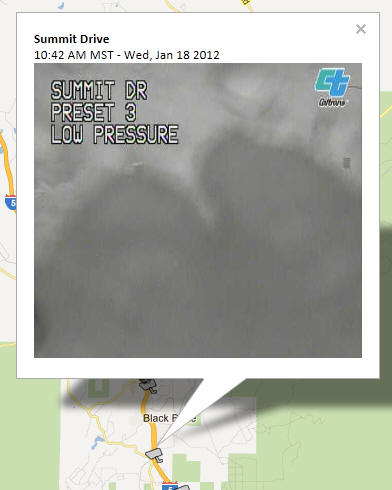 South Weed: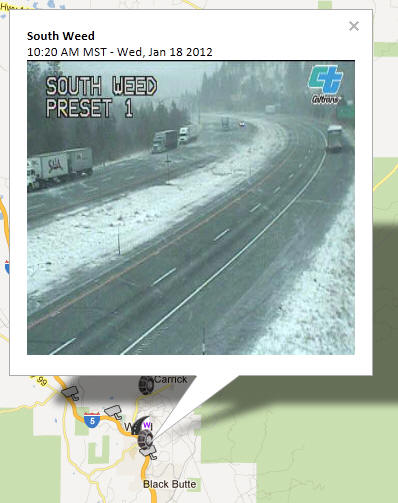 North Weed: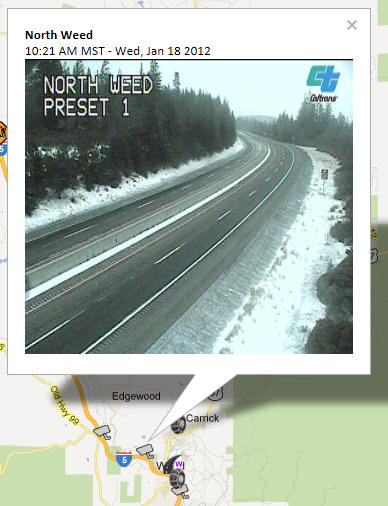 Shasta River Bridge: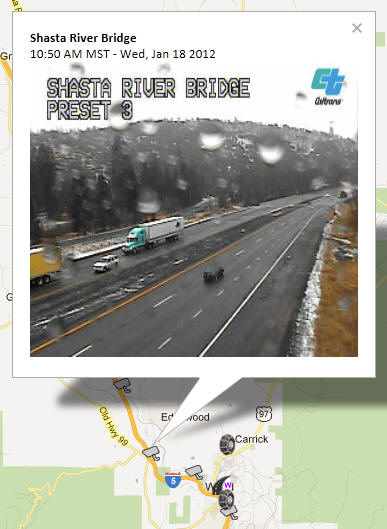 Weed Airport: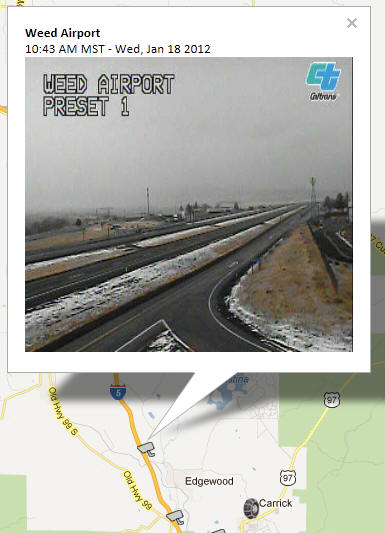 Walters Road: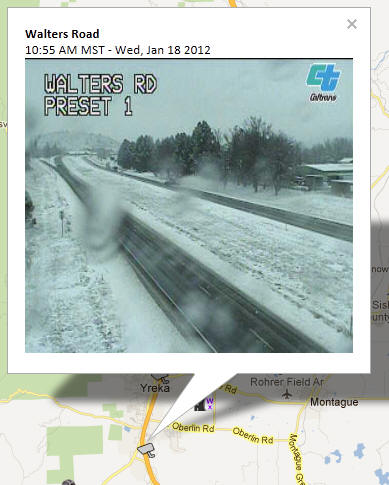 Central Yreka: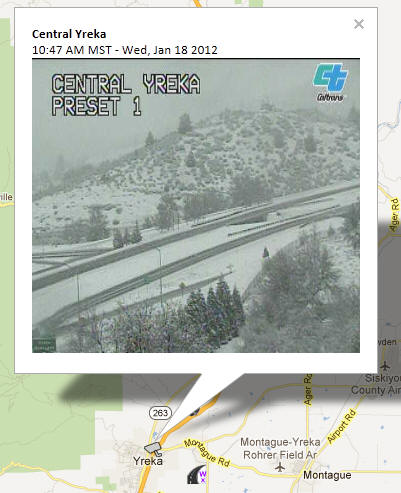 Anderson Grade: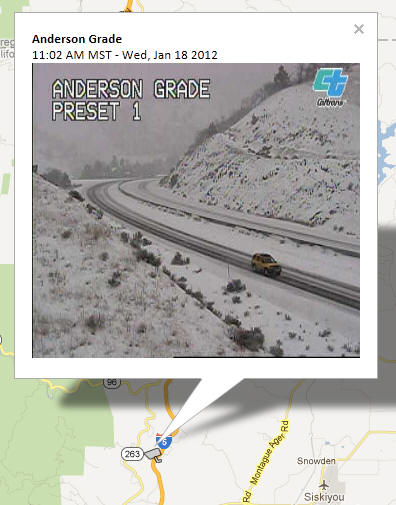 Hilt Sandhouse: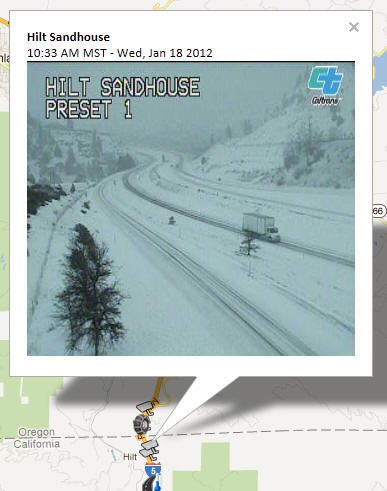 Siskiyou Pass: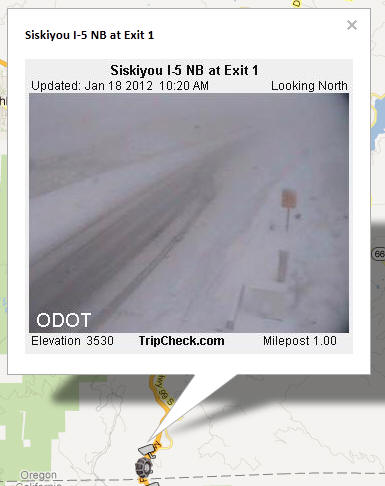 Siskiyou Pass: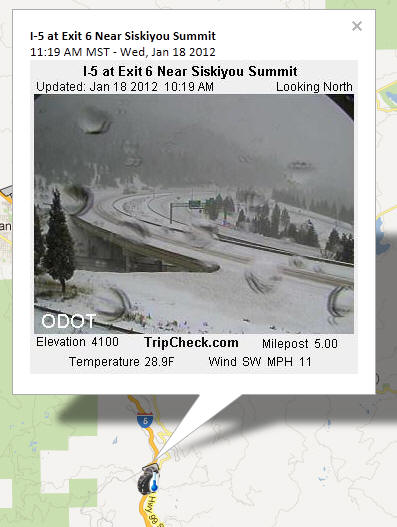 Ashland, OR: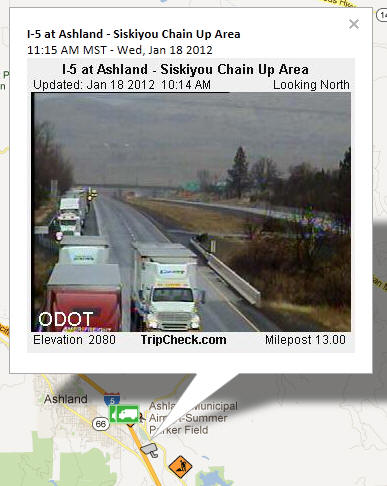 The CCTV images are perhaps the best visual when it comes to indicating conditions. Other layers can be informative too. We've include Google's Traffic layer as an experimental layer in OSS to give an indication of traffic flow. While we're still hesitant to recommend its use in terms of accuracy, timeliness and reliability, it does seem to give a good general indication of problem areas during large events such as today's snowfall. You'll notice that much of the are between Shasta Lake and Weed is color yellow or red, indicating slower speeds at about the same time as the incident: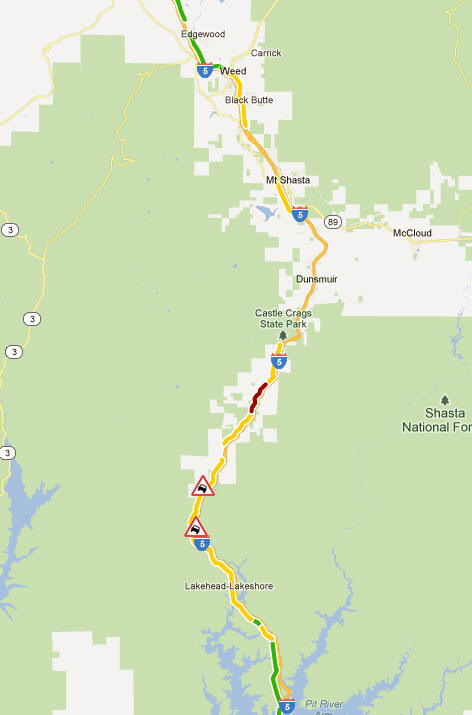 The display is similar in the Siskiyou Pass area: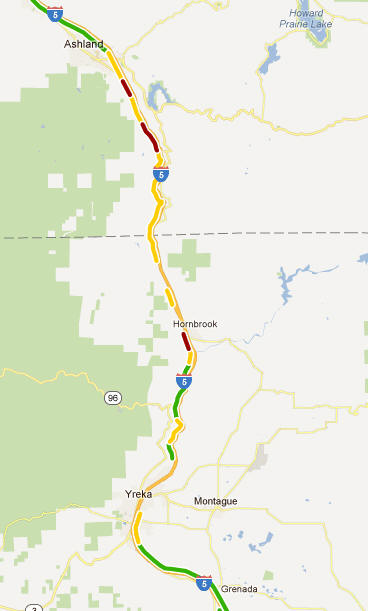 Again, be sure to take a look at multiple OSS updates from today, take a look OSS live at http://oss.weathershare.org/, and, gather as much information as possible from OSS and all available sources both before and while traveling to help plan for safe trips.
Updates from today:
One Stop Shop (OSS) Update - January 18th, 2012 - Part 1 (above)
One Stop Shop (OSS) Update - January 18th, 2012 - Part 2
One Stop Shop (OSS) Update - January 18th, 2012 - Part 3
One Stop Shop (OSS) Update - January 18th, 2012 - Part 4
---