One Stop Shop (OSS) Update - January 18th, 2012 - Part 2
---
UPDATE: Wednesday, January 18th, 2012 - Part 2
In this second update for today we take a closer look at the Google Traffic layer relative to the weather and road conditions. Recall that we've include Google Traffic as an experimental layer in OSS to gauge how well it reflects rural traffic flow. We have concerns about it in terms of accuracy, timeliness and reliability. However, it does appear to be a reasonable indicator of general traffic flow. Take a look at the following and judge for yourself:
Here's the Google Traffic layer in OSS showing the four state region. There are some apparent areas of slowed traffic, particularly in Washington, but alson in Oregon and California. While you'll often see this in urban areas, today is somewhat unusual since rural areas are affected: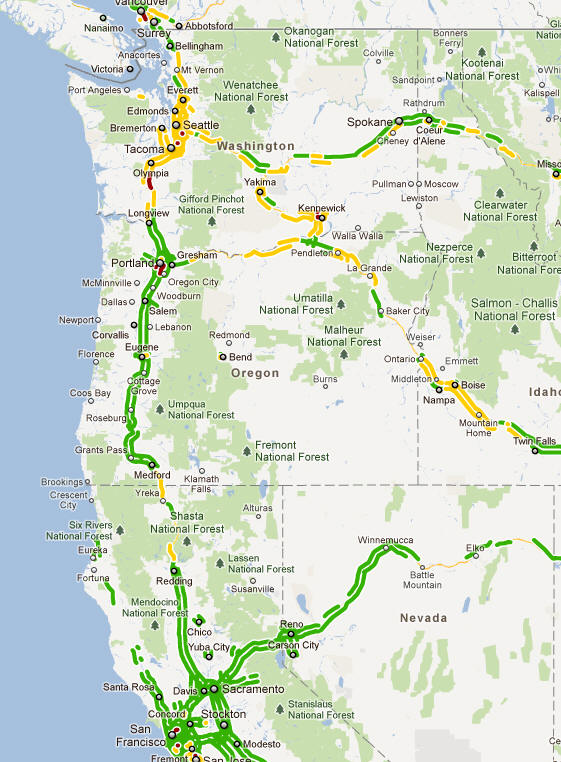 A closer look at the Washington and northern Oregon area shows a bit more detail one where there might be problems. Notice I-5 south of Olympia, the tri-cities area in south-central Washington, and the Pendleton area in Oregon: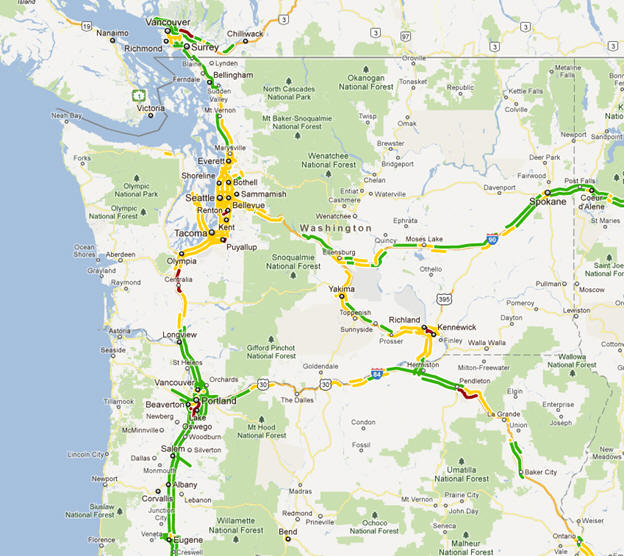 There certainly appears to be something going on in the Tri-Cities and Pendleton area: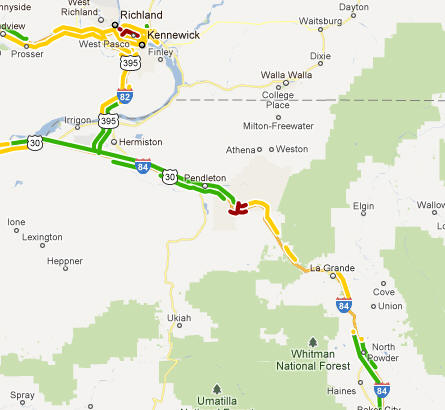 We can take a look at the CCTV images and incidents in proximity to better gauge the conditions:
I-84 at Lorenzen Road: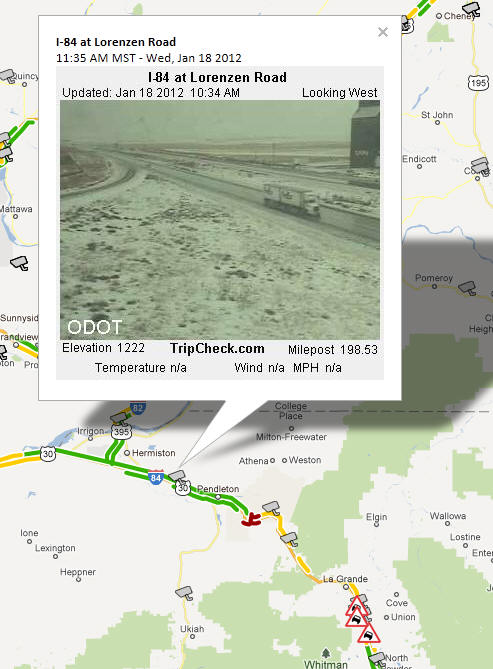 I-84 at Cabbage Hill - Deadman Pass: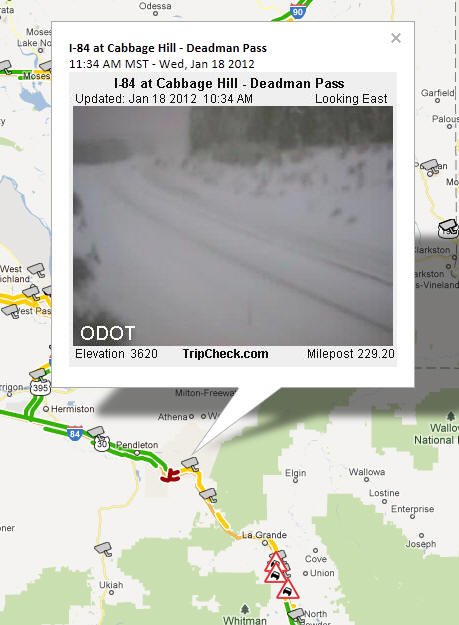 I-84 at Meacham: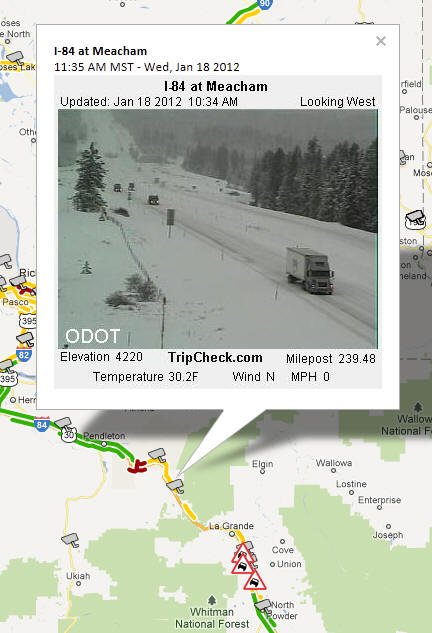 An Incident at La Grande-Baker: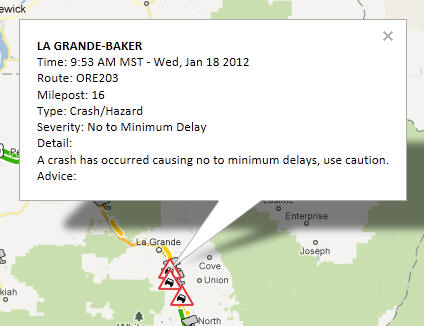 Ladd Canyon at Charles Reynolds: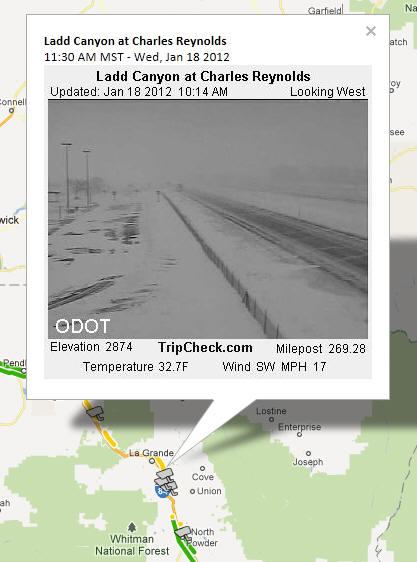 I-84 at Ladd Creek Summit: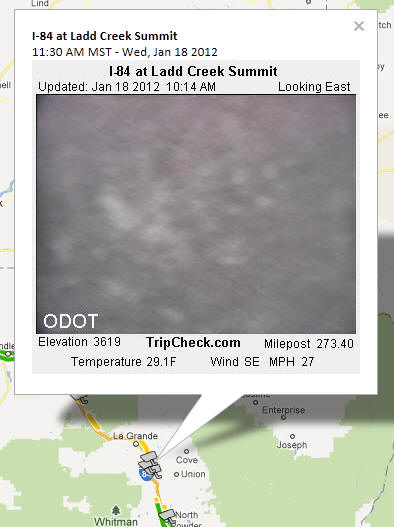 I-84 at North Powder: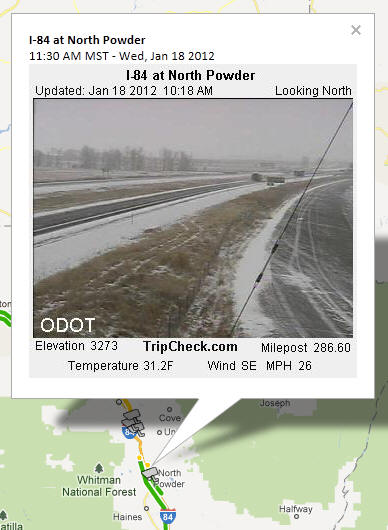 Road Information for the Tri-Cities Area: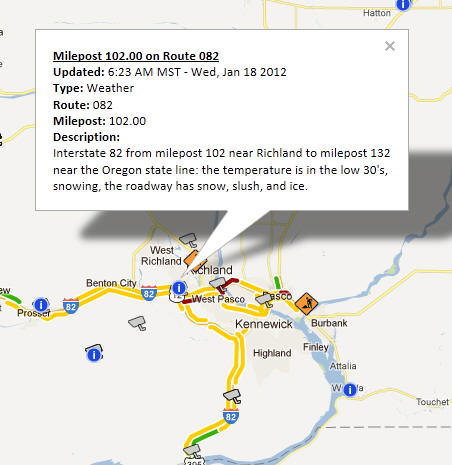 Blue Bridge on US 395 @ MP 19: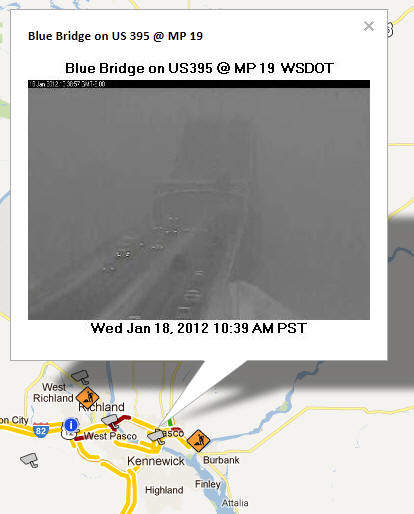 SR 240 / Richland Wye @ MP 38: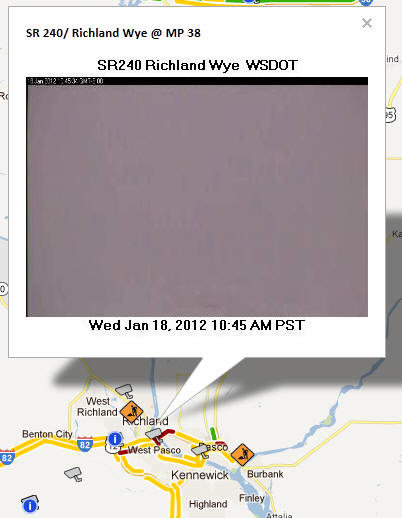 Manastash Ridge Summit on I-82 @ MP 7: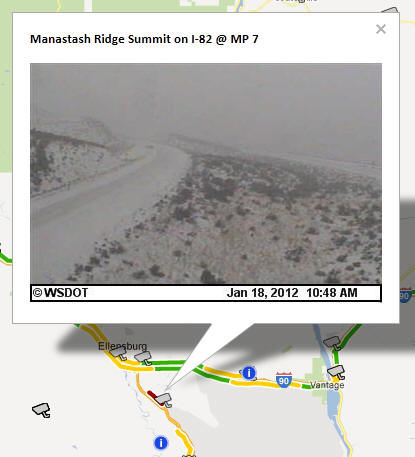 These images, incidents and other reports certainly confirm that the conditions are bad in these areas. With that said, the Google Traffic layer is experimental and should not be used alone to determine conditions and traffic flow. Use it in conjunction with CCTV images, CMS messages, incident reports, road conditions, weather, etc. - all the information that is available in OSS.
Again, be sure to take a look at multiple OSS updates from today, take a look OSS live at http://oss.weathershare.org/, and, gather as much information as possible from OSS and all available sources both before and while traveling to help plan for safe trips.
Updates from today:
One Stop Shop (OSS) Update - January 18th, 2012 - Part 1
One Stop Shop (OSS) Update - January 18th, 2012 - Part 2 (above)
One Stop Shop (OSS) Update - January 18th, 2012 - Part 3
One Stop Shop (OSS) Update - January 18th, 2012 - Part 4
---