Professional Capacity Building (PCB) for Communication Systems
OVERVIEW | HISTORY | CONTACTS | UPDATE | ARCHIVED UPDATES | DOCUMENTS | FACT SHEET |
SUMMARY SHEET | PHASE 4 FACT SHEET | IMPACT
The goals of this project are to develop a comprehensive curriculum and conduct training for Rural ITS communications. Rural ITS engineers may lack the critical skills for designing and maintaining reliable and robust communication networks for rural ITS field equipment. This project has an educational focus and its primary objective is to have leading subject matter experts provide a hands-on, "nuts and bolts" learning experience for rural ITS engineers and technicians. Learning outcomes are centered on understanding the various communication technologies available and how to best select and implement these technologies, particularly in a rural environment.

California Department of Transportation engineers are participating in the development of this curriculum, were students in the initial pilot module, and will participate in subsequent course development and implementation.
---
Recent Updates:
Phase 5 Needs Assessment
February 9th, 2023
Phase 5 Kicks Off
July 7th, 2020
Phase 4 Wrap Up
August 6th, 2019
Small Data Center Design, Structured Cabling, and Grounding Training Course
July 23rd, 2019
Phase 4 Begins
April 5th, 2017
Phase 3 Completed
February 8th, 2016
Check back soon for more PCB for Communications updates.
---
UPDATE: Thursday, February 9th, 2023
Phase 5 Needs Assessment
As part of Phase 5 of the Professional Capacity Building (PCB) project, the project team conducted a Needs Assessment and Gap Analysis for data communications training.
The Needs Assessment gathered information from District supervisors and TMS functional managers at each Caltrans district as well as several offices at Caltrans Headquarters. This assessment allowed the project team to identify training that was most applicable to ITS engineers and technicians working in the field in both rural and urban settings. It was an interactive working meeting facilitated live by the project team via WebEx.
Participants in the Needs Assessment were asked to rank their training needs in the six core subject areas constituting the PCB for Communications Curriculum Scope and Sequence. These subject areas include Plant Wireless, Telco Wireless, Plant Wired, Telco Wired, IP Fundamentals, and Small Data Center Design for Transportation Management Centers (TMCs). They were then asked to evaluate their training needs relative to the individual topics in each of the subject areas. The group also rated the perceived usefulness of the courses delivered to date through this project.
Overall, the group said that training for ITS data communications is important and of priority. Training addressing IP Fundamentals topics is of highest priority both now and in the future. Training for optical fiber and LTE technologies is of high priority as well. The group also indicated that data center design training for TMC / ITS engineers and training addressing core skills in all subjects were of importance.
As shown below, participants identified IP Fundamentals as the area most in need of additional training.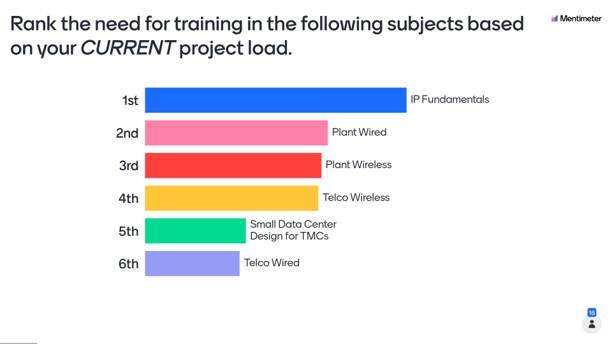 Results shown in Mentimeter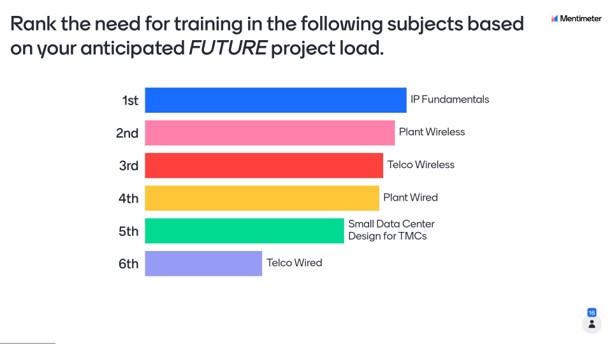 Results shown in Mentimeter
To move the conversation beyond the bounds of the established Curriculum and document any training needs that may not already be included, the group was asked to list their three most important training needs relative to ITS data communications. These could be topics in the Curriculum or any that could be added. The group produced a word cloud representing their answers (figure below). Larger words/phrases were mentioned more often.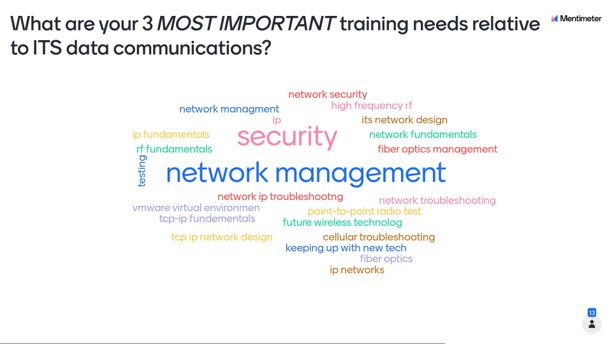 Results shown in Mentimeter
According to the group, the subjects and topics in the Curriculum generally reflect the state of the practice in regard to ITS data communications. Participants did indicate that less time should be spent on technologies that are being phased out, and more time should be spent on the new and emerging technologies. They suggested the Curriculum could be enhanced with the addition of topics like Linux, virtual machine environments, and 5G wireless technologies, along with greater emphasis on network security and management.
The main objective of this project is to have subject matter experts provide onsite, practical, nuts and bolts training to ITS engineers and technicians. Meeting participants concurred with comments indicating that training should be hands-on, realistic, and tailored to actual Caltrans applications. Some also noted the value of in-person training, not only for the educational benefit but also for the opportunities to network between Caltrans Districts. To that end, the courses that have been developed and delivered through the project are perceived as useful. See the figure below.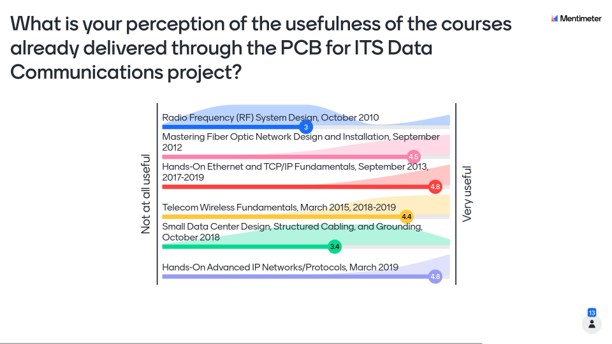 Results shown in Mentimeter
The needs assessment results shown below indicate that the Hands-On Ethernet and TCP/IP Fundamentals course is considered quite important based on current and future project work. The same can be said for Telecom Wireless Fundamentals and Hands-On Advanced IP Networks / Protocols. Mastering Fiber Optic Network Design and Installation was also rated important based on project work.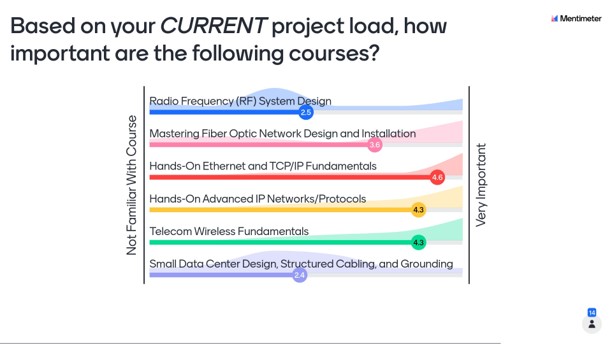 Results shown in Mentimeter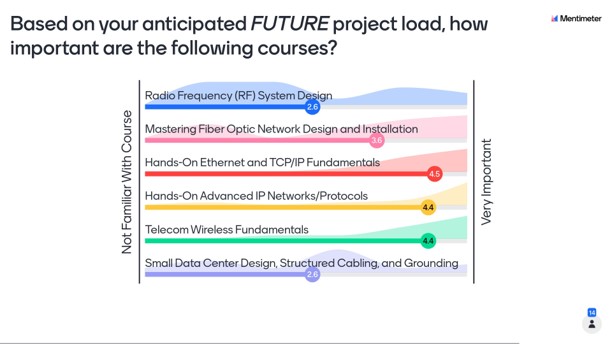 Results shown in Mentimeter
After the meeting, the project team conducted a Gap Analysis to analyze training opportunities within the subject areas and addressing the individual topics. Several of the higher priority needs for ITS data communications training are currently being met with the existing PCB courses. However, potential gaps open up with challenges securing qualified subject matter experts to deliver on-site courses.
The subjects and topics addressed in the Curriculum Scope and Sequence are complex and require study and experience over many years. The PCB courses are meant to provide basic training and familiarization of the identified technologies; significant study and effort over time is necessary for mastery of these complex subjects. It is important to consider building the professional capacity of staff members over time, not just with one-time classes.
Versus a traditional survey, this meeting was designed to effectively and efficiently identify overall training needs at the field level related to ITS data communications. The project team and the meeting participants indicated that this style of needs assessment worked well for the goals at hand. The interactive meeting format was well-received and garnered good responses and participation. The group agreed that it was a good use of time and appreciated seeing the real-time results to the survey questions. Some general meeting comments included, "Pretty interesting with the voting system.", and "Thank you, great meeting…".
You can review the detailed results of the needs assessment and gap analysis in the report document: Professional Capacity Building for Communications, Phase 5, Needs Assessment and Gap Analysis (pdf).
---
Project Contacts:
Project Technical Advisory Panel (PTAP)
Caltrans Project Manager:
Sean Campbell, P.E.
Chief, ITS Special Projects Branch
Caltrans, Division of Research, Innovation,
and System Information
PO Box 942873
Sacramento, CA 94273-0001
(916) 387-5166
sean_campbell "at" dot.ca.gov
https://dot.ca.gov/programs/research-innovation-system-information
Caltrans Project Champion:
Jeremiah Pearce, P.E.
Chief, Office of ITS Engineering and Support
Caltrans District 2
1657 Riverside Drive
Redding, CA 96001
(530) 225-3320
(530) 225-3255 (fax)
jeremiah.pearce "at" dot.ca.gov
https://dot.ca.gov/caltrans-near-me/district-2
WTI Principal Investigator
and Course Coordinator:
Leann Koon
Research Associate
Systems Engineering, Development & Integration
Western Transportation Institute (WTI)
Montana State University - Bozeman
PO Box 174250
Bozeman, MT 59717-4250
(406) 994-7643
(406) 994-1697 (fax)
leann.koon "at" montana.edu
www.westerntransportationinstitute.org
Past WTI Principal Investigator:
Douglas Galarus
Assistant Professor
Department of Computer Science
Montana Tech
Museum 202
1300 West Park Street
Butte, MT 59701
(406) 496-4858
dgalarus "at" mtech.edu
https://cs.mtech.edu/
---