Professional Capacity Building (PCB) for Communications Update - November 7th, 2012
---
UPDATE: Wednesday, November 7th, 2012
The second training course for the Professional Capacity Building for Communications project was held September 24th-28th, 2012, at the Sacramento Regional Transportation Management Center (RTMC) in Rancho Cordova, California. Mastering Fiber Optic Network Design and Installation was taught by Eric Pearson of Pearson Technologies and was filled to capacity with 12 ITS engineers from six different Caltrans districts.
The training course was geared towards rural ITS engineers – students came from Caltrans Districts that work to address rural transportation challenges on a regular basis. Districts 2, 3, 5, 6, 9, and 10 were represented.
The course was an intense, 5 full days of training covering design of fiber optic networks, and installation, maintenance, and testing of installed networks. Students learned a 14-step design process with product options available to the designer, typical specifications for such products, as well as advantages and disadvantages. The installation portion of the training covered basic steps of installation, maintenance, inspection, testing, and certification of the installed network. Students prepared cable ends, completed fusion and mechanical splices, conducted insertion loss and OTDR testing, learned principles for enclosure preparation, and worked on troubleshooting and certification of networks.
By design, the course included lectures as well as a significant amount of time spent working on laboratory exercises and hands-on problems.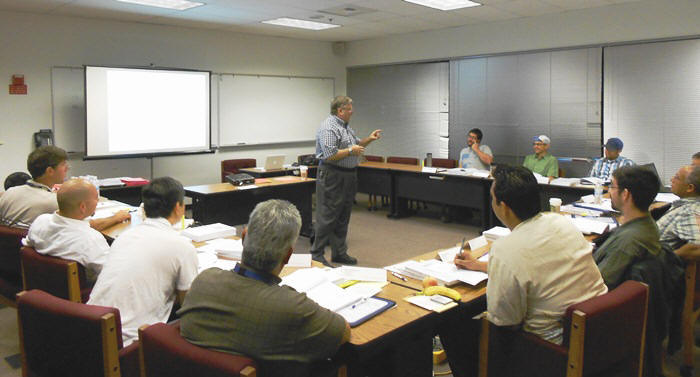 Photo by Doug Galarus
Here, Mr. Pearson explains how to complete a fusion splice and then demonstrates the procedure.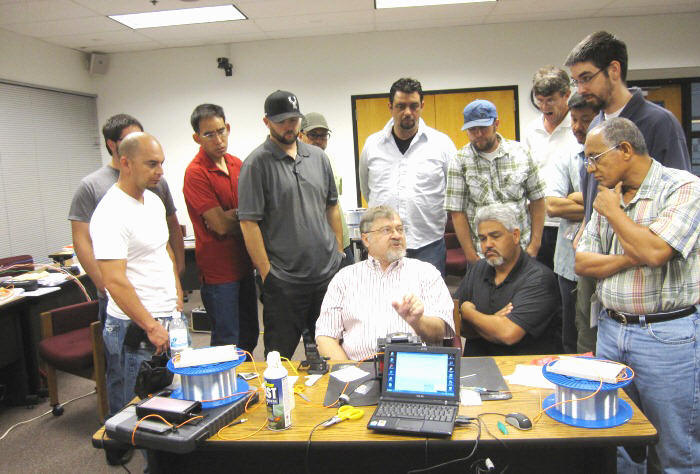 Photo by Leann Koon
Here, he goes through the steps of a mechanical splice: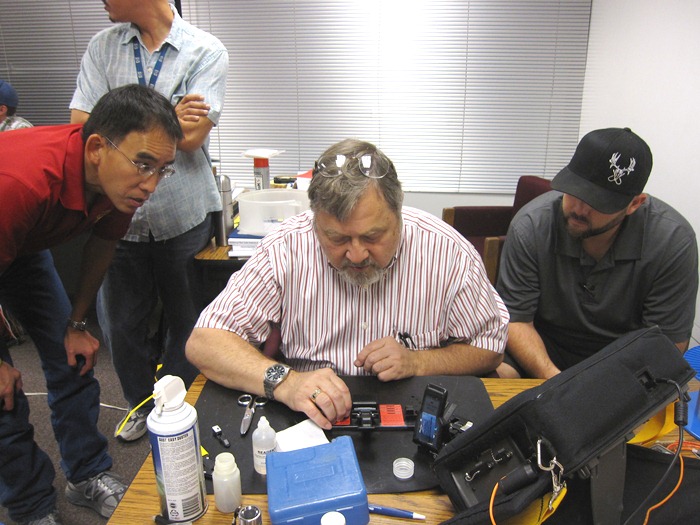 Photo by Leann Koon
After watching the splicing demonstrations, each student completed an approved fusion splice and mechanical splice. With everyone watching, Berhanu Zergaw from District 3 volunteered to complete the first fusion splice.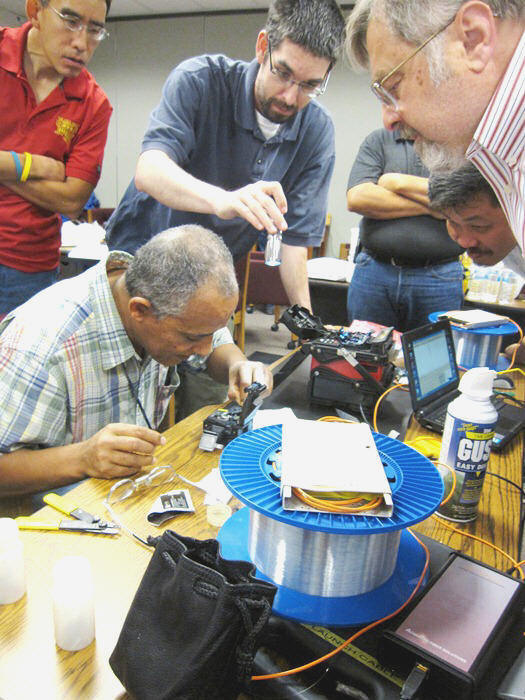 Photo by Leann Koon
Phil Graham from Caltrans District 9 works to align the fibers in the splicer as he completes a fusion splice.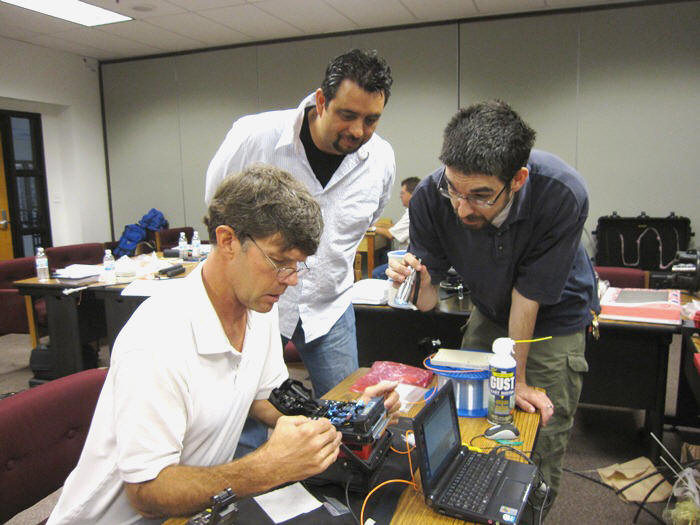 Photo by Leann Koon
Here, Samuel Campos, Caltrans District 6, performs a mechanical splice: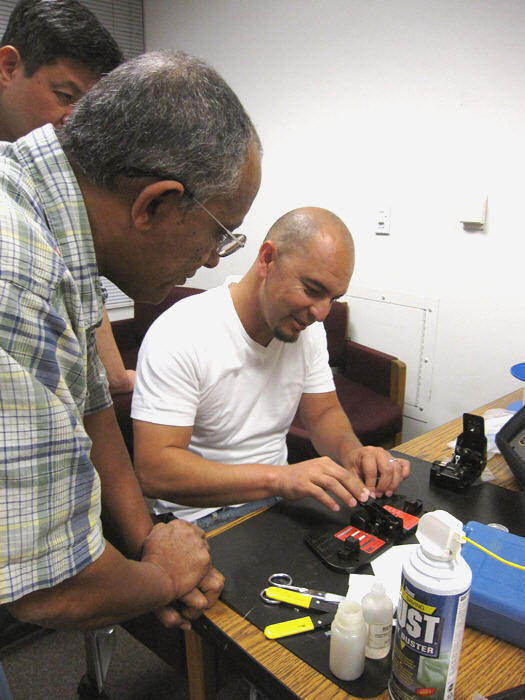 Photo by Leann Koon
In order to make the course as realistic and practical as possible, students were encouraged to bring their own equipment to use during the class. Caltrans District 2 has an active large scale fiber project underway in Redding and the students from District 2 brought their equipment to class. They were able to complete the laboratory exercises using their own gear which helped them develop immediately applicable skills. It also allowed the other students to expand their knowledge base and awareness of different products that could be used in their respective districts.
Here's Jeremiah Pearce from District 2 performing a successful fusion splice with D2's equipment: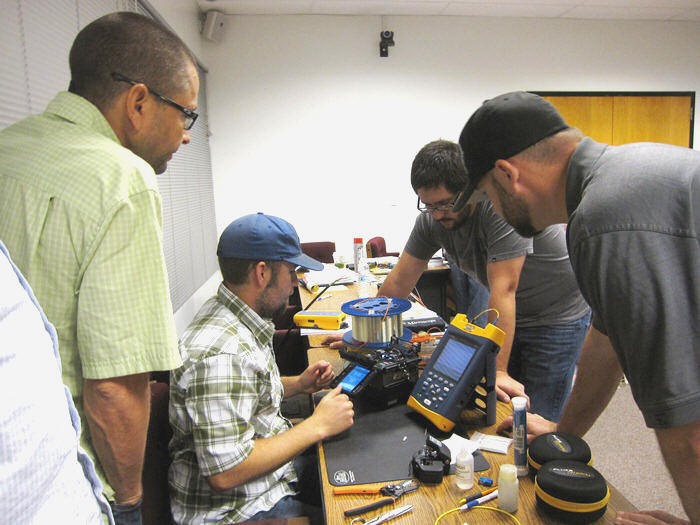 Photo by Leann Koon
The small group size allowed students to interact with each other and work through problems together which not only helped increase student learning, but also built relationships and resources for when students are back working in their own Districts. Below, Richard Montoya from District 10 and Dave Le from District 6 conduct an insertion loss test during one of the lab exercises.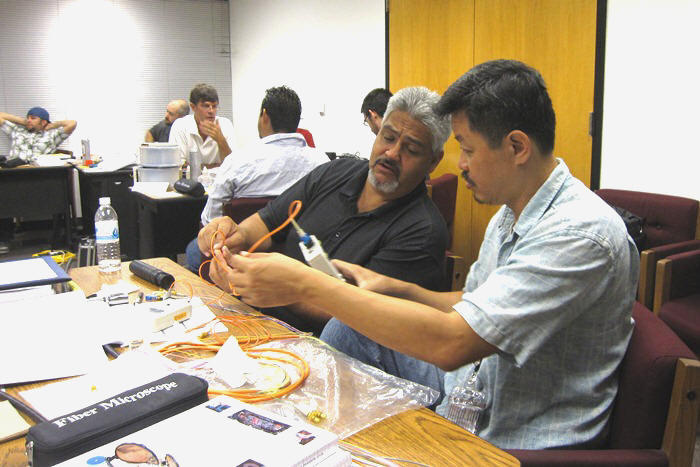 Photo by Leann Koon
After covering the 14 step design process in detail, students were assigned a complete and realistic design problem to solve. They worked in teams of 4 for a good portion of an afternoon to complete the task. Students had to identify missing information and potential challenges within the problem. The instructor answered questions when asked and kept the teams on the right track as needed, but it was up to the students to work through the process on their own. Below, the instructor responds to inquiries by the teams during the design exercise.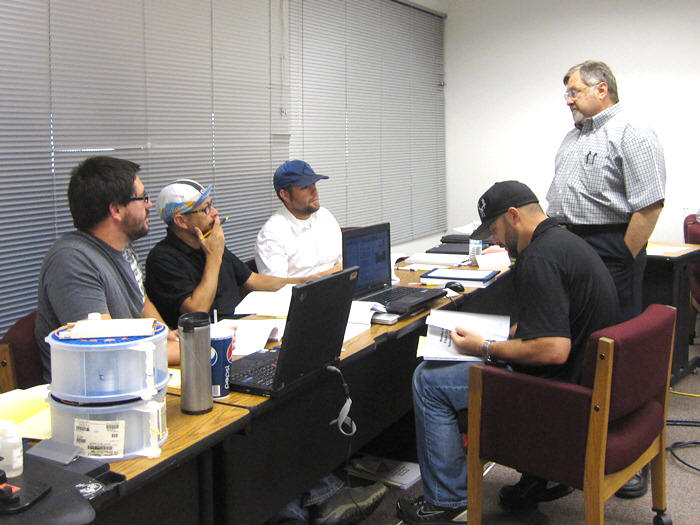 Photo by Leann Koon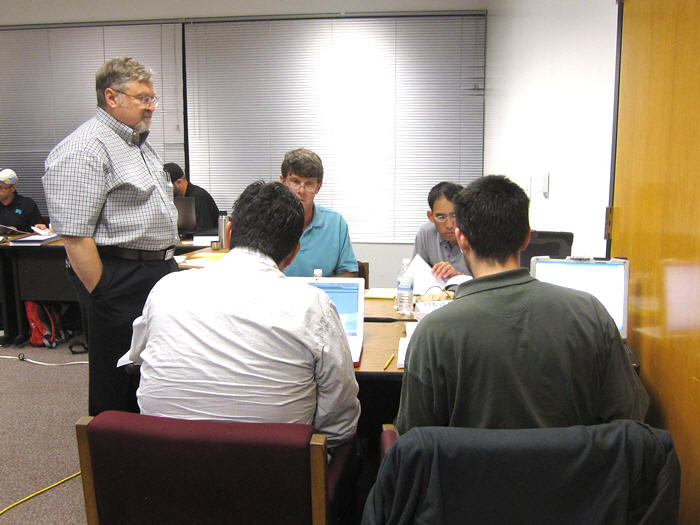 Photo by Leann Koon
The teams continued to work together through some of the troubleshooting exercises.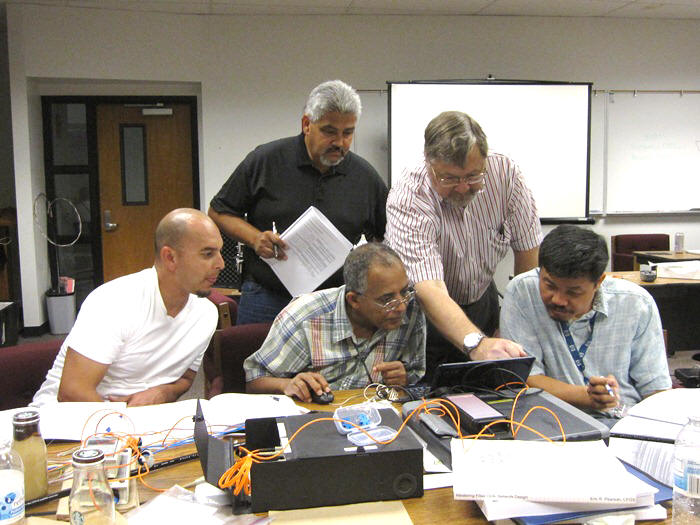 Photo by Leann Koon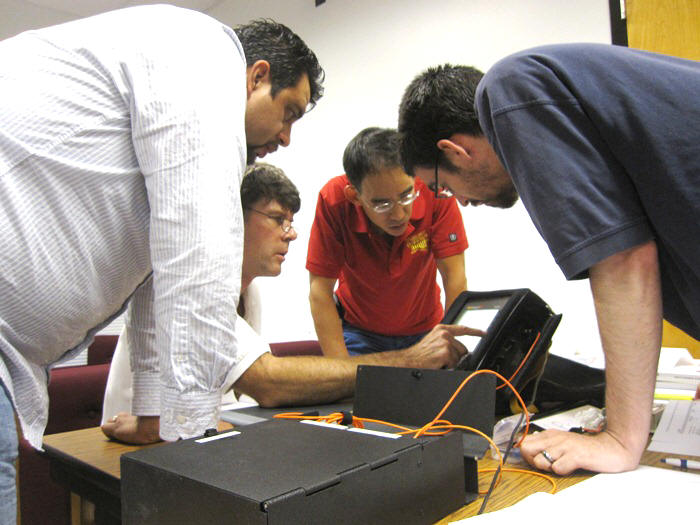 Photo by Leann Koon
Here are a few more pictures:
Photos by Doug Galarus and Leann Koon
Read more about what's next for the PCB project in a future update!
---