Professional Capacity Building (PCB) for Communications Update - April 6th, 2015
---
UPDATE: Monday, April 6th, 2015
Ron LeCroix Training Center
Woodland, California
March 9-13, 2015
Twelve Caltrans ITS engineers and technicians gathered for training to expand their skills in Telco wireless communication and its application to rural intelligent transportation systems. Telecom Wireless Fundamentals was delivered by Scott Baxter through TONEX. Students came from areas that are faced with rural transportation challenges, representing Caltrans Districts 1, 2, 3, 5, 6, and 10, and Caltrans Headquarters.
Wireless technology is becoming more economically feasible as it continues to rapidly advance. At the same time, demand for real-time communication between traffic management centers and remote sites is increasing. Consequently, leased wireless communications systems are being considered as a cost-effective, viable solution for more rural ITS deployments. An understanding of the design principles and practical application techniques involved with these technologies has become an important skill for Caltrans' rural ITS engineers. The Telco wireless fundamentals and usage course was designed with this in mind.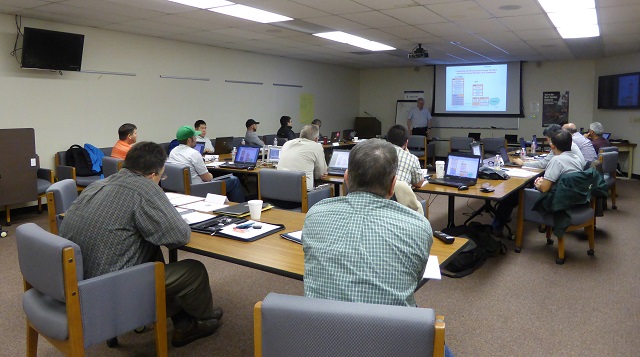 Photo by Leann Koon
The course was a five-day, engineering intensive training with a high level of technical detail. With a focus on LTE, the course reviewed in depth the various wireless access technologies and their evolution, network architectures, how they operate, and different factors that affect them. The instructor brought everything together with a section on cellular RF engineering, planning, design, testing and optimization. Other topics included:
Agreements, standards, policies, and regulations relevant to wireless communications technologies;
Using a spectrum analyzer to survey the cellular/PCS spectrum and identify available cellular signals;
Link budgets and relevant calculations;
Evaluation and selection of antennas for a particular application;
Installation and transmission considerations;
Selecting a cellular or PCS service provider;
Measuring available wireless coverage;
Propagation tools;
Path profiles;
Coverage maps; and
Testing for passive intermodulation (PIM).
The instructor introduced the students to several simple online applications and tools for looking at up-to-date coverage, speedtest maps, and cell and network characteristics. Here, Instructor Scott Baxter and students compare data from the G-NetTrack application on their mobile phones.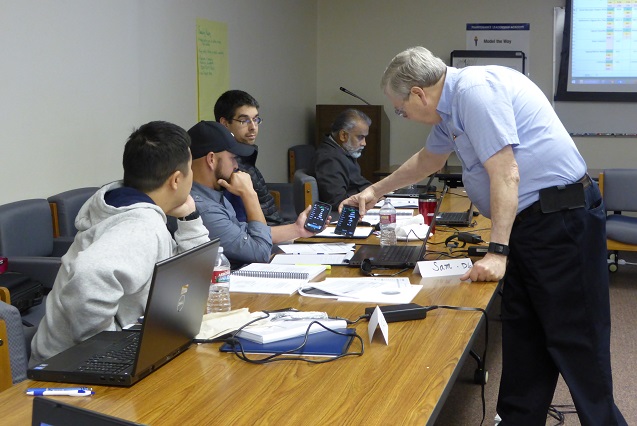 Photo by Leann Koon
The training course was held at the Ron LeCroix Training Center which is located at the Caltrans District 3 Maintenance Yard in Woodland. During a break in the training, the instructor took interested students into the radio equipment room which was located within the classroom. Along with Project Technical Advisory Panel (PTAP) member Ian Turnbull (Caltrans District 2), Mr. Baxter reviewed the different pieces of equipment and their function. Later as part of the lab exercises, Mr. Baxter used the Woodland site for demonstrating propagation tools, path profiles and coverage maps. Here, Ian and Scott discuss operation and set-up for the communications links at the Maintenance Yard with student Ihab Elzaanoun from Caltrans District 6.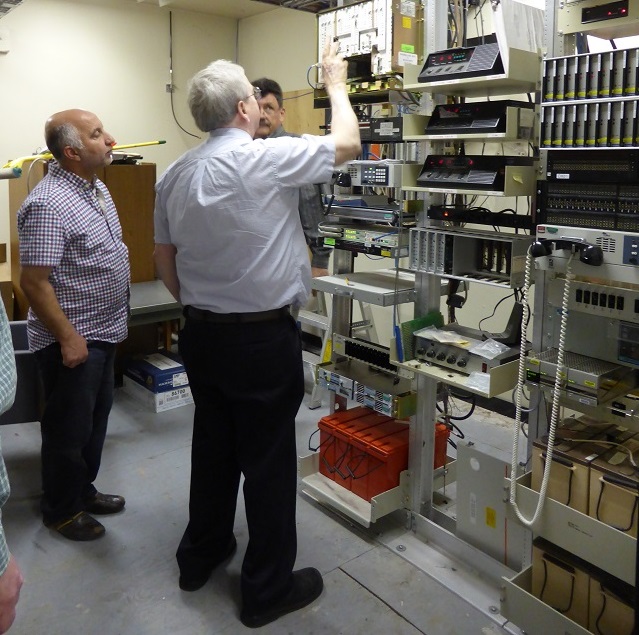 Photo by Leann Koon
Sean Campbell, Caltrans Division of Research, Innovation, and System Information, is a member of the PTAP and the past manager for this project. He's pictured below showing information regarding specific Caltrans communications deployments to students Michael Mullen (District 3) and Mike Beyer (District 2).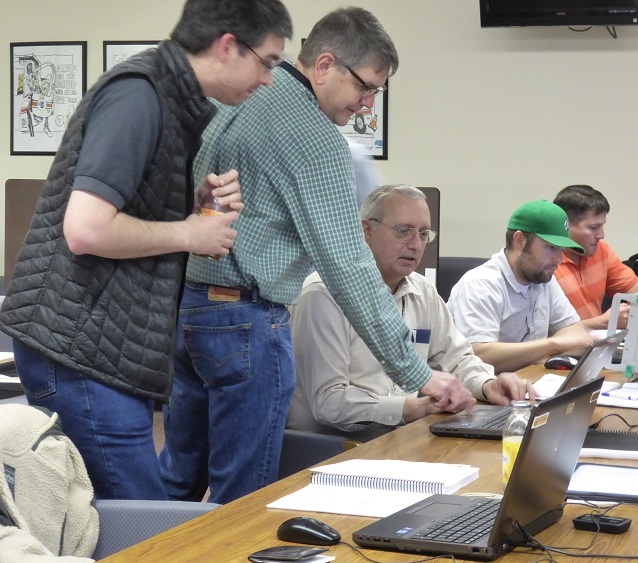 Photo by Leann Koon
Below: Students participate in hands-on application workshops. A key part of the course was having the opportunity to practice new skills with the guidance of their peers and the instructor.
| | |
| --- | --- |
| Photo by Douglas Galarus | Photo by Leann Koon |
The course provided an opportunity for students to network and collaborate with their peers in different parts of California. They finished the course with knowledge and ideas for application in their respective districts, as well as with some additional tools and apps in their belts.
---