WeatherShare Update - April 15th, 2016
---
UPDATE: Friday, April 15th, 2016
The Kick-Off Meeting for Phase 4 of the WeatherShare project (WeatherShare Phase 4) was held on April 12th, 2016. Project team members agreed to hold a teleconference in lieu of an in person meeting.
The participants in the meeting were:
Sean Campbell, Caltrans Division of Research, Innovation and System Information (Project Manager)
Steve Hancock, Caltrans Headquarters (Project Champion)
Ian Turnbull, Caltrans District 2
Keith Koeppen, Caltrans District 2
Doug Galarus, Western Transportation Institute (Principal Investigator)
Daniell Richter, Western Transportation Institute (Lead Developer)
During the Kick-Off Meeting, the team discussed the project's major tasks and current status. The major tasks for WeatherShare Phase 4 are:
Project Management
On-Going System Development
System Testing and Evaluation
The group agreed that the project team should proceed as planned with development of user profiles and alerts.
Following is a screenshot from WeatherShare showing conditions at Hatchet Mountain in Caltrans District 2 along SR-299 near Burney: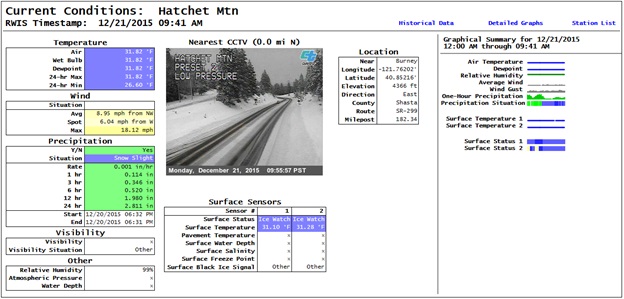 WeatherShare screenshot
Check back soon for more updates on the WeatherShare project.
---