WeatherShare
OVERVIEW | LINK | HISTORY | CONTACTS | UPDATE | ARCHIVED UPDATES | DOCUMENTS | TUTORIAL | FACT SHEET
WeatherShare was developed by the Western Transportation Institute at Montana State University, and sponsored by the California Department of Transportation to improve weather related situation assessment, incident recognition, and response by providing streamlined access to surface weather data from multiple sources.

The Phase II system covers all of California with emphasis on its more than 16,600 miles of state and federal highways and provides the most recent and forecasted weather information. The information is collected from over 3,200 surface weather stations from state and National weather sources such as Caltrans Road Weather Information Systems (RWIS), California Data Exchange Center (CDEC), MesoWest, NOAA's Meteorological Assimilation Data Ingest System (MADIS) and the NOAA National Digital Forecast Database (NDFD). Three-level Quality Control (QC) procedures have been implemented to flag questionable sensor readings. Other value-added features include mapping NDFD data to California highway mileposts, and using combinations of data to detect and display alert conditions.

In Phase 3, WeatherShare will become Caltrans' repository for Caltrans RWIS data. As such, it will focus more on the needs of Caltrans personnel. Another Caltrans project, the One Stop Shop, has stepped in to provide travelers with important road and weather information. This division of roles will allow the two systems to better focus on the diverse needs of both travelers and maintence teams.


Click here to visit the WeatherShare.
---
Recent Updates:
WeatherShare Phase 4 Kicks Off
April 15th, 2016
WeatherShare Phase 3
February 4th, 2015
Bad Weather
January 12th, 2011
Try out the animation
April 29th, 2010
Checking conditions
April 20th, 2010
Check back soon for more WeatherShare updates.
---
UPDATE: Friday, April 15th, 2016
The Kick-Off Meeting for Phase 4 of the WeatherShare project (WeatherShare Phase 4) was held on April 12th, 2016. Project team members agreed to hold a teleconference in lieu of an in person meeting.
The participants in the meeting were:
Sean Campbell, Caltrans Division of Research, Innovation and System Information (Project Manager)
Steve Hancock, Caltrans Headquarters (Project Champion)
Ian Turnbull, Caltrans District 2
Keith Koeppen, Caltrans District 2
Doug Galarus, Western Transportation Institute (Principal Investigator)
Daniell Richter, Western Transportation Institute (Lead Developer)
During the Kick-Off Meeting, the team discussed the project's major tasks and current status. The major tasks for WeatherShare Phase 4 are:
Project Management
On-Going System Development
System Testing and Evaluation
The group agreed that the project team should proceed as planned with development of user profiles and alerts.
Following is a screenshot from WeatherShare showing conditions at Hatchet Mountain in Caltrans District 2 along SR-299 near Burney: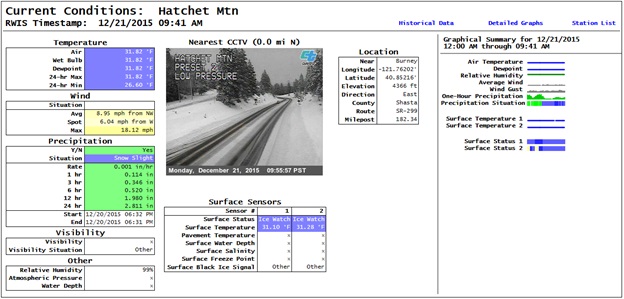 WeatherShare screenshot
Check back soon for more updates on the WeatherShare project.
---
Project Contacts:
Caltrans Project Manager:

Sean Campbell, P.E.
Chief, ITS Special Projects Branch
Caltrans, Division of Research, Innovation,
and System Information
PO Box 942873
Sacramento, CA 94273-0001
(916) 387-5166
sean_campbell "at" dot.ca.gov
https://dot.ca.gov/programs/research-innovation-system-information

Caltrans Project Champion:

Steve Hancock, P.E.
ITS Functional Manager
Caltrans, Office of Technology, ITS Support
1120 N Street, MS-36
Sacramento, CA 95814
(916) 654-6007
(916) 654-5452 (fax)
steve.hancock "at" dot.ca.gov
https://dot.ca.gov/


Principal Investigator:

Douglas Galarus
Assistant Professor
Department of Computer Science
Montana Tech
Museum 202
1300 West Park Street
Butte, MT 59701
(406) 496-4858
dgalarus "at" mtech.edu
https://cs.mtech.edu/

Past Caltrans Project Champion:

Jeremiah Pearce, P.E.
Chief, Office of ITS Engineering and Support
Caltrans District 2
1657 Riverside Drive
Redding, CA 96001
(530) 225-3320
(530) 225-3255 (fax)
jeremiah.pearce "at" dot.ca.gov
https://dot.ca.gov/caltrans-near-me/district-2

Past Caltrans Project Manager:

Mandy Chu, P.E.
Office Chief, Senior Transportation Engineer
Office of Highway System Information and Performance
Caltrans, Division of Research, Innovation, and System Information
1120 "N" Street, MS-38
Sacramento, CA 95814
(916) 654-3995
mandy.chu "at" dot.ca.gov
https://dot.ca.gov/programs/research-innovation-system-information/office-of-highway-system-information-performance
---