WSRTTIF Update - June 20th, 2011
---
UPDATE: Monday, June 20th, 2011
The 6th annual Western States Forum was held in Yreka, California, with 31 participants from California, Montana, Nevada, Oregon, and Washington, and a U.S. DOT representative from Illinois. Nine technical presentations and demonstrations about different ITS projects in the western states area were part of the agenda.
Tim McDowell, Washington State DOT, kicked off the technical presentations with his detailed discussion of the wireless data communications systems developed and used for Washington's rural ITS projects. Here Tim shows several radios used by WSDOT: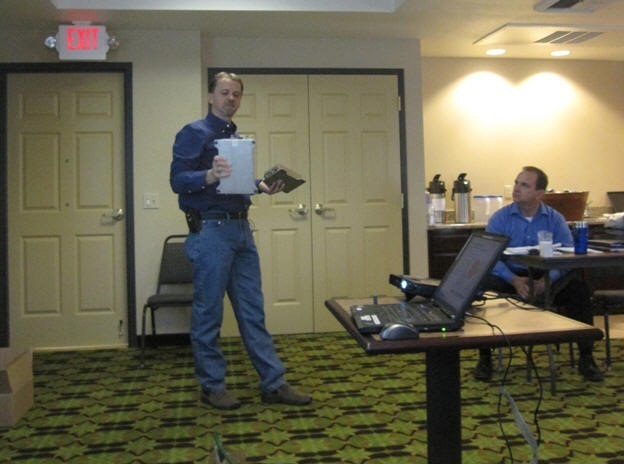 Photo by Leann Koon
Nevada DOT's Jon Dickinson and Mark Aragon discussed how photovoltaic technology has provided a reliable and cost effective method of generating electrical power for ITS devices in remote locations. In addition to setting up a demonstration, the team let everyone get a good look at a solar panel and challenged us all to lift the heavy battery used as part of a typical photovoltaic power system.
Here's Jon showing a solar panel to the group: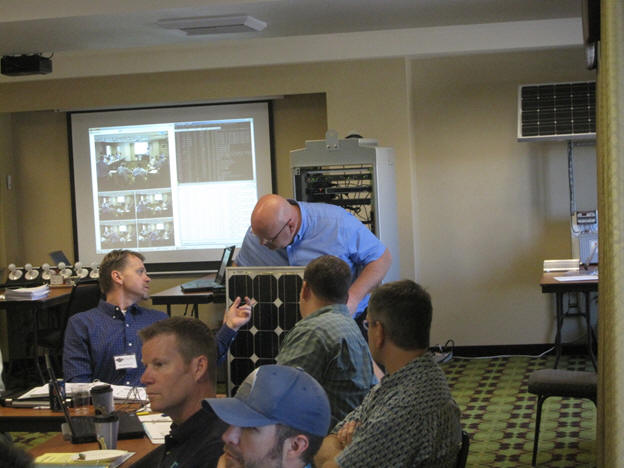 Photo by Leann Koon
Here's Mark taking questions and comments from the group: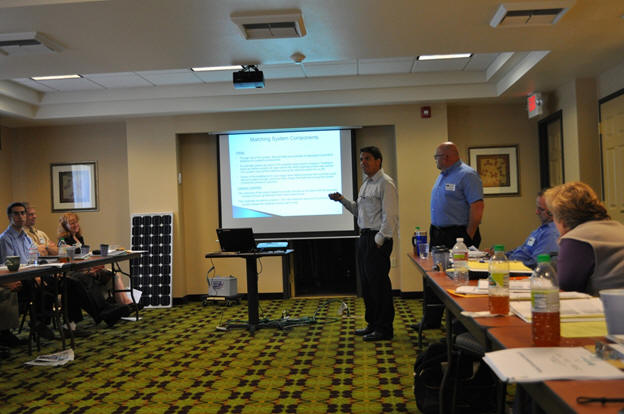 Photo by Doug Galarus
Javier del Rio and John Schmidt from Caltrans Headquarters Office of Radio Communications teamed up to present the voting scan 800 MHz radio communications system. In addition to explaining the system, the team discussed the design and challenges of current deployment of the system in northern California.
Here's Javier: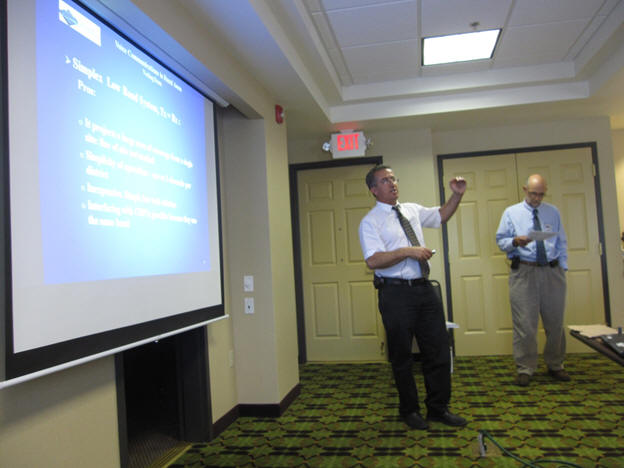 Photo by Leann Koon
And here's John S.: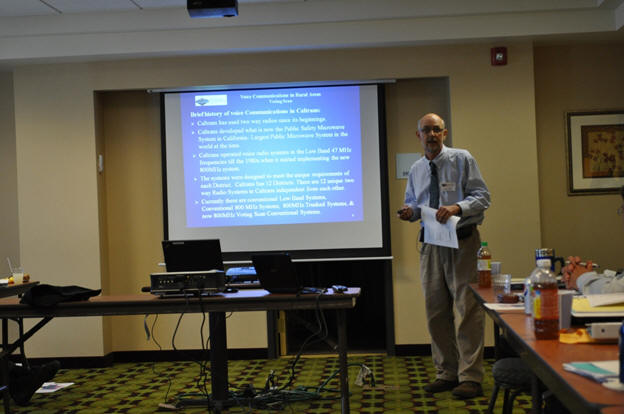 Photo by Doug Galarus
Day one presentations concluded with the team of Michael Darter and Kin Sing Yen from University of California-Davis AHMCT and Caltrans District 10's John Castro. The group explained the open source Intelligent Roadway Information System (IRIS) in detail and generated good questions and discussion throughout.
Here's John C.: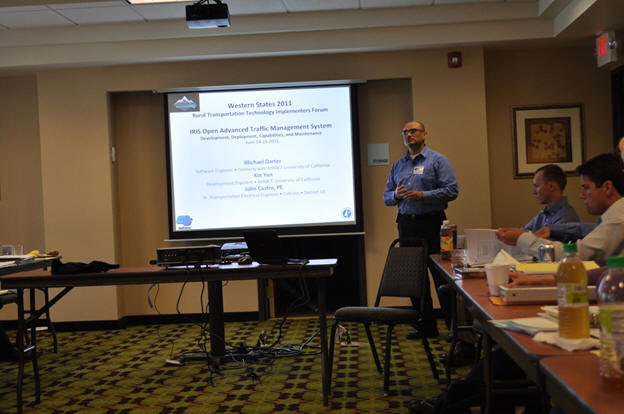 Photo by Doug Galarus
Here's Michael: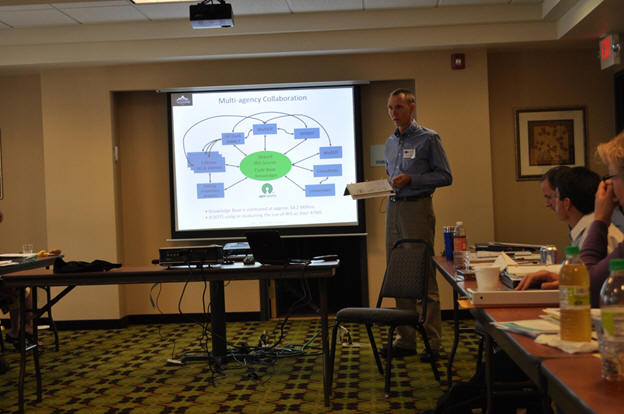 Photo by Doug Galarus
And here's Kin demonstrating the video and mapping capabilities of the IRIS system: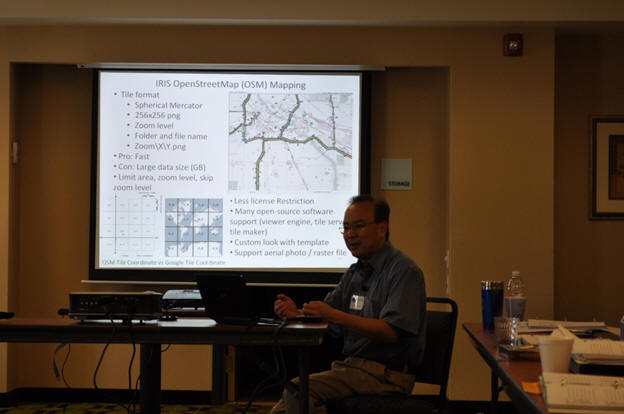 Photo by Doug Galarus
Caltrans District 2 has been a crucial part of the Western States Forum since its inception. District 2 teams have presented a variety of topics at five of the last six Forums. This year, Keith Koeppen demonstrated an Information Relay he helped develop that acts as a virtual "glue" device to connect a field element network with an administrative network. The single processor system was designed to both pull data from the field as well as push information to external sources such as a traveler information website.
Here's Keith demonstrating the information relay system: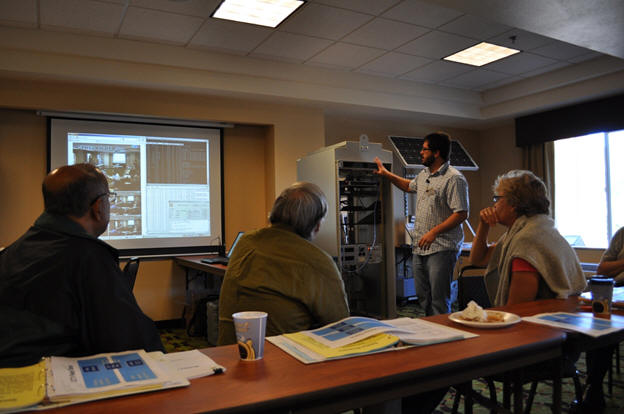 Photo by Doug Galarus
Dean Campbell from Caltrans District 3 and Sean Campbell from Caltrans Division of Research and Innovation (DRI) teamed up to demonstrate a remote power controller. With its telephone and internet accessible control functions, the device can reduce or eliminate the need to call personnel out to check and troubleshoot rural ITS field elements.
Dean has presented and demonstrated at three different Forums: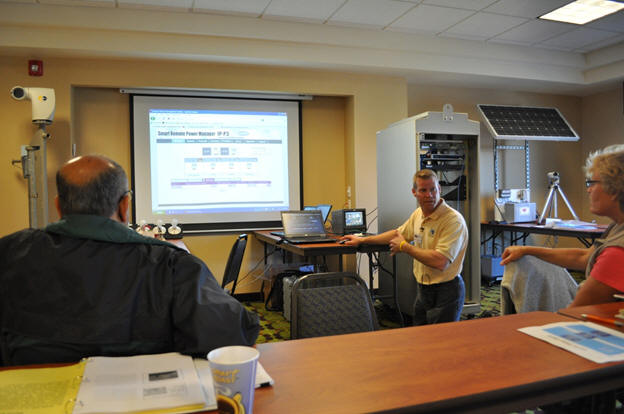 Photo by Doug Galarus
Sean is a member of both the Forum and Consortium steering committees and has presented at two Forums: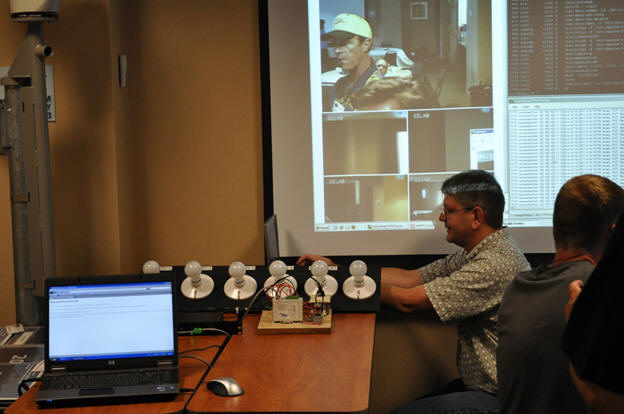 Photo by Doug Galarus
Five universities were represented at this year's Forum. In addition to the IRIS presentation by UC Davis, Oregon State University and the University of Washington also presented.
Dr. David Kim and graduate student Amirali Saeedi from Oregon State University explained their research project that compared the effect of characteristics of various antennas on travel time data collected using Bluetooth-based technology. They let the group examine the Bluetooth reader device as well as several of the different antennas tested in the study.
David answers questions from Forum participants as he explains their test results: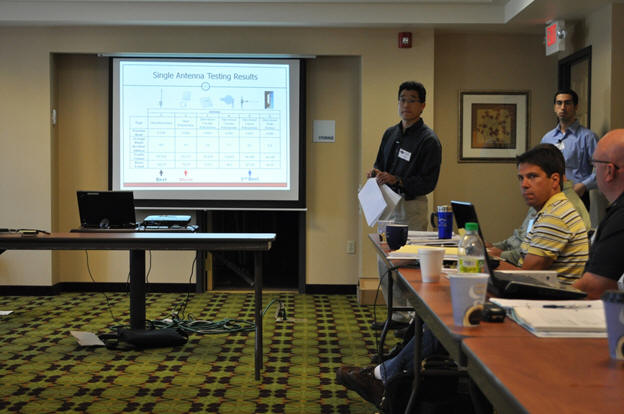 Photo by Doug Galarus
Amirali Saeedi passed around a number of different antennas and the Bluetooth reader device: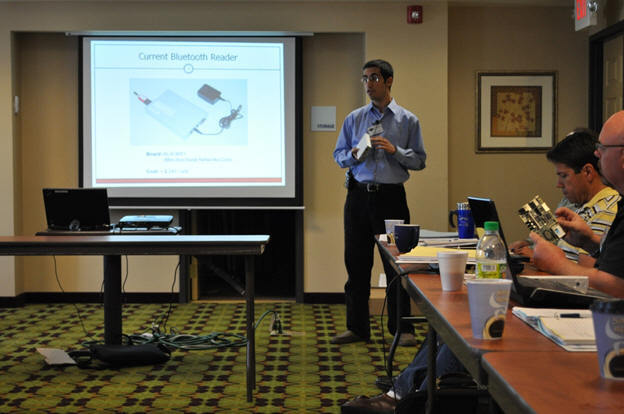 Photo by Doug Galarus
Another three time Forum presenter is graduate student Yegor Malinovskiy from the University of Washington. This year, along with his major professor, Yinhai Wang, he presented research that is studying the use of Bluetooth technology to measure delays at rural "gateways" such as border crossings, weigh stations, and mountain passes.
Dr. Wang gave an overview and history of the project along with a broad discussion of objectives: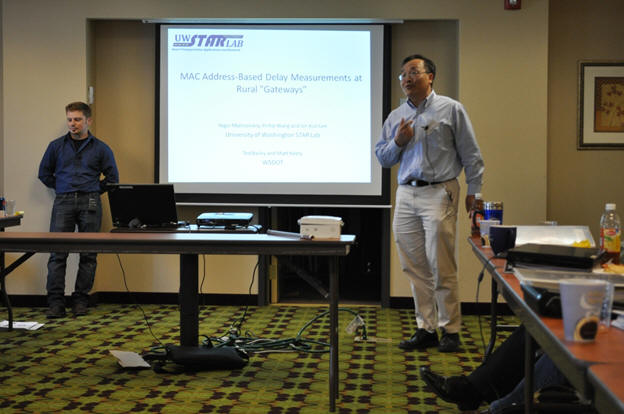 Photo by Doug Galarus
Yegor shows the project test site at a weigh station site along I-5 at Fort Lewis: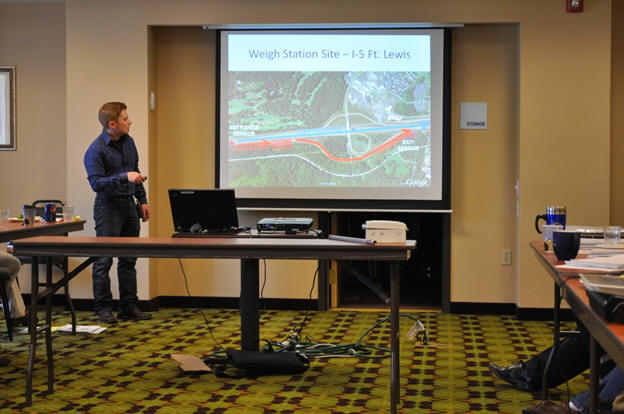 Photo by Doug Galarus
Ted Bailey, one of the WSRTC steering committee members, introduced the team and provided some additional information about the project.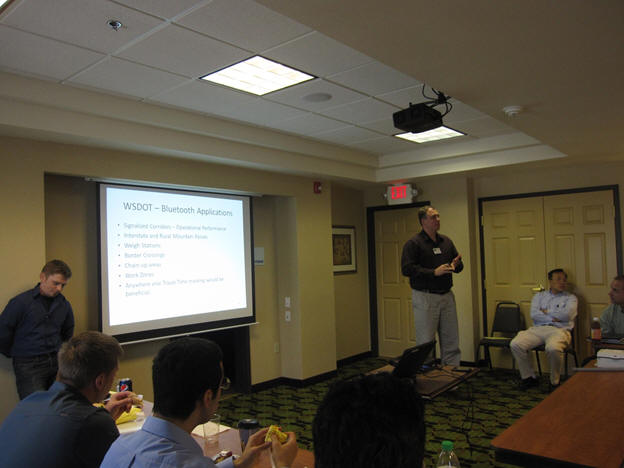 Photo by Leann Koon
Wednesday's presentations included a luncheon speaker as well. Mac Lister from the US DOT, RITA, ITS Joint Program Office, gave a brief overview describing the ITS Standards Program's and ITS Professional Capacity Building Program's project that is developing a new set of training materials for ITS standards. Thanks to Mac for participating in the Forum. Here he asks for feedback and discussion from the audience: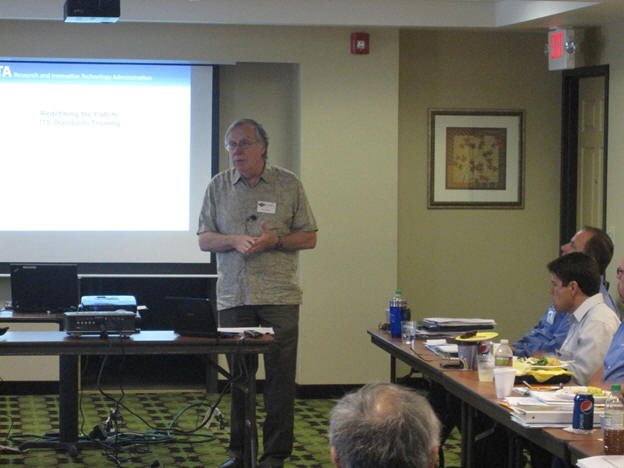 Photo by Doug Galarus
To recognize Forum attendance this year and over the past Forums, each participant received a personalized Certificate of Participation including the years they'd attended the Forum. Special recognition went to Ian Turnbull, Caltrans District 2, and Sean Campbell, Caltrans Division of Research and Innovation, for their years of dedicated service to the Forum and its mission.
Here's Ian Turnbull introducing Keith Koeppen. Keith is a member of Ian's ITS engineering team at Caltrans District 2.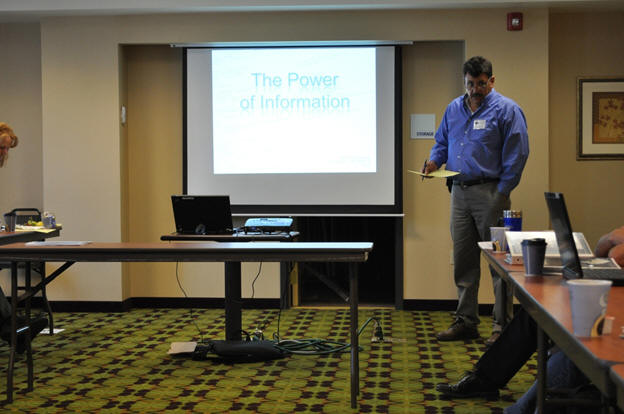 Photo by Doug Galarus
And here's Sean Campbell introducing the Oregon State crew: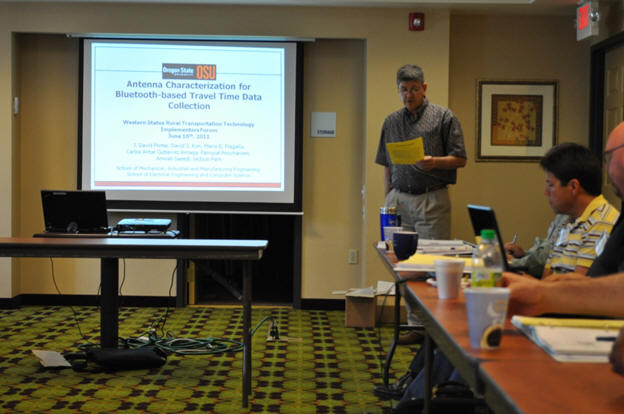 Photo by Doug Galarus
Opportunities to network are incorporated into the agenda during meals and with extended time for breaks. The Tuesday evening social is always a great chance for Forum participants to meet each other and find out what projects are being developed and deployed in the western states region.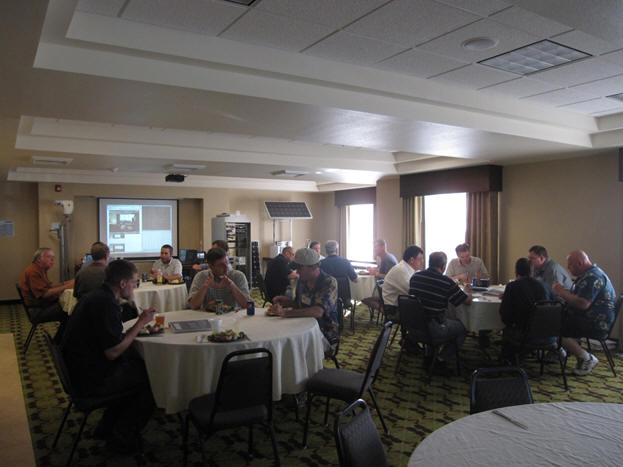 Photo by Leann Koon
Thanks again to all involved with the 2011 Forum. We look forward to seeing you at Western States Forum 2012!
Take a look at our website to read more about the Forum activities. Presentations from the 2011 Forum and previous Forums are posted here too. www.westernstatesforum.org
---