WSRTTIF Update - July 14th, 2016
---
UPDATE: Thursday, July 14th, 2016
Held in Yreka, California, June 21st through the 23rd, this year's Western States Forum brought together 47 ITS engineers and practitioners from across the western United States. Nine technical presentations covered a diverse range of topics including RWIS sensors and RPU redesign, Bluetooth traveler information, adaptive signal timing, field and work zone data collection, controller cabinet standards, and DSRC radio and connected vehicles. Speakers represented California, Idaho, Nevada, Oregon, and Washington state departments of transportation, as well as the Idaho National Laboratory.

Photo by Doug Galarus.
Caltrans District 2 kicked off the technical agenda with dual presentations discussing their design for a new RWIS RPU (remote processor unit) and their comparison of in-pavement versus out-of-pavement sensor technologies. Jeff Worthington discussed the reasons for redesigning the RPU, the subsequent implementation, what worked and didn't work, and future plans for the system. Mike Beyer reviewed the process of deploying pavement sensors with the new RWIS RPU design. He discussed the challenges associated with in-pavement sensor technologies and District 2's consequent investigation of out-of-pavement sensor technology. He further compared the two technologies and discussed the lessons learned for best practice implementation for both types of technology.
Here's Jeff: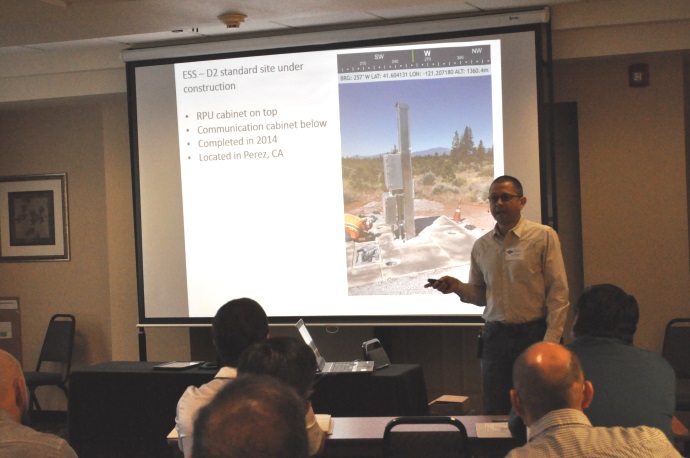 Photo by Doug Galarus.
And here's Mike: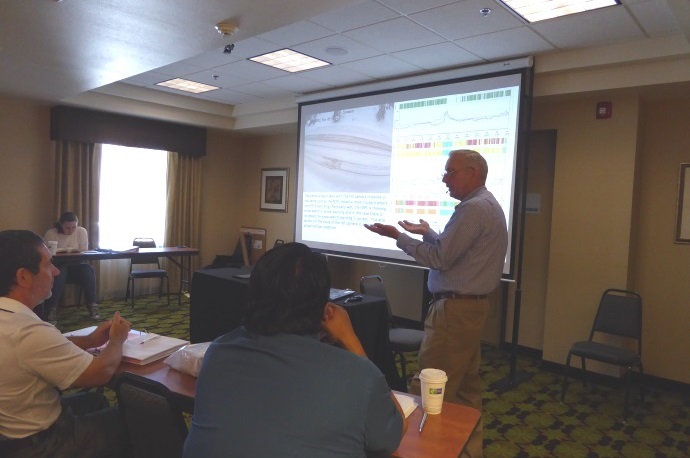 Photo by Leann Koon.
The Washington State Department of Transportation contributed two presentations to this year's technical agenda. Olympic Region's Freeway Operations Manager, Tony Leingang, and Information Technology Specialist, Tom Stidham, presented Joint Base Lewis-McChord (JBLM) Bluetooth Traveler Information and Integration. WSDOT partnered with multiple agencies to implement ITS congestion management solutions along the I-5/JBLM corridor. One element required improved traveler information to encourage use of a variety of routes more efficiently, reduce severity of bottlenecks, and eliminate unnecessary short freeway trips. Tony and Tom discussed project coordination, selection of Bluetooth technology, installation, and data processing. As shown below, they demonstrated the system software and reviewed some of the project's challenges and lessons learned.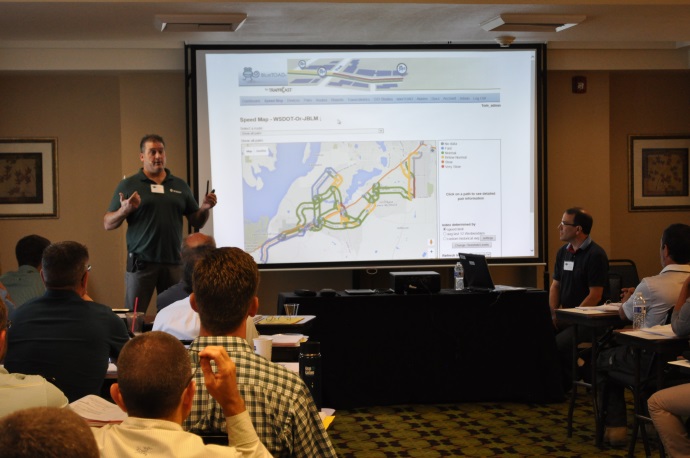 Photo by Doug Galarus.
Oregon DOT also contributed two presentations to the agenda. Region 2's Signal Operations Engineer, Julie Kentosh, teamed up with ODOT's ITS Standards Engineer Doug Spencer to present the Local Adaptive Signal Timing project implemented on US101 Hwy in Lincoln City, Oregon. The system was designed to address the significant seasonal traffic fluctuations experienced along that segment of highway. Julie and Doug provided background on the project and adaptive signal timing in general. They then discussed the design of the Lincoln City system, and its installation, operation, evaluation and results to date.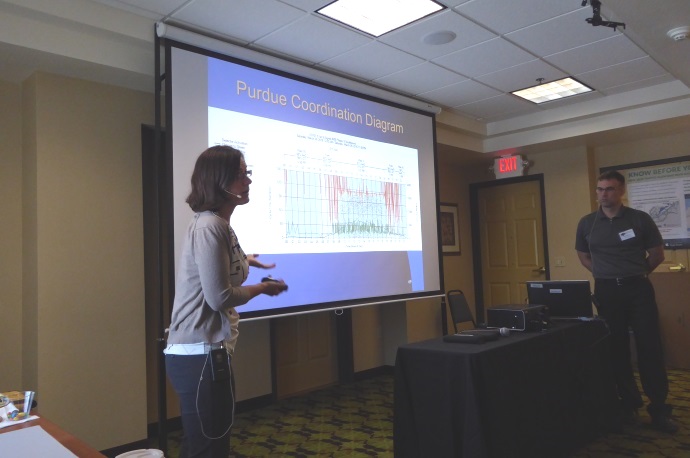 Photo by Leann Koon.
WSDOT Technology Resource Manager, Joe Schmit, presented iPads for Field Data Collection at WSDOT. To modernize and create a more efficient maintenance department, the Washington State Department of Transportation Maintenance Division deployed over 1000 iPads to highway maintenance employees. These iPads are equipped with a WSDOT-developed application called the Highway Activities Tracking System (HATS). A dynamic user interface is combined with onboard GPS and mobile GIS to help in documenting maintenance activities and tracking highway features. Joe discussed the project from development to field deployment and then gave a live demonstration of the application.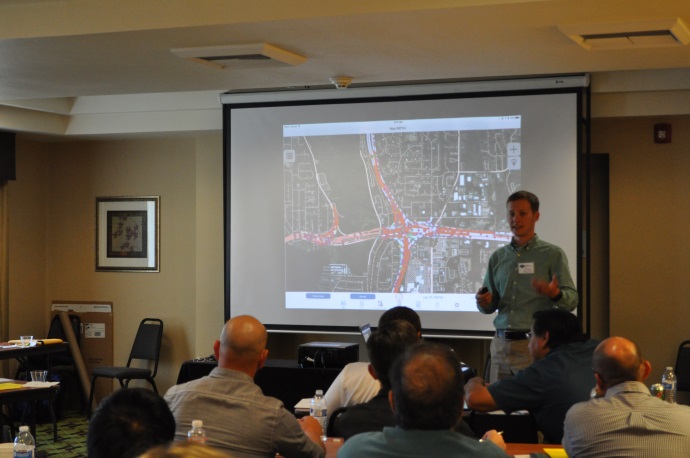 Photo by Doug Galarus.
Blaine Van Dyke of ODOT presented Portable Work Zone Data Collection. ODOT developed four solar powered portable data collection trailers to monitor traffic in work zones. Each trailer is equipped with traffic sensors, Bluetooth travel time units, and cameras. ODOT uses the data collected by the trailers to inform travelers in real time of any delays through the work zone. Messages are posted to changeable message signs and the TripCheck traveler information website. The data collected will also be used to improve traffic flow in future work zones. Blaine reviewed the trailer specifications and components, deployment and data collection, and lessons learned. He included a walk-around video of an actual trailer as well.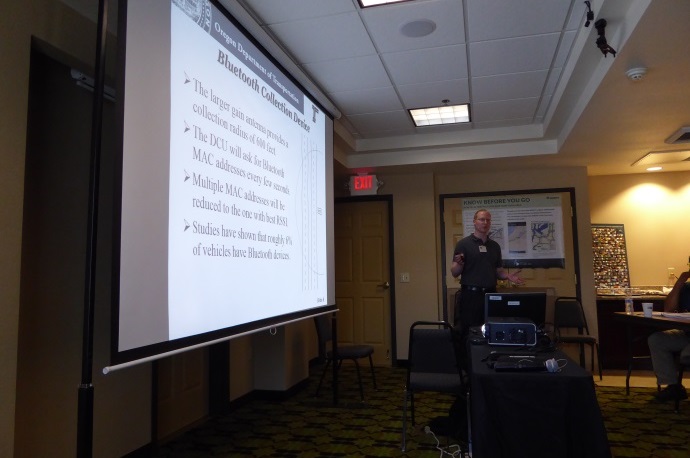 Photo by Leann Koon.
Herasmo Iniguez, Traffic Controls Systems Branch Chief, presented Caltrans' Controller Cabinet Standards: Models 33x, 33xL and 34xLX Present and Future. He reviewed the history of Caltrans cabinet standards and then discussed the features and benefits for the newer LX cabinet. Herasmo had a cabinet on-site and spent several networking sessions describing and demonstrating its features to Forum attendees.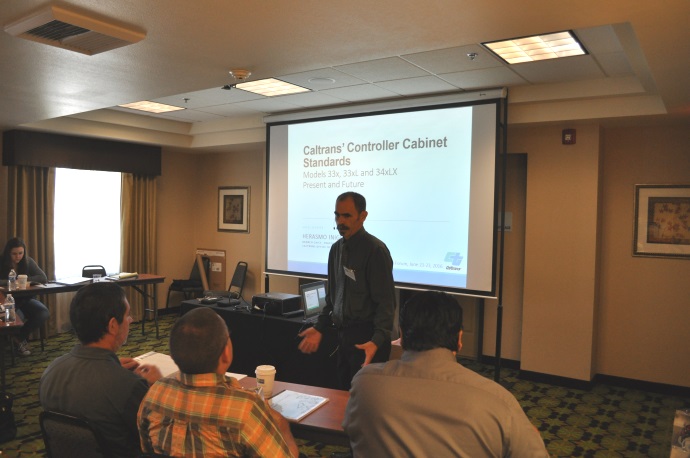 Photo by Doug Galarus.
Nevada DOT's Rodney Schilling and Jim Whalen presented Dedicated Short Range Communication (DSRC) Radio for Rural ITS. In an effort to demonstrate a more viable and effective method of providing mobile weather data, NDOT has deployed 18 DSRC roadside radio units along the I-580 corridor between Reno and Carson City. Onboard units were also fitted on nine District II snow plows and a Freeway Service Patrol van. Rodney and Jim described the design and implementation of the various components and the overall system. They reviewed results to date for the project and discussed data integration with the Nevada Data Exchange. Here they are talking about the NIMO (Nevada Integrated Mobile Observation) system framework.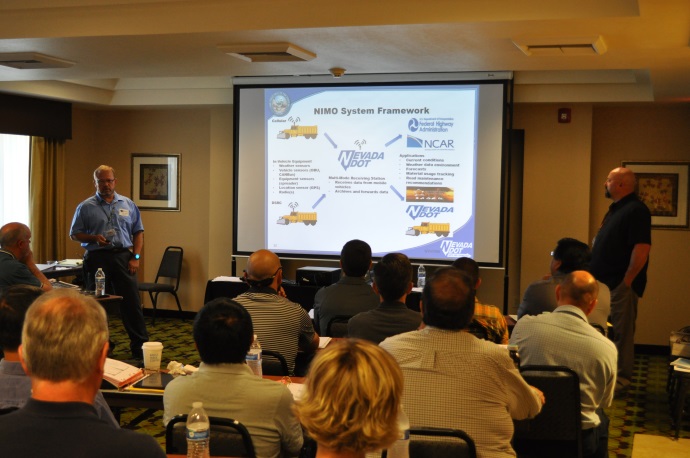 Photo by Doug Galarus.
Bob Koeberlein, Headquarters Operations Engineer for the Idaho Transportation Department (ITD), and Ira Pray, Fleet Manager for the Idaho National Laboratory, collaborated to present Connected Vehicle CRADA Partnership. The INL has installed mobile data collection sensors on five vehicles which patrol routes ahead of INL buses. These scouting vehicles record data such as atmospheric measurements, road surface conditions, and grip. This data is uploaded to the Vaisala Navigator website, where it can be easily viewed by INL and ITD management. The team gave some background on CRADA partnerships, DSRC, and the project's needs and objectives. Bob explained the various related RWIS installations along with the communications systems and basic data security. Ira provided details on the instrumented vehicles, data collection, challenges encountered, and how they are determining whether the project's goals are being met.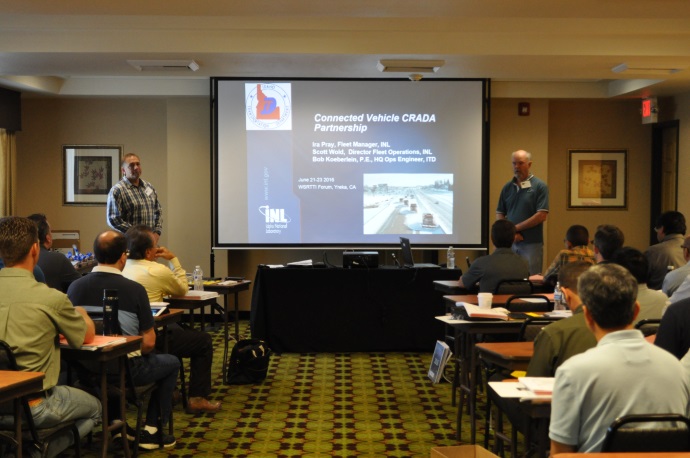 Photo by Doug Galarus.
Since its inception eleven years ago, the Forum has focused on providing engineers, maintenance personnel and technicians with highly technical information about rural ITS projects. The Forum is unique in that questions and dialogue are encouraged throughout the presentation versus just at the end. This year's presentations generated lively discussions across all of the topics. Here are a few pictures:
| | |
| --- | --- |
| Photos by Leann Koon. | |
Transparency and trust are important tenets of the Forum's mission. To encourage this, over the years the Forum has maintained the rural perspective while continuing to create an informal atmosphere. There are ample opportunities to network with peers during meals and extended breaks, and the Wednesday evening dinner and networking session were held at a local park this year.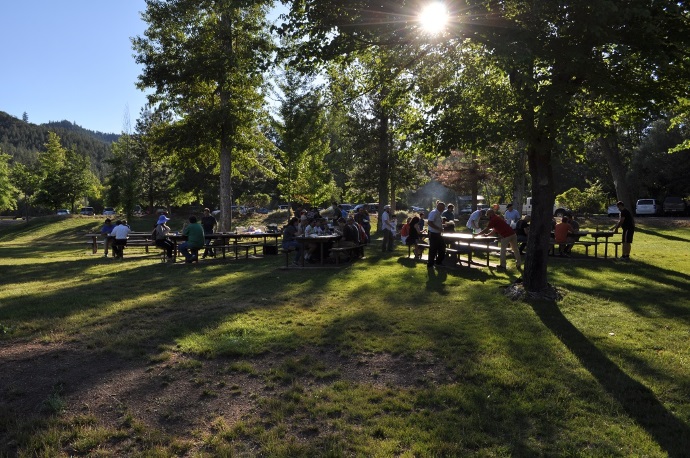 Photo by Doug Galarus.
To review the technical presentations, please visit the 2016 Forum Page on the Forum's website.
Thanks to all who helped make the 11th Annual Western States Forum a success! Watch for a Call for Abstracts for the 2017 Forum sometime this fall.
---