WSRTTIF Update - April 2nd, 2019
---
UPDATE: Tuesday, April 2nd, 2019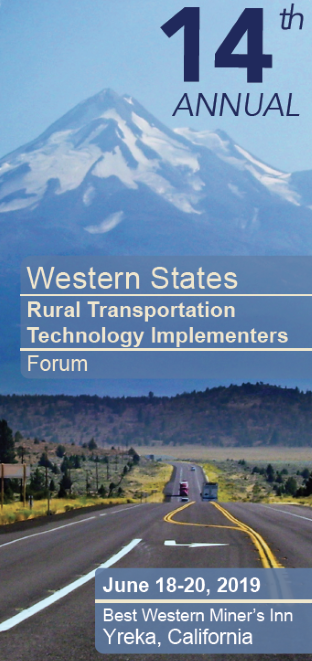 The 14th annual Western States Forum is June 18 -20, 2019, and registration is now open!
We invite you to Yreka, California, this summer for two days of technical, 'nuts and bolts' discussions about rural ITS projects. Eight one to two hour presentations/demonstrations are on the agenda with extended breaks in between. The longer presentations allow speakers to really get into the details of a project and discuss what worked and what didn't work. Participants are encouraged to ask questions during a presentation, not just at the end, which further spurs practical discussion. The longer breaks between presentations coupled with the networking sessions provide ample opportunities for exchanging ideas and experiences with peers in an informal atmosphere.
Here's what is on the technical agenda for the 2019 Forum:
Connected Vehicle Pilot Project on Mission Street in Salem, OR


Julie Kentosh, P.E., PTOE, Doug Spencer, P.E.
Oregon Department of Transportation

Design, Development, and Field-Testing of the Caltrans Responder System


Stephen Donecker, Melissa Clark
AHMCT UC Davis; Caltrans Division of Research, Innovation, and System Information

Fiber Optic Systems in Rural Areas: Building and Leveraging Fiber Systems


Lynne G. Yocom
Utah Department of Transportation

Foresight is 2020: NDOT Building an ITS Network for the Next Decade and Beyond


Jim Whalen, Gary Molnar
Nevada Department of Transportation

Miovision Equipment for SPAT Challenge – Intended and Actual Outcomes


Ken Burt
Washington State Department of Transportation

Organic vs. Purchased Data for Travel Time Prediction


Andres Chavez
Caltrans District 3

The Maintenance Decision Support System (MDSS)


Michael J. Adams
Wisconsin Department of Transportation

UDOT's Region Four Rural Intersection Conflict Warning Systems (RICWS) Design and Implementation


Troy C. Torgersen, P.E., Robert Dowell, P.E., Tyler Turner, P.E.
Utah Department of Transportation, Civil Science
This is an event you won't want to miss! It offers:
Networking opportunities
In-depth and relevant technical program
Excellent location
Low cost
Quality facilities
With the support of the Western States Rural Transportation Consortium (WSRTC), the event is affordable. There is no registration fee, all meals are covered, and lodging is available at the state government rate.
Sign up now! Click here to register or follow the link in the brochure.
Please register by May 17th. Note that attendance is limited, and registration will close when the maximum number is reached or on May 17th, whichever comes first.
Check out the Forum website for lodging information, maps and directions, things to do around Yreka, and technical content from previous Forums.
We look forward to seeing you in Yreka in June!
---