WSRTTIF Update - April 22nd, 2021
---
UPDATE: Thursday, April 22nd, 2021
Save the NEW date! The 16th Annual Western States Forum will be October 5-7, 2021, in Yreka, California, at the Best Western Miner's Inn.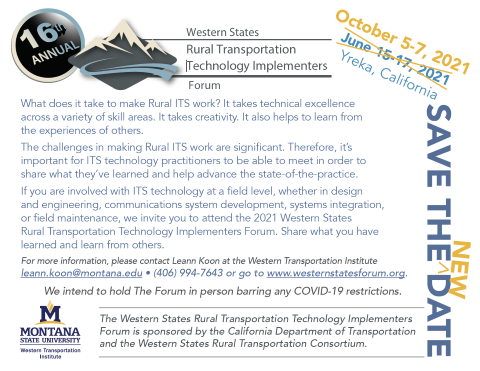 The Forum offers an unparalleled opportunity to network with other professionals involved with rural transportation technologies, and exchange in-depth, technical information on how various ITS technologies are engineered and implemented in rural areas. The event encourages learning and discussion about the benefits of ITS technologies as well as the successes and problems of different rural ITS solutions.
Here's what is planned for this year's Forum agenda:
ASWSC Phase 3: Migration of the Automated Safety Warning System Controller to the Caltrans Advanced Transportation Controller Platform
Douglas Galarus, Jeremiah Pearce, Jeff Worthington
Montana Tech, Caltrans District 2

Evaluating Methods for Wrong Way Driving Deterrence
John Slonaker
Caltrans Division of Research, Innovation, and System Information

Field Site Power Data Acquisition and System Reporting
Kenneth Shipley
Caltrans District 2

Innovative Uses of UAV Technology
Tony Leingang, Alyssa Ryan
Washington State DOT, University of Massachusetts Amherst

UDOT's Statewide Wrong-Way Detection, Design and Implementation Project
Troy Torgersen, Tyler Laing, Brad Lucas
Utah Department of Transportation

Wrong Way Driver Systems: Technological Solutions for Behavioral Problems
Rick Tydeman
Nevada Department of Transportation
In addition to the excellent technical program, there will be numerous opportunities for networking with peers in a casual environment where frank discussions are encouraged.
More information about the 2021 Forum, including registration and lodging materials, will be posted on the Forum website as we head into summer.
We intend to hold The Forum in person barring any COVID-19 restrictions.
---