WSRTTIF Update - January 31st, 2023
---
UPDATE: Tuesday, January 31st, 2023
Report on the 2021 Western States Forum
Different time of year but same high quality, successful event! The 2021 Forum was held in the fall of 2021 (October 5-7) in Yreka, California. The participants represented six different states (California, Massachusetts, Montana, Nevada, Utah, and Washington) and the audience consisted of engineers and technicians from four state departments of transportation, four universities, and HW Lochner. The event included a diverse group of people who engaged in a high degree of networking, questions, and discussion. Attendees had positive comments for the event, the content, and the excellent networking opportunities – "Great opportunity to use technologies and lessons learned from other DOTs in my State." "Really enjoyed the conference and the presentations. Well worth my time."

Photo by: Doug Galarus
The Forum's goal is to provide detailed presentations – the nuts and bolts of how rural ITS projects work or don't work. They are targeted to last between 90 minutes and two hours, including 60 to 90 minutes of prepared remarks by the speaker and ample time for questions/answers and discussion both during and at the end of the presentation. You can look through this year's technical presentations on the 2021 Forum Page on the Forum's website.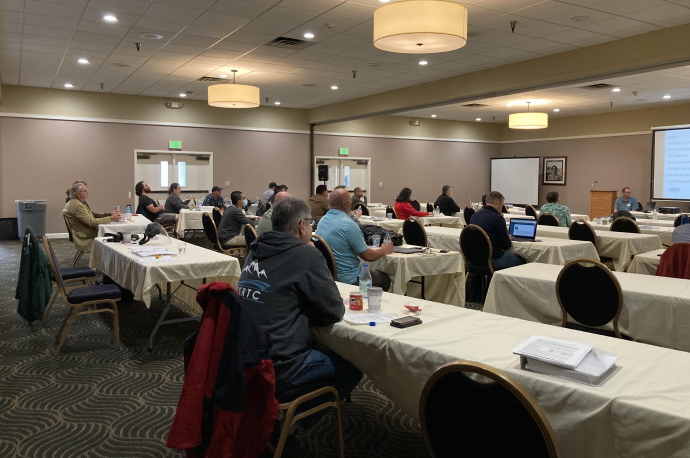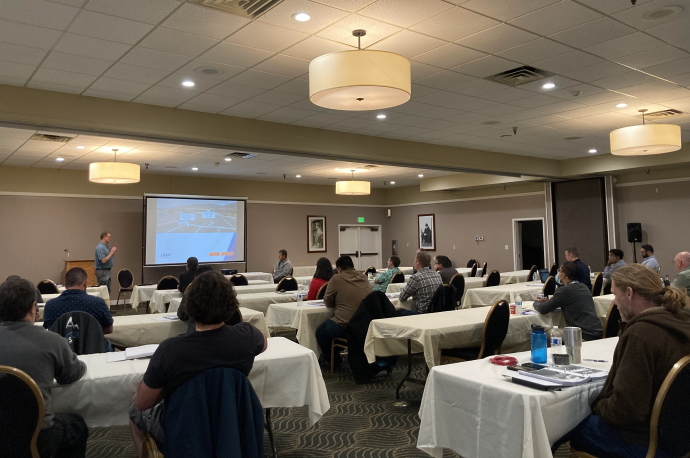 Photos by: Leann Koon
This agenda encompassed a variety of topics from diverse perspectives with presentations from California, Utah, Nevada, and Washington, along with speakers from Montana Technological University and the University of Massachusetts Amherst. It included a discussion of field site power data and systems, unmanned aerial vehicle technology, truck parking based on artificial intelligence, and the automated safety warning system controller project. It also featured presentations from three different states on wrong-way driving and different approaches to the problem.
Caltrans District 2 and Montana Tech kicked off the Forum's technical agenda with the Automated Safety Warning System Controller project and migration to Caltrans' ATC platform. Jeremiah Pearce and Jeff Worthington from Caltrans District 2, and Doug Galarus of Montana Tech discussed the project in detail, what it is and what it does, from early development through current deployment. What worked, challenges and problems, and solutions were shared. The team is shown below (left to right, Jeremiah Pearce, Jeff Worthington, Doug Galarus):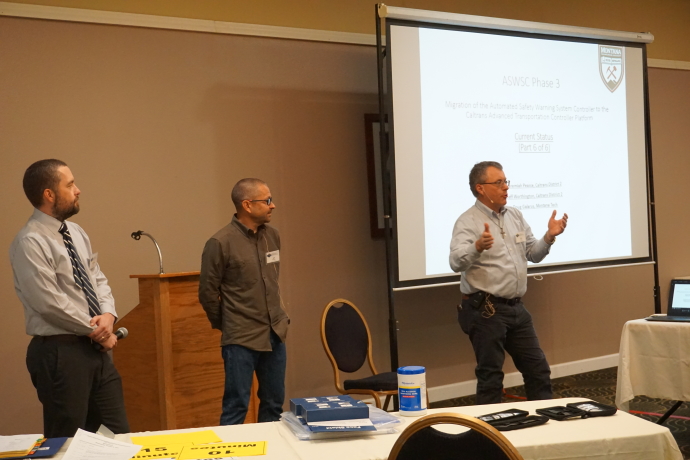 Photo by: Leann Koon
Karthik Murthy from Washington State DOT and Hao (Frank) Yang from the University of Washington presented their work on a truck parking information and management system that uses detection technology and a neural network to predict parking space availability. Here's Karthik explaining future work to be done with the project: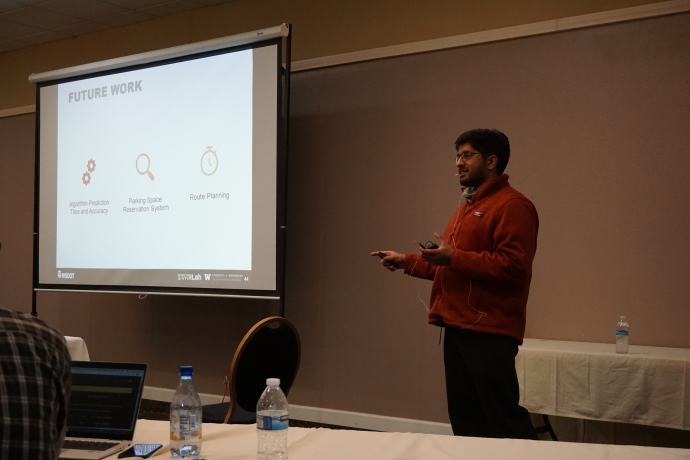 Photo by: Leann Koon
And here's Hao sharing their background research: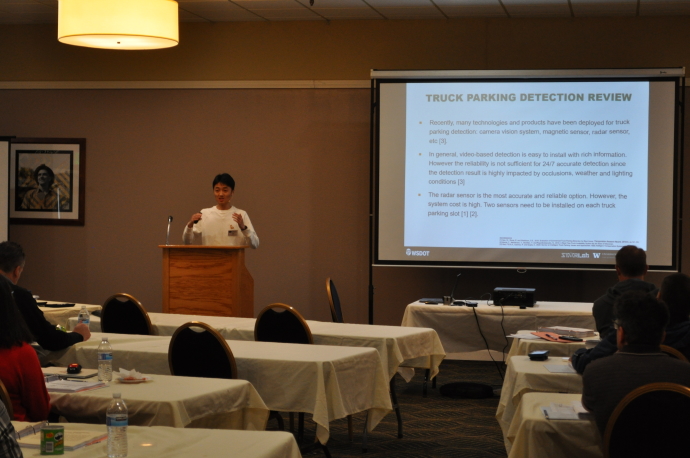 Photo by: Doug Galarus
Kenny Shipley described Caltrans District 2's efforts to mitigate the effects of power interruptions on sensitive communication electronics with a UPS and a field site power data relay they developed. In addition to establishing the need of a UPS for ITS elements in rural areas, Kenny shared details on design decisions and architecture, implementation, back and front-end code, and system data flow, along with how the data relay has been integrated into the District's ITS workflow. Here Kenny is explaining the technical specifications for one of the inverter options: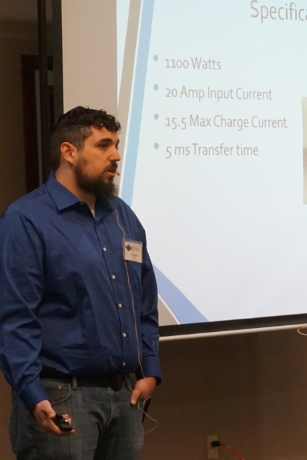 Photo by: Leann Koon
Washington State DOT's Tony Leingang teamed up with Alyssa Ryan from the University of Massachusetts Amherst for a presentation that aimed to provide Forum attendees with an understanding of how they can leverage Unmanned Aerial Vehicle (UAV) technology in transportation applications. Tony described the UAV programs that WSDOT and their partners at the Washington State Patrol have developed.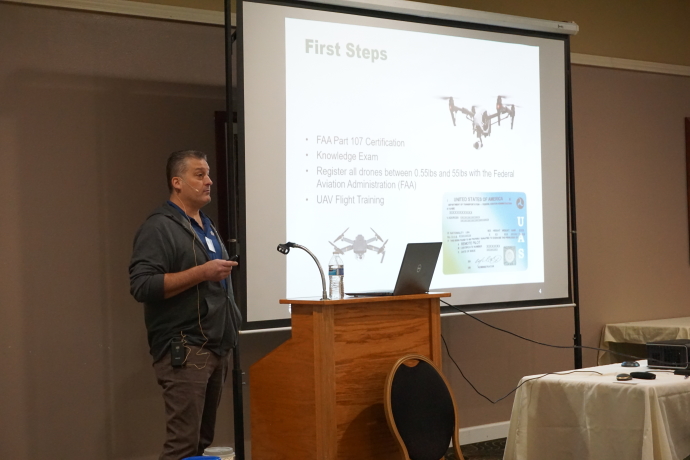 Photo by: Leann Koon
Alyssa gave a comprehensive overview of drone operations for transportation data collection and a short demonstration on setting up a drone and preparing it for flight.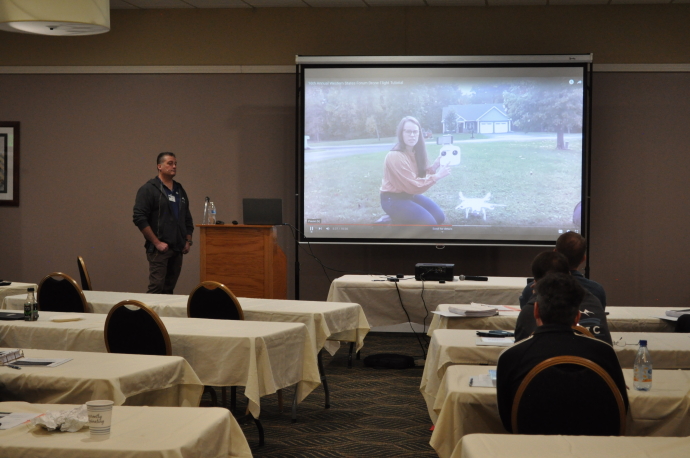 Photo by: Doug Galarus
As mentioned, there were three presentations related to wrong way driving detection and deterrence. This gave the Forum audience an opportunity to learn about different approaches to addressing a problem and what their counterparts in the Western states region are working on.
Troy Torgersen from Utah DOT Region 4 along with Brad Lucas from Lochner reviewed the goals of Utah DOT's statewide wrong-way detection project along with the locations and site details, type of technologies and equipment used, installation, and lessons learned.
Here Troy is concluding with discussion on Utah DOT's next steps for the project: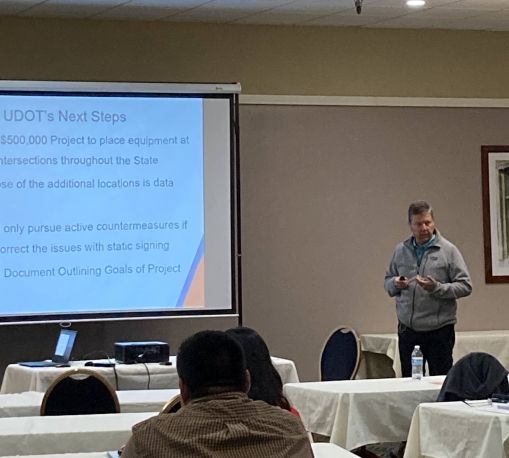 Photo by: Leann Koon
After the presentation, Brad pointed out some specifics to Forum attendee Jasjit Gill from Caltrans. In the background, Troy is visiting with UDOT colleague Tyler Laing.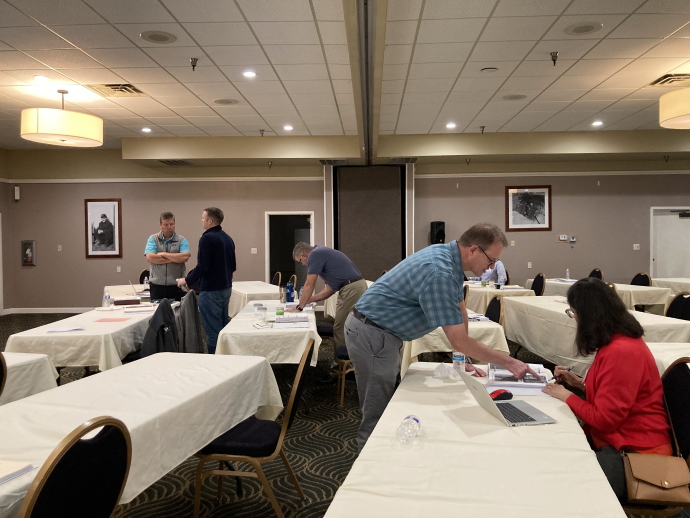 Photo by: Leann Koon
John Slonaker from Caltrans' Division of Research, Innovation, and System Information explained how Caltrans has been assessing the extent of wrong way driving and discussed several roadway enhancements that have been installed. He also reviewed the results of the accompanying research project that studied the effectiveness of the enhancements using custom designed machine vision-based site monitoring systems. During his presentation, John passed around a sample of the two-way, red/clear retroreflective pavement markers.
Here's John demonstrating how the retroreflective markers work: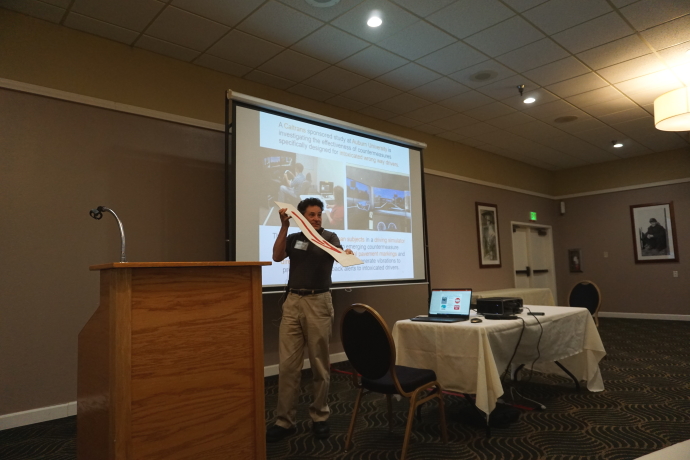 Photo by: Leann Koon
Left to right, audience members check out the markers, Tony Leingang (WSDOT), Jeff Worthington (Caltrans), Jasjit Gill (Caltrans):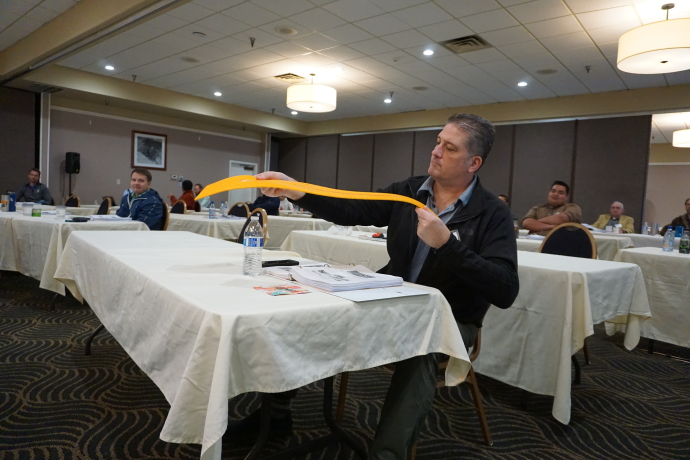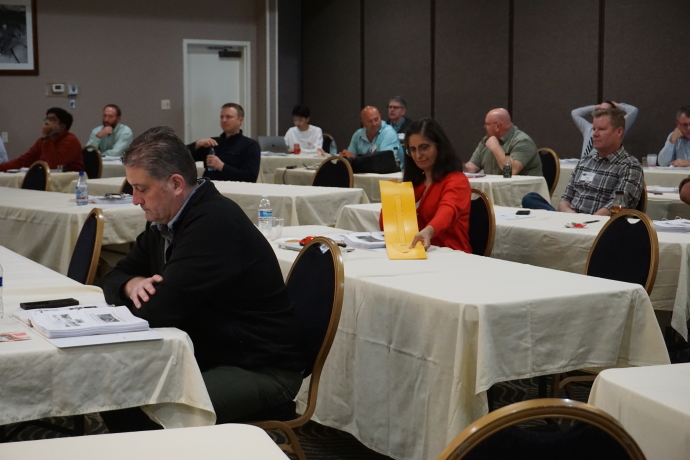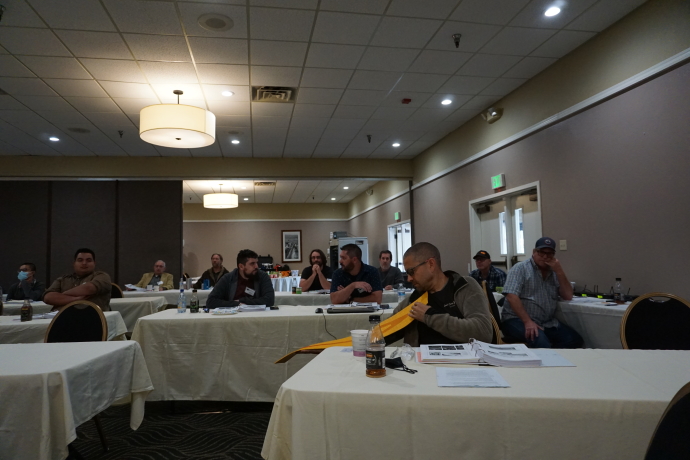 Photos by: Leann Koon
Frederick (Rick) Tydeman, a Senior ITS Engineer for Nevada DOT, presented the state's efforts to implement a technological solution for the behavioral issue of wrong-way driving. Nevada is also conducting a wrong-way driver warning system evaluation project and Rick shared the results, updated system specifications, and conclusions/next steps. This photo shows Rick describing one of the systems they are evaluating.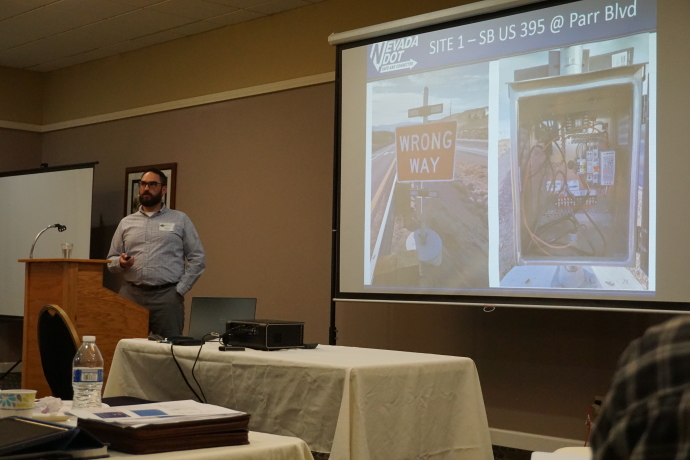 Photo by: Leann Koon
As mentioned above, the audience is encouraged to ask questions and discuss throughout a speaker's presentation, not just at the end. This year's agenda was no exception as the topics raised many thought provoking questions.
Left: Jeff Worthington answers questions and provides more detail during the Automated Safety Warning System Controller presentation. Right: Speaker Rick Tydeman engages the audience with discussion about approaches to mitigating wrong way driving behavior.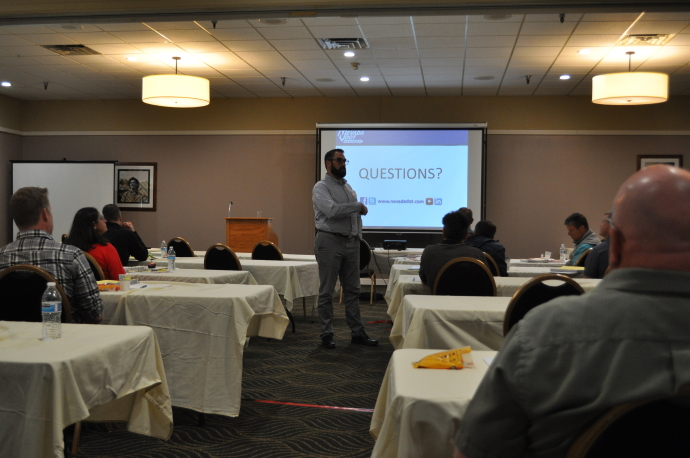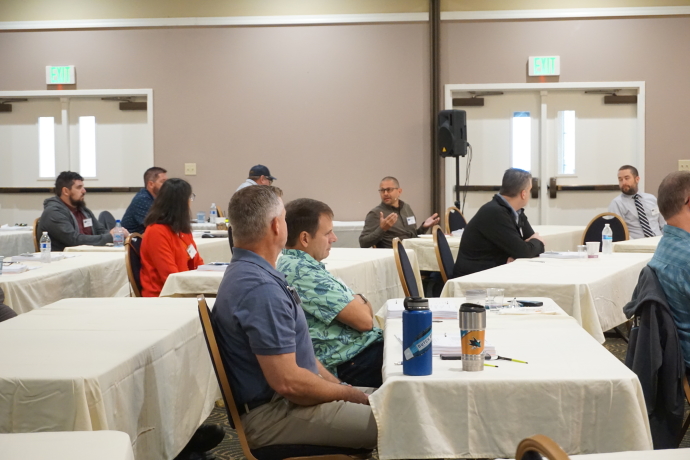 Photos by: Leann Koon and Doug Galarus
Transparency and trust are important tenets of the Forum's mission. To encourage this, over the years the Forum has maintained the rural perspective while continuing to create an informal atmosphere. There are ample opportunities to network with peers during meals and extended breaks, and the Wednesday evening dinner and networking session were held at a local park. Here are a few pictures.
Dinner and networking session at Upper Greenhorn Park in Yreka: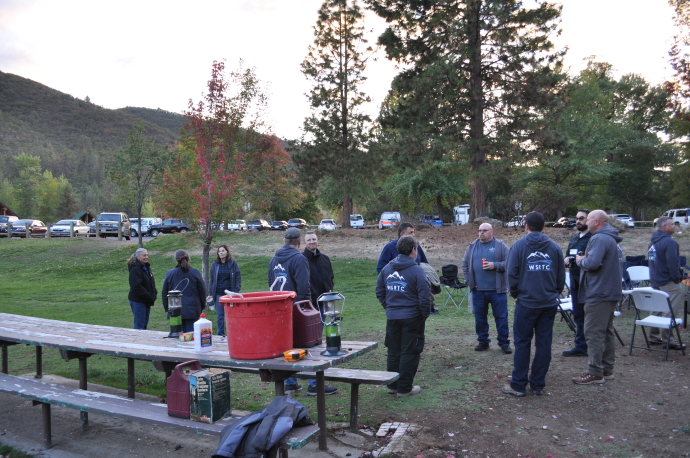 Photo by: Doug Galarus
Steering Committee member Sean Campbell opens the Forum at the Tuesday evening dinner.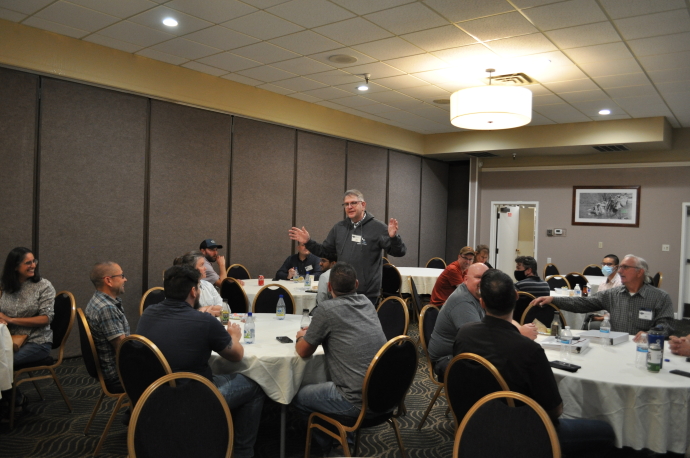 Photo by: Doug Galarus
Doug Galarus (left), Montana Tech, and Mike Beyer (right), Caltrans District 2, visit at the start of the Tuesday reception.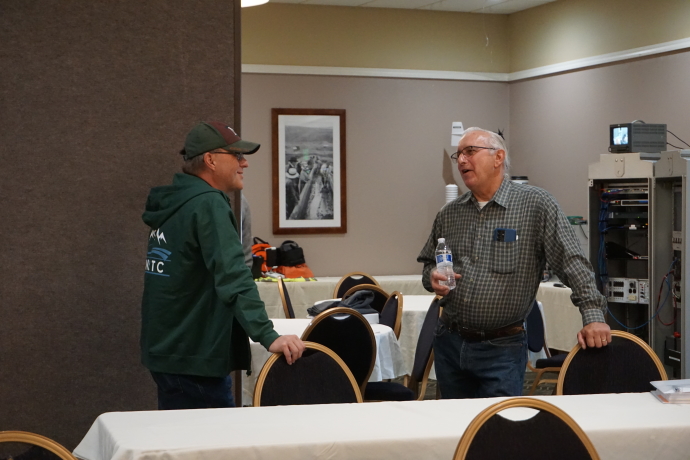 Photo by: Leann Koon
Small groups network around the equipment on display.
Photo by: Doug Galarus
The Western States Forum is organized and facilitated by a Steering Committee. This Committee chooses abstracts, reviews presentations, and plans the logistics associated with the event. Steering Committee members are pictured here as they welcome participants and start the 2021 Western States Forum. From left to right: Doug Galarus, Montana Tech; Leann Koon, Western Transportation Institute; Jeremiah Pearce, Caltrans District 2; and Sean Campbell, Caltrans Division of Research, Innovation, and System Information (DRISI).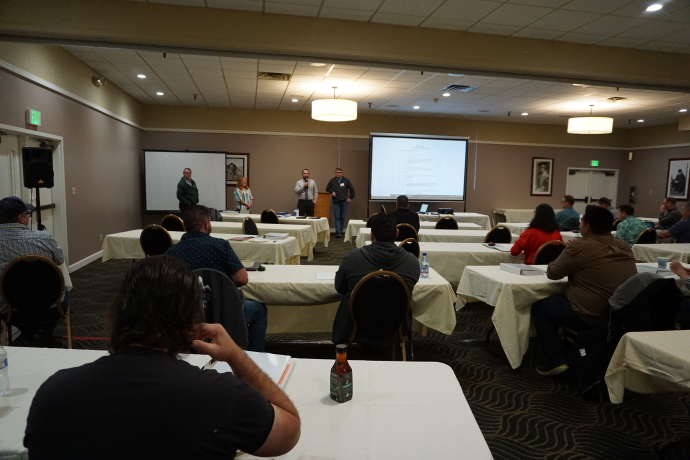 Photo by: Jeff Worthington
Event planner Marlene Woodard is a member of the Western States Forum's Steering Committee. She has assisted with the Forum since the first event in 2006 and provides integral support with meal facilitation, registration, facility set-up, and other general event logistics.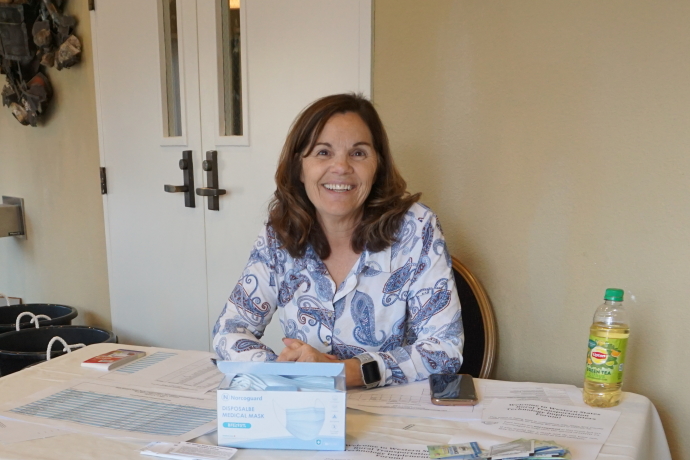 Photo by: Leann Koon
Neil Hetherington (left) and Carolyn Marx (right) at the Western Transportation Institute have also been a part of organizing the Forum since the first event in 2006. They received a Western States sweatshirt in recognition of their contributions.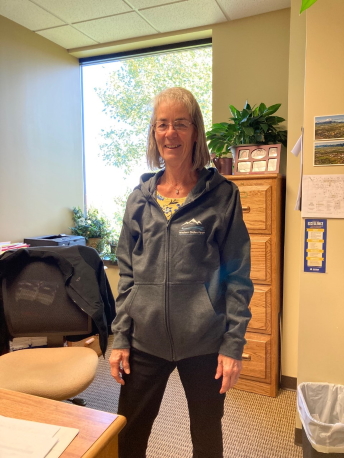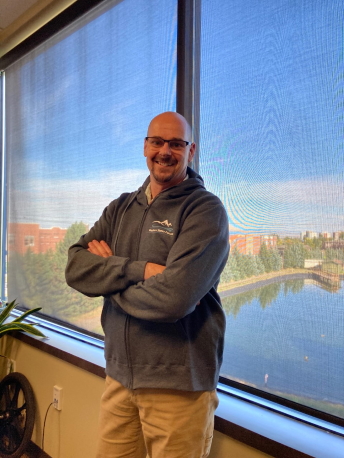 Photos by: Leann Koon
Check back for a report on the 2022 Forum and consider submitting an abstract for the 18th annual event in 2023.
---