California Oregon Advanced Transportation Systems (COATS) Update - April 30th, 2021
---
UPDATE: Friday, April 30th, 2021

COATS Phase 8 is building on the success of earlier COATS phases with a focus on technology transfer. Tasks to be completed include two Western States Forums, Project Technical Advisory Panel (PTAP) meetings, website development and maintenance, and the Forum Handbook. Here is a short summary of work completed during the January through March 2021 quarter.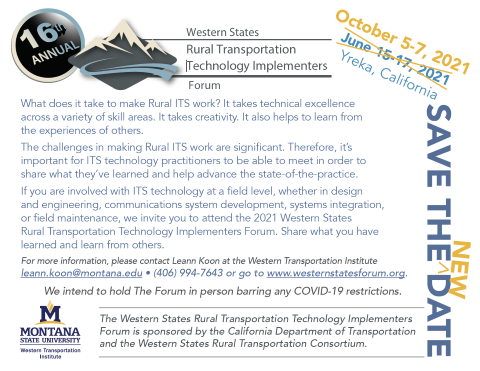 Note the new dates for the 2021 Western States Forum! The Forum Steering Committee evaluated current conditions and made the decision to postpone the Forum to October 5 – 7, 2021. You can review the planned technical agenda in the Forum project update from April 22nd, 2021. Registration information and event details will be posted on the Forum website around June 1st. Check back soon and watch your mailbox and inbox!
Meetings
A Western States Rural Transportation Consortium meeting was held online, March 9, 2021. The group discussed the status of the WSRTC Pooled Fund and its task orders. WSRTC Phase II (TPF-5(241)) was granted a time extension with a new end date of March 31, 2023. The group will begin work on Phase III of the Consortium. Changes to the WSRTC Charter were also discussed briefly. (Current Consortium Documents are on the Documents page.) A meeting report is coming soon!
The project team continued to monitor the COVID-19 / coronavirus pandemic, and its impacts on travel and group gatherings, scheduled meetings, etc. The WSRTC Annual Meeting will still be held in conjunction with the Western States Forum in October of 2021. The ITE Annual Meeting and NRITS Conference are now scheduled to be held virtually at the end of July.
Check back next quarter for an update on the progress of the COATS tasks.
---