Professional Capacity Building (PCB) for Communications Update - January 8th, 2015
---
UPDATE: Thursday, January 8th, 2015
The 3rd phase of the Professional Capacity Building for Communications project is in progress with a focus on Telco Wireless technologies. As applied to Rural ITS, these topics are related to systems that are leased from telecommunication service providers and include fixed deployments of field elements and communications with a TMC, maintenance yard, or other similar facility. These technologies are of increasing interest to Caltrans because of their potential utility in remote areas where wireline communications are unavailable or cost prohibitive.
Specific topic areas to be addressed are:
Telco Wireless Core and Cellular/PCS Basics
GSM Data, 3G and Next Generations
CDMA Data, 3G and Next Generations
LTE (Long Term Evolution), 4G and Next Generations, and
Telco Owned WiMAX.
The project team is currently working with a training contractor to develop and deliver a training course this spring. The course will spend some time covering the fundamentals of leased wireless communications systems, and then discuss third and fourth generation (3G, 4G) GSM, CDMA, and LTE data communications between the Traffic Management System (TMS) and a TMC. As wireless systems evolve and newer technologies become more widely available, more interest is being placed in the later generation technologies. Similar to the previous PCB project courses, students will be Caltrans ITS engineers that deploy and maintain ITS systems in the rural areas of their districts. After taking the course, students will have the knowledge and skills necessary to design, implement, and maintain systems that interface to Telco provided wireless communications.
The PCB training courses are designed to include interactive lectures as well as a significant amount of time spent working on relevant laboratory exercises and hands-on, practical problems. As examples, the pictures below are from the two courses delivered in Phase 2 of the PCB project (Optical Fiber, IP Fundamentals).
Here, Eric Pearson, the instructor for the optical fiber course, explains how to complete a fusion splice and then demonstrates the procedure.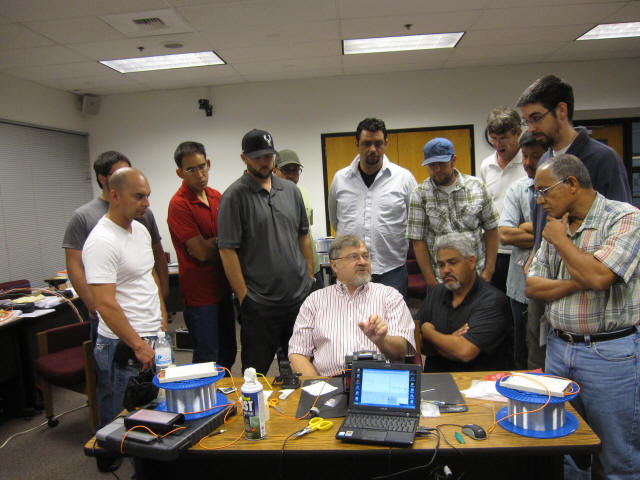 Photo by Leann Koon
IP Fundamentals course instructor Andrew Walding explains a concept during a course lecture as students follow along on their laptops and in the course materials.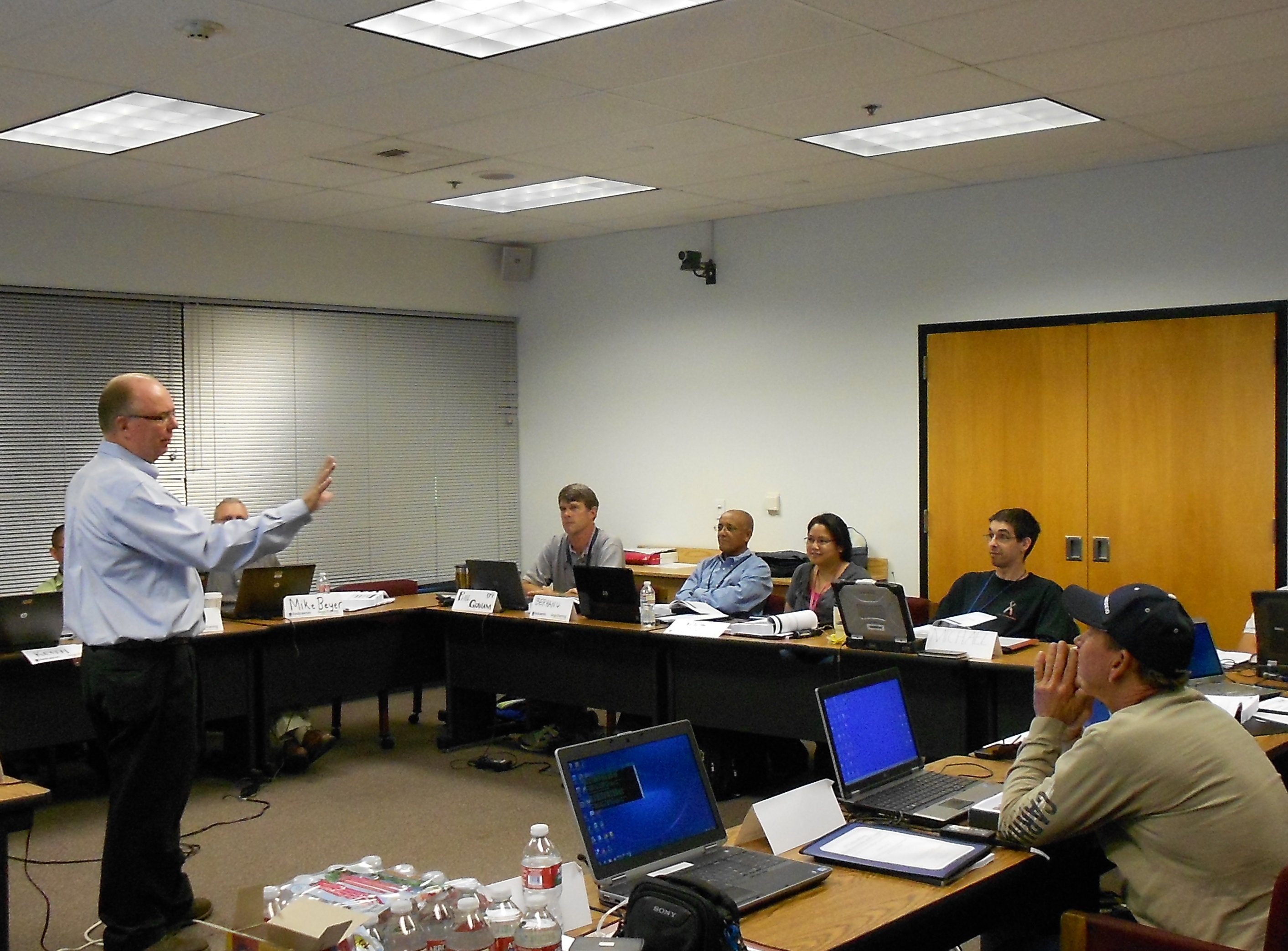 Photo By Doug Galarus
This phase of the project will also incorporate a revision of the curriculum scope and sequence developed in Phases 1 and 2. This will involve a repeat of the needs assessment survey and gap analysis conducted with Caltrans ITS engineers to determine their training needs and interests related to Rural ITS communications.
Check back later this spring for a report on the Telco Wireless training course!
---